Whenever I sit down to write a review, I feel like a Owl from Winnie-the-Pooh telling Kanga an Interesting Anecdote full of long words like Encyclopaedia and Rhododendron – to which Kanga isn't listening. Hard is the fate of a critic in a reality without rules, in a world in which freedom is mixed with arbitrariness and attempts at honest assessment supported by arguments are equated with heartless nit-picking. However, there is nothing to complain about, especially when there emerges an opportunity to experience a work as an "ordinary" music lover, which a true critic remains till the end of his or her life – contrary to accusations of having lost the ability to listen spontaneously. This is precisely what happened to me with Der fliegende Holländer, performed just twice at the new house of Grange Park Opera: treated by the company's CEO Wasfi Kani as a test, as it were, making it possible to see whether Wagner would be catch on in a country house theatre in Surrey – and in keeping with this strategy, presented without any support (or protest) from British or foreign critics, in a pared-down production mysteriously labelled "free staging", but with a fine cast and conducted by Anthony Negus, a representative of the Red List of endangered conductors who believe that opera can be as intense an experience as it was in the days before the internet and streaming platforms. An opportunity came, the experiment was successful, and deep down in my critic's soul there arose an irresistible temptation to share my delight with as many readers as possible.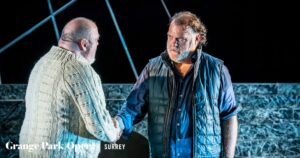 Peter Rose (Daland) and Bryn Terfel (Dutchman). Photo: Grange Park Opera
I began with a cheerful essay for Tygodnik Powszechny, in which I described the story of the problematic inheritance from Bamber Gascoigne's aunt, encouraging potential tourists to visit the picturesque "The Horsleys" at least for a day. I intended to stop at that. I changed my mind. Having left aside the memories of the intrinsic element of performances at British country house operas – a parade of cocktail dresses, dinner jackets and straw hats, hampers filled to the full and stands with champagne and elderflower lemonade – I decided to come to the point. The musical point of Negus' concept which had been maturing for years and which I had been watching for five years – since his Dutchman at Theater Lübeck, followed one year later by performances of Wagner's Romantic opera launching another season at Longborough Festival Opera. Before that Negus conducted Der fliegende  Holländer at the Welsh National Opera, in David Pountney's staging and under Carlo Rizzi's musical directorship. After what I heard at West Horsley, I no longer wonder how much Negus owes to his long apprenticeship under the guidance of famous masters of the baton. Instead, I'm trying to figure out how much these masters missed in their contact with one of the most sensitive and, at the same time, the humblest, unassuming specialists in dramatic-musical narrative of Wagner's masterpieces.
The brick edifice of Grange Park Opera, which from the outside brings to mind the bizarre structures designed by William King-Noel, Earl of Lovelace, scattered nearby, but inside hides an acoustically phenomenal, multi-level auditorium with a typically "Italian" stage in the style of Milan's La Scala. Clear sound, undampened by anything, carries evenly throughout the interior. The singers do not have to engage in shouting matches with the orchestra, and the orchestra does not have to restrain itself too much in order not to overwhelm the singers. The listeners are transported into a bygone operatic world from before the expansion of loud, sometimes frightfully "perfected" orchestral instruments, from before the demise of the bel canto technique, annihilated in the uneven fight between the human voice, and the inhuman space and increasingly cruel demands of audiences, often unfamiliar with the physiology of singing.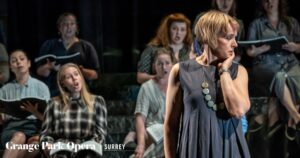 Rachel Nicholls (Senta). Photo: Grange Park Opera
I have already written so much about Negus' interpretations of Der fliegende  Holländer that I can unashamedly admit that each new performance under his baton suggests to me comparisons with achievements of old Kapellmeisters. This is not to point to sources of alleged inspiration, but to be confirmed in my conviction that Negus is one of the few conductors today who subordinate the entirety of their approach to Wagner's scores to the laws of musical storytelling. And every time it is his own story – open to discussion, but always clear, highlighting those elements which, according to Negus, matter the most when it is necessary, which carry the narrative forward or push it to the background on other occasions. Negus is not afraid of "old-fashioned" portamenti or strong dynamic contrasts, or of accelerating and slowing down of the narrative in the spirit of genuine tempo rubato, in which time is not "stolen" with impunity, but is always given back at the end of the swaying musical phrase. By some mysterious way he maintains a balance between lyricism and declamation: the words delivered by the soloists under his baton flow from their mouths like ordinary speech, yet they are breathtaking in their tunefulness and uncommon melodic elegance.
Negus' individual approach to the score of Der fliegende  Holländer can be felt already in the overture: with vividly highlighted, precisely delivered motifs of the eponymous hero, of love and of redemption. Negus' storm has all the markings of a sea squall: it does not rage, like in Krauss' interpretation, like a storm on Alpine peaks, it does not roll along with a solid sequence of thunders like in Keilberth's and Knappertsbusch's interpretations. It washes the ship's deck in waves, it furls in the ragged sails, it dies down deceptively only to flare up again a moment later. Nothing is either unequivocally ghostly or entirely human. The swaggering singing of sailors from Act One bears a similarity to the initial scene of Marschner's opera Der Vampyr, the chorus "Summ und brumm" from Act 2 – to the illustrative nature of musical devices from Weber's Freischütz. The Dutchman is surprisingly fragile and vulnerable here, Senta – surprisingly strong and determined in the pursuit of her goal. At the end of the spectrum opposite to the romantic protagonists we find characters so humanly ordinary that it is hard not to empathise with them. They include, above all, Daland, who brings to mind irresistible associations with Rocco from Fidelio, and Eric – touchingly lyrical, Schumannian even. The narrative constructed by Negus seems like a prequel to Wagner's later masterpieces: in the middle section of the Dutchman's monologue "Die frist ist um"  we can already hear the anguish of Kundry from Parsifal, in the finale the love's transfiguration of Isolde can be heard more emphatically than usual.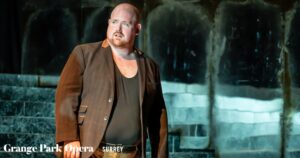 Nicky Spence (Eric). Photo: Grange Park Opera
Negus was able to finally present this tender and insightful interpretation in its full glory: with the superb Gascoigne Orchestra, excellent festival chorus and brilliant cast, sensitive to every suggestion. Bryn Terfel may be the most outstanding Dutchman in the world at the moment: together with Negus he turned some signs of tiredness in the voice and shortcomings in the upper register to the advantage of his protagonist, like Hans Hotter had done years later in collaboration with Fritz Reiner. Rachel Nicholls' dark, round soprano turned out to be a perfect vehicle of determination of a very feminine Senta. It's been a long time since I heard Eric (Nicky Spence) so wonderfully lyrical yet vocally at ease. The velvety-voiced Peter Rose was in a class of his own as Daland, torn between greed and his feelings for his daughter. Carolyn Dobbin as Mary fully capitalised on her earlier success from Longborough. Elgan Llŷr Thomas made his debut as Steersman. His is a handsome, metallic tenor with the makings of a spinto, although still a bit uneven across the registers.
The "free staging"  proved to be Stephen Medcalf's clear and well-organised directing in Francis O'Connor's sets from the last act of Ponchielli's Gioconda  – the two men's joint production premiered at Grange Park just over a month earlier. It was a commendable example of operatic recycling – at a time when opera houses in much poorer countries waste most of their budgets on lavish stagings, which often fail completely.
Everything seems to suggest that Wasfi Kani's experiment – organised without much publicity but fully successful – will lead to more Wagnerian ventures at Grange Park Opera. In the meantime – to refer to Winnie-the-Pooh once again – as that is really the end of the story, and I am very tired after that last sentence, I think we shall stop there for a moment.
Translated by: Anna Kijak