Approximately twenty minutes before the appointed hour the audience begins to gather near the Festspielhaus balcony, waiting for the signal beginning the ritual.  The Bayreuth fanfares were devised by Wagner himself, who arranged motifs from his various works for an eight-strong brass ensemble. The first, single fanfare calls audience members a quarter before the beginning of a performance. A  double fanfare is sounded five minutes later. After the third, triple fanfare, people really have to hurry up. Right on time there begins a short sequence of sounds which speak to my imagination much more powerfully than the famous balcony performances of the Festspielorchester musicians. First we hear a short bell, like in an ordinary theatre, though this time it is not for the audience, but for the ushers, who in a few seconds slam the wooden doors shut, draw the curtains and cut the Wagnerian temple off from the outside world. There is no longer a way in nor a way out. Soon the lights will be dimmed and we will be left alone with the creative team's concept and our own expectations concerning Wagner's masterpieces.
It was only during the pandemic that I became aware of the cramped conditions in the Festspielhaus. Even though the auditorium has been reduced to half of its capacity, it still seems full. Yet this year it is at least possible to breathe there – despite the mandatory use of FFP2 masks throughout the performance – and music is not disrupted by persistent coughing or exceedingly irritating hum and clatter of theatrical fans, banned due to hygienic reasons in order to prevent the spread of pathogenic aerosols.  After an interval of one year – unprecedented in the post-war history of the festival – I went to Bayreuth to see Barrie Kosky's staging of Die Meistersinger, which will probably not return to this stage; Tobias Kratzer's production of Tannhäuser; and a semi-staged performance of Die Walküre, which was accompanied by a performance piece by the Viennese actionist Hermann Nitsch: the only surviving part of the Ring supposed to be directed by Valentin Schwarz, which was to have been premiered last season, but had to be moved to 2022.
I had seen both Die Meistersinger and Tannhäuser on video and had accompanied both productions from the very beginning, co-hosting the broadcasts of the premieres on Polish Radio 2. When it comes to the former, I wanted to confront my impressions not only with the recording, but also with Michael Sturm's inept directorial plagiarism presented in Poznań in 2018, when Die Meistersinger returned to Poland after an absence of over one hundred years. When it came to Tannhäuser, I hoped I would appreciate the production even more when seeing it live, like in the case of Yuval Sharon's Lohengrin, so underrated by the critics and the audience. I chose Die Walküre primarily because of Günther Groissböck's long-awaited debut as Wotan – a dream, which ultimately did not come true, of hearing, for the first time in many years, an insightful, lyrical approach to this ambiguous character, an approach Bayreuth had not experienced since Hans Hotter's memorable portrayal conducted by Clemens Krauss.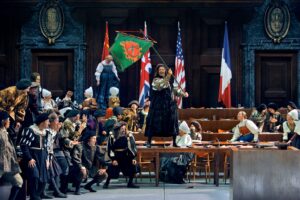 Die Meistersinger von Nürnberg. Photo: Enrico Nawrath
I make no secret of the fact that I am an admirer of Barrie Kosky, an artist with an extraordinary imagination, an unfailing dramatic instinct and a sense of humour rare among Regieoper luminaries. This is not to say that I agree unreservedly with every one of his concepts, especially since Kosky is prone to "excess", to building the action on many levels and to constructing his interpretation on the basis of associations that are not obvious and sometimes clearly misguided. Yet in the case of Die Meistersinger Kosky was spot on when it came to the essence of Wagner's message – the opera is not a trivial story of a good-natured cobbler, a jealous town clerk and a pair of young lovers. It is a much more serious, though at times irresistibly funny, debate about the links between the avant-garde and traditionalism set not so much in actual Nuremberg, but in a symbolic, ideal city – unofficial capital of the Reich, a city of Sachs, Dürer and Pachelbel. A mysterious city into which Kaspar Hauser wandered one day in 1828. Much more importantly, it is an opera which ceased to tally with the composer's intentions many years after it was written. It became incorporated into the infamous Nazi discourse and came to be linked to a totally different Nuremberg – a city associated with laws meant to protect German blood and German honour – so much so that when Wieland Wagner prepared the first post-war staging of Die Meistersinger in Bayreuth, he opted for total abstraction. His production was quite aptly called Die Meistersinger ohne Nürnberg.
In Kosky's interpretation the "imagined" Nuremberg penetrates the reality of Wagner's Wahnfried villa and then the reality of Schwurgerichtssaal 600, the venue of trials of Third Reich war criminals from 1945 onwards. Kosky chose this anachronism not in order to put on trial Wagner and his nineteenth-century anti-Semitism, so different from that of the national socialists. He put history on trial. At the centre of his concept stands Beckmesser, a Frankenstein-like figure sewn together from all of Wagner's prejudices, as the director himself stressed. He is not only a Jew, but also a eulogist of the French grand opéra and the Italian bel canto, a fierce critic fighting all manifestations of innovation in music. A grotesque, not to say repulsive figure, whose actions, however, provoke a response incommensurate with his alleged crime.
And this is where the power of Kosky's staging lies: Kosky does not turn Bekcmesser – who in Act I assumes the identity of Hermann Levi, the conductor of the premiere of Parsifal and musical master of ceremonies at Wagner's funeral –  into an "Untermensch", despised by the Nazi ideologists and generating instinctive compassion in twenty-first-century audiences. Barrie Kosky, the first ever Jew to direct at Bayreuth, makes the modern spectators aware of where the later evil came from: not from a sense of superiority, but from a fear of the "Überjude" who for decades shaped Germany's culture and political life.
There are many more pertinent tropes in this intelligent, intricately constructed staging – all of them make up a coherent whole, something which cannot be said about Kratzer's striking but superficial concept. His Tannhäuser breaks up into several parts which do not quite fit together. The eponymous hero tries to break free from Venus – a vulgar circus performer who shares her cave of pleasure in the form of a battered Citroën H not only with her lover, but also with a black drag-queen (Le Gateau Chocolat, this year replaced on stage by the dancer Kyle Patrick) and the dwarf Oscar (moving, phenomenal actor Manni Laudenbach), straight from Günter Grass' The Tin Drum. The action builds up laboriously and unconvincingly, to gain momentum only in Act II, when the rebellious Tannhäuser enters the stage of the singing contest – literally, since the competition involving the medieval minnesingers is part of a performance taking place in the local Festspielhaus. Act III again takes place "outside", on a grim refuse dump, the venue of the ultimate confrontations between the protagonists and the finale that will bring salvation to no one.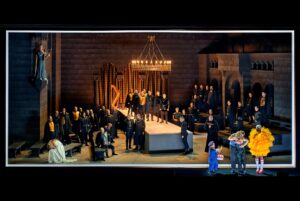 Tannhäuser. Photo: Enrico Nawrath

Kratzer's vision requires clockwork precision and a lot of money: otherwise the production looks tacky (La forza del destino in Frankfurt) or even grotesque (Götterdämmerung in Karlsruhe). In Bayreuth the director did not have to worry about the budget, as a result of which his Tannhäuser – leaving aside the initial narrative shortcomings – is like a good psychological thriller. The problem is that although Kratzer went to a lot of trouble to explore the meaning of the work, he ultimately missed the point and came up with his usual obtrusively stereotype-shattering story about unlimited freedom leading to absolute loneliness. However, Kratzer knows his theatrical stuff like few others, thanks to which several episodes are painfully memorable: like the terribly sad intercourse between Elisabeth and Wolfram in which the frustrated woman has her unwanted admirer wear a wig and a coat of her beloved for whom she has been waiting in vain.
The last time I came across Hermann Nitsch's provocations was in 2007, at the MaerzMusik festival in Berlin. I wrote at the time that his performance was on the fringes of the event, that it was quite nice to have a good laugh, watching Nitsch – a faded legend of Viennese Actionism – abuse the Heilig-Kreuz-Kirche organ in the company of two assistants and a crate of beer. This time there was no beer, but there were ten assistants, the master of the Orgy Mystery Theatre remained in the wings, but his action on the fringes of Die Walküre was undoubtedly part of the main strand of Bayreuther Festspiele. And it caused quite a stir among the audience, divided into supporters and opponents of Nitsch's performance, which consisted in vertical and horizontal planes being slowly filled with paint in shades corresponding to a colour leitmotif system devised by Nitsch himself. It is a pity that it had nothing to do with the score and the libretto of Die Walküre, although the artist does deserve some credit for using only paints and not blood, excrements and animal guts, once characteristic of his ritual of the senses. But enough of these jokes – the biggest sin of Nitsch's action was that it had absolutely nothing in common with what the singers were doing on stage. Clearly Nitsch could not decide whether to give them consistent acting tasks or simply position them on the proscenium like in an ordinary concert performance. As a result, everybody did what they wanted as if it were in some nineteenth-century Italian opera house in the provinces. Someone took a swing, someone threw themselves into someone else's arms, no one fought with anyone, characters who were dead or unnecessary at a given moment in the narrative calmly left the stage, making way for other singers. All this was accompanied by a rhythmic splashing of paint and an unbearable stench of solvent.
Die Walküre. Photo: Enrico Nawrath
My conclusions from an analysis of visual and theatrical means consistently go hand in hand with an musical assessment of the consecutive productions. Die Meistersinger succeeded largely thanks to Philippe Jordan, who conducted the whole softly, subtly, at the same time displaying an unerring sense of the inner pulse and taking care to extract the full expressive potential of the piece from its intricate texture. Jordan is wonderfully sensitive to the singers – also in the ensembles and choruses – helping them in key moments not only to be heard, but also to catch their breath and build up strength to shape another phrase. This must have given additional splendour to the artistry of Michael Volle, who sang Hans Sachs, the longest role in Wagner's entire oeuvre. Volle has a handsome, technically-assured baritone with various shades of emotions and, it has to be said, he knows how to pace himself to be able to sing the part, in which extensive monologues and fiery orations alternate with long recitatives sounding almost like ordinary human speech. Bekmesser was portrayed by Bo Skovhus – replacing an indisposed Johannes Martin Kränzle – an extremely musical singer with an exceptional dramatic nerve, which I had an opportunity to admire with those present at the second performance: during the first the Danish baritone "stood in" for his colleague in the wings.  Walther was entrusted to Klaus Florian Vogt, a favourite of the Bayreuth audience and a reliable artist, but to my ears far from any models of Wagnerian singing, not only as a Jugendlicher Heldentenor. Contrary to the opinion of those who know him only from recordings, his is a powerful voice, generally secure when it comes to intonation and practically indestructible.  The problem lies elsewhere, not so much in the timbre – supposedly boyish, yet in my opinion flat and dull – but in the extremely "neoclassical" approach to the score. Vogt sings "by the notes", against the natural rhythm of the narrative, which makes his performance invariably stand apart from the other elements of the musical work. By comparison Daniel Behle shone in the role of David, with his well-projected and flexible tenor, which has a beautiful metallic glow.  Outstanding among the rest of the cast were primarily Georg Zeppenfeld as a solid Veit Pogner and Camilla Nylund, whose warm soprano with a rather narrow vibrato is perfect for the "girlish" part of Eva.
Axel Kober's clear, romantic interpretation of Tannhäuser with his skilful highlighting of all Weberisms and Meyerbeerisms in the work was a nice change after Gergiev's messiness and Thielmann's vigorous, though at time bombastic approach. Kober is a born operatic conductor, which is work stressing in this case, as Kratzer's dynamic, "cinematic" staging demands considerable sensitivity and an assured hand when assisting the singers. Those who stood out in the male cast were primarily Günther Groissböck as Landgraf, which has become his signature role, and – to a lesser extent – Markus Eiche, who was technically brilliant and spot on intonation-wise, but who lacked lyricism as Wolfram. Like in the case of Vogt, I have a problem with Stephen Gould, who sang the title role: an indestructible singer almost completely devoid of emotion. I have to admit, however, that his voice – not very beautiful either and slightly smoky in the upper register – falls undoubtedly into the Wagnerian voices category. This time it was the ladies who led the way. The audience applauded the vivacious Venus of Ekaterina Gubanova, a singer with a velvety mezzo-soprano supported by great sensitivity to the dramaturgy of the libretto. The small role of the Shepherd was sung by Katharina Konradi, a soprano with a crystal-clear voice, fresh from her success as Sophie in the Munich Rosenkavalier.  The biggest, though expected, star of the show was Lise Davidsen as Elisabeth. It was only this year that I heard her live for the first time and my earlier suspicions were confirmed: we had not seen such a Wagnerian phenomenon for decades. Davidsen has a powerful, perfectly controlled voice, even across the registers, dark, rich and incredibly handsome. Her ethereal piano is breathtaking. Her full, imperious forte never turns into a scream. The singer impresses with her splendid diction, excellent sense of text and – as if that were not enough – commanding stage presence.  The Norwegians are already sensing that they might be getting a new Flagstad. May this extraordinary talent survive in the cruel world of today's opera and develop to the full.
Davidsen's Sieglinde was certainly the only highlight in this year's Die Walküre. It is difficult for me to judge this peculiar undertaking – just as it must have been difficult for the soloists to sing in chemical fumes, with a constant accompaniment of distracting sounds, under the unhelpful hand of Pietari Inkinen, who is unable to grasp this score at the macro-form level, although occasionally he does manage to extract from it some ear-pleasing fragments. Groissböck cancelled his Wotan performances five days before the premiere, not giving the organisers a choice, as it were. Tomasz Konieczny did save the show, but I'm not sure whether he saved his reputation as one of the world's best interpreters of the role. Irrespective of doubts over his interpretation (his Wotan had always been an aggressive villain devoid of lyricism and majesty), this time he also had me concerned about his vocal condition: never mind the forceful, shouted forte – more worrying are softer fragments, marked with a tight larynx, on the verge of a whisper or even voicelessness. While there are redeeming features in Klaus Florian Vogt's performance as Walther, the singer fails completely as Siegmund, especially with a Sieglinde of Davidsen's class at his side. Iréne Theorin (Brunhilde) almost ran out of steam and had to rely solely on her technique. Christa Mayer, warmly received by the critics, was on the verge of hysteria as Fricka. The eight Valkyries, whom the conductor failed to rein in, engaged in a battle of voices. It was not hard to see who won, as each of the ladies' voice was completely different in terms of timbre and production.  The only survivor – apart from Lise Davidsen – was Dmitry Belosselsky, offering an assured and thoughtful portrayal of Hunding.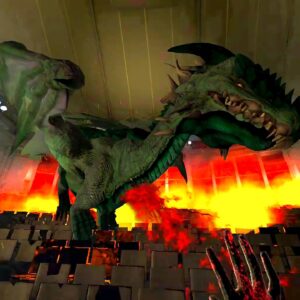 Sei Siegfried. Photo: Jay Scheib
There is still one year left until the complete staging of The Ring. The first decisions have already been taken: the roles of Wotan in Die Walküre and Wanderer in Siegfried will be entrusted to John Lundgren, who sang the Dutchman in Tscherniakov's staging inaugurating the festival. We'll see what will happen. I have learned one, very important lesson from the fight against the pandemic, which has been going on for well over a year: the world will have been turned upside down at least five times by the time of the premiere. After a brilliant Meistersinger and an excellent Tannhäuser I went to a disappointing performance of my beloved Walküre. As a consolation, I got to see other elements of the "substitute" Ring 20.21 – Gordon Kampe's short opera Immer noch Loge, staged on the bank and in the water of the park pond (with a very good Stephanie Houtzeel as Erda and the Second Rhinemaiden); an opportunity to take part in a several-minute fight against Fafner as part of a virtual reality project, Sei Siegfried, by Jay Scheib; and a delicious installation The Thread of Life by Chiharu Shiota, a Japanese sculptor and performer who works with Sasha Waltz and Toshio Hosokawa, among others. I defeated the dragon. Let us hope we will all be able to defeat the demon of uncertainty, which prevents us from planning anything more than a month ahead.
Translated by: Anna Kijak