I liked to argue with Andrzej Chłopecki. Uncompromising and mischievous, but at the same time very insightful, the contemporary music critic would build his opinions on solid theoretical foundations. And once he had built them, there was no mercy: a true Monsieur Sans-Gêne, he was the male version of the outspoken laundress. When punching, he would punch you hard, when loving, he would love you more than life itself. Nobody dared dispute the value of works produced by his few chosen ones, for those by Paweł Mykietyn. Yet when Chłopecki heralded the birth of a new star in the composing firmament and likened it to Krzysztof Penderecki's daring beginnings at the turn of the 1970s, his younger fellow critics felt defiant. Chłopecki discovered the "unusual flow of an artist extraordinary" in Aleksander Nowak's music. This was a subject of fiery dispute with his opponents. They wrote that Nowak shamelessly reached for old composing techniques, that his music actually lacked flow and that the face the undeservedly praised epigone of the "Stalowa Wola generation" revealed in his pieces was not one of a postmodernist, but one of a common mountebank. I have once myself yielded to the suggestions coming from the "progressivists" and mistakenly stuffed Nowak's compositions into a deep drawer labelled "even newer romanticism".
What happened to the Gliwice-born composer's work that made us all suddenly change our minds? Quite possibly nothing happened to it. It was us who changed, or maybe just grew to appreciate the musical "life-writing", as his method was aptly described by Andrzej Chłopecki. Since the beginning, Nowak's strategy has been about interweaving superficially banal fragments of everyday life with the universal mythical tissue of human existence. The composer refers to formative memories, listens to others, closely observes reality, cools down emotions and tries to establish a connection with the listener. As he has once himself stressed, he finds music to be "a form of communication which does have individual «senders» and «receivers», but its actual message is transferred rather on the level of collective than individual consciousness". Every piece written by Nowak has a text behind it: the text, however, does not have to be a poem or a libretto assigning functions to particular voices in the score. Sometimes it is a song, a canticle recalled from the depths of memory, while at other times it might be somebody's note or a superficially banal anecdote. There is no parody or pastiche here, only deeply moving dialogue with the past, sometimes not distant at all and sometimes lost in the darkness of myth.
Aleksander Nowak. Photo: Dorota Kozińska
Nowak's composer's path started at the State Music School in Gliwice. It was there that Uliana Biłan, a Lviv conservatoire graduate, working as an accompanist, was helping the young guitar student make up for his shortcomings in harmony and ear training. While doing that, she brought to his attention treasures of 20th-century musical literature, first and foremost Messiaen and Shostakovich. It was her who encouraged Nowak to undertake his first attempts at forging thoughts and emotions into a score. It was thanks to her that he became sure of his intent to create structures in which each element – from melody, through rhythm, to texture – would start to speak to the listener with its own voice, win them over completely and on every level of communication.  In 2001, Nowak started regular studies at the faculty of composition of the Academy of Music in Katowice, tutored by Aleksander Lasoń, a major representative of the aforementioned "Stalowa Wola generation". Lasoń had always adored "pure" music and treated composition as a task of craftsmanship. He proved, however, a limitlessly patient professor for his, somewhat lost, new student. Lasoń let Nowak search – first as if blindfolded, then gradually more consciously – for a path leading to his individual idiom: one of music sounding naturally, but composed from a multitude of unconventionally joined building blocks. It is narration bursting with quotations, self-quotations and crypto quotations, sonically glittering charades, musical riddles, sometimes unsolvable.
Nowak's first successful attempt at his "life-writing" opened up a path to cooperation with the PWM. It was the Sonata 'June-December'  for violin and piano (2005), the initial part of which is based on a quotation from a simple melody for a piece Nowak wrote as Biłan's student at high school. Conversations with Andrzej Chłopecki and Eugeniusz Knapik made him realise how far-reaching the horizons of contemporary music can be. Marcin Trzęsiok enabled Nowak to sail out to the high seas of musical aesthetics and helped to locate his work within a context of philosophy and history of culture. In 2006, granted a Moritz von Bomhard Fellowship, Nowak began 2-year studies in composition at the University of Louisville, tutored by Steve Rouse.
It was, however, earlier that a breakthrough happened. In 2005, shortly before receiving his diploma from the Katowice Academy, Nowak realised a dream of his youth. He participated in a high-seas sail to Svalbard. A year later, a hundred years after Roald Amundsen's conquest of the Northwest Passage, the composer embarked on the Polish yacht "Stary" and sailed by Sweden, Denmark, Norway, the Shetlands, and the Faroes to reach Iceland. He financed the enterprise with the first installment of the "Förderpreise für Polen" scholarship from the Munich-based Ernst von Siemens Musikstiftung. The second installment was promised to him for completing a serious composing commission – a musical journal of the journey to the North Sea. After his return, having already begun his studies in Louisville, Nowak embarked on composing Fiddler's Green and White Savannas Never More for male voices and chamber orchestra. The piece's premiere, at the Lviv Velvet Curtain festival in October 2006, was received with an ovation. Founded on irony and anxiety, the longing for Fiddler's Green – sailors' legendary realm, a land of perpetual gaiety, never-quiet fiddle and unwearying dancers – resounded also with a longing for a renewal of the form of the symphonic poem: in a coherent, yet multi-threaded shape, skillfully highlighted with a masterful layering of texture in the orchestra. It was also in the United States that Nowak wrote the Last Days of Wanda B. (2006), "a record of emotions accompanying the farewell and a set of still-frame memories, interwoven with remnant quotations from her favourite melodies" dedicated to his recently deceased grandmother. The personal thread started to play an ever more significant part in the composer's work, at the same time quite unexpectedly intertwining with his new fascination, one with the form of opera, which continues until now.
Sudden Rain. Photo: Bartłomiej Sowa
The chamber opera Sudden Rain was Nowak's diploma piece crowning his studies with Rouse. It premiered in 2009, at the The Teatr Wielki – Polish National Opera in Warsaw. It was there that She, He and Something else – tropes accompanying all Nowak's subsequent stage works – appeared for the first time. The composer and the librettist, Anna Konieczna, put fragments of letters and notes written by a person with Asperger's syndrome together with a conversation of a married couple on the day of their wedding anniversary. She had been waiting for a proof of love, He gave her freedom, which She interpreted as a prophecy of parting. Something stood in their way: the Something was unawareness of one's own emotions and inability to express the heart of the matter beyond words and silence. It proved, for the first time, that Nowak was not in the least an epigone of the "Stalowa Wola generation", that he could juggle both tradition and the sound of the avant-garde, the latter being what his teachers had once rebelled against.
At the next stage of his career, Nowak started composing what might be classified as exercises before a large, full-scale opera. These include: the Dark Haired Girl in a Black Sports Car for chamber orchestra (2009), based on an anecdote about a woman seen in the traffic who "drove away after a moment, never looking in my direction"; King of the Cosmos Disappears for orchestra, threads and piano (2010) – about a schoolmate who called himself the master of the Cosmos and disappeared without a trace; Concerto for Guitar in Peculiar Tuning and Chamber Orchestra (2012); and the Half-filled Diary (2013) presented in this recording.
After a year of cooperation with Georgi Gospodinov, a Bulgarian poet, prose writer and playwright, the Space Opera (2015) was born. It is a story of the first manned journey to Mars, told from points of view including that of a stowaway accompanying the two astronauts – a fly who had wandered into the spaceship's capsule. The music Nowak built around this narrative is difficult, woven from heterogenous and fascinating chords, rich in its orchestral layer, sensual in the vocal parts, with clever references to the legacy of 20th-century titans, primarily that of the not-so-obvious-anymore Stravinsky. Nowak set out to construct his own mythical universe: in his first "true" opera, he created a vision of an apocalypse of disregarded beings, reaching beyond the anthropomorphic way of representing nature.
Working on Ahat-Ili – Sister of Gods (2018) with libretto by Olga Tokarczuk, based on her novel Anna In in the Tombs of the World, Nowak persuaded the writer to make Ninszubur, Inanna's mortal confidant, the primary character of the story. Each of the five main characters was assigned a separate element, while each of the elements was assigned its own microharmonic structure. The world-governing rule was rendered with a mysterious twelve-tone chord, which appears at the onset of the composition and later reappears like a leitmotif. Ninszubur, the confidant's monologues correlate with a cello melody referencing a Sumerian hymn, which survived to this day in the Persian dastgah-e nava melodic pattern and in a related Arabic maqam. The flawlessly written music in this opera, planned with a great sense of dramaturgy, seduces us with a subtle and unobvious beauty, supported with an uncommon sonic imagination – proved in fragments such as the duet of the countertenor Dumuzi and the contralto Ereszkigal, where Nowak juxtaposed two voices of similar ranges and tessituras, yet a completely different timbre.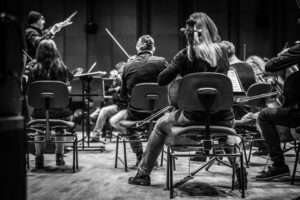 Marek Moś and AUKSO during rehearsal of Ahat Ilī in Gdańsk, 2020. Photo: Dorota Koperska
Nominating Nowak for the prestigious "Paszport Polityki" award, I wrote that I was doing it because of his "creative independence and an original musical perspective on the world". I added that he was most worthy of the award for Ahat Ilī, which "restores faith in the future of the opera". Nowak won the award, which is all the more important, as he emphasises himself, in light of the fact that he had not won any composition competition before. A few months later, he announced the premiere of another piece, Drach, a fruit of his cooperation with Szczepan Twardoch, the author of the novel by the same title. The first performance took place over the three evenings of the Auksodrone festival at the Mediateka in Tychy, in October 2019. Nowak called his new piece for soloists, strings and looper dramma per musica, thus reaching for the roots of the operatic form. Twardoch distilled the essence out of his Drach, making personified emotions the protagonists and leaving but very few remnants of the plot and dramaturgy of the original in place. Nowak framed the composition into three short "chapters", set on a few parallel planes. The narrative – as the ever-reborn Drach – develops in a circular manner, from a prologue using the harpsichord tuned to a meantone temperament, where the first musical suggestions of a "perpetual return" appear, through singing supported by a harmonically distorted accompaniment, to "romanticising" culminations and returning to the baroque part symbolising the primeval beginning.
In the near future, about which Nowak – very aptly – says "it is difficult to foresee, but possible, with a certain probability, to assume", we are in for at least two important premieres of his compositions: "Prawda?"  [Truth?] Symphony No. 1 and Syreny [Sirens] – "melodramma aeterna", yet again with libretto by Szczepan Twardoch. It is probably high time we agreed with Chłopecki, even if it is in the afterworld. Nowak's music seduces with a quality that our ireful and distrustful generation has scorned for long years – it is simply beautiful.
Translated by: Mikołaj Witkowski