Rose is a rose is a rose is a rose" – this famous quote from Gertrude Stein's poem Sacred Emily is usually interpreted as a manifesto of anti-symbolism. Things should be seen as they are. Regardless of what has happened in the course of the evolution of this musical form, opera is opera is opera is opera. In the previous century it was buried alive many times. Obituaries announcing its successive deaths were published, bitter tears were shed, dancing over its grave took place – and yet every time it rose from the dead and returned to the stage. True, increasingly poor, increasingly mauled, increasingly less certain of its identity, but still somehow distinct from the other varieties of vocal music. It was dealt the heaviest blow by modernism, an aesthetic movement in which were brought into focus all premonitions that the end was near. A certain order of civilisation did indeed pass away or rather died a violent death: in the trenches of the Great War, in the blaze of the Bolshevik Revolution, on the battlefields and in the death camps of the Second World War. Yet the world survived and moved on, although not always hand in hand with opera – which critics and philosophers began to blame for complicity in the recent catastrophe.
They also included Theodor W. Adorno, who pointed out that opera was a model product of the "culture industry", which sought profit and not true art. He accused opera of escaping reality, of being slavishly attached to the convention and prone to showiness. He lambasted operagoers: childish lovers of The Magic Flute and Il Trovatore, who liked only those melodies they had already heard. Unfortunately, he went a little bit too far: in wanting to criticise primarily the "bourgeois" institution, he also condemned the musical form as such. Theatre quickly reformed itself, perhaps even too much. Today it is difficult to find a staging without women and men in suits, while the audience – instead of demanding chariots and dragons in Händel's operas – laughs out loud on seeing a swan in Wagner's Lohengrin. Music has not managed to keep up. A Romantic opera in modern sets sometimes seems more conventional and surreal than productions from the 1950s which so irritated Adorno. The audiences have accepted the fact that they have to grow out of Mozart, but they do not want to face Berg, Britten or Pendrecki. Directors of opera houses complain of poor results at the box office and lack of interest in contemporary music.
Composers do what they can. They give up writing operas altogether. They write shorter works for smaller line-ups, often easier to understand and combining various genres. Patiently, they listen to explanations that the old convention has become obsolete and no one has yet come up with a way to attract the attention of new audiences used to a completely different speed of life. They nod in agreement but they do not really believe it. They disguise their works, calling them musical theatre, stage action, performance. They long for a possibility of writing a "real" opera: with a large orchestra and chorus, numerous soloists, captivating libretto. Others try to prey on the genre's past glory: they compose pieces that have nothing to do with opera. Without text, without singing, without sets, sometimes even without live performers at all. They try to convince us they have redefined the form. And yet opera is opera is opera is opera. And it will remain so as long as there are musicians capable of composing and performing it, audiences willing to listen to it and – last but not least – opera houses daring to present it.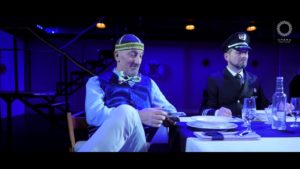 Immanuel Kant. Photo: FRU Media / Bartłomiej Dębicki, Jacek Piątkiewicz / Opera Wrocławska.
Why are so few new operas being written? Why do they disappear from the repertoire so quickly? It is enough to ask ordinary lovers of Traviata. They will reply that they do not understand this cacophony of sounds and find no pleasure in listening to their favourite singers in parts which, in their view, do not make a logical whole. In Poland there are still thousands of music lovers for whom Wozzeck, written nearly one hundred years ago, is too avant-garde. It would take too long to consider the causes of such a state of affairs now. It is better to reflect on what can be done about it.
The best thing would be to start with a work that is compact in its dramaturgy, and features music that may by "strange" but is vivid and consistent with the libretto. If the novices wince at Pendrecki's The Devils of Loudun, give them one of Zygmunt Krauze's operas, easier to understand. Go back in time to works by Britten or Stravinsky. Do not push anything. The novices get tired – return to Verdi. And then show them the miracles happening here and there in Puccini's late scores, the novel solutions appearing in Janáček's masterpieces. Suggest "borderline" compositions, in which they will be able to capture references to their favourite melodies they have already heard – for instance, Strauss' Ariadne auf Naxos. Do not hurry. Sooner or later the novices will reach for Berg, if only out of sheer curiosity.
It is also possible to use a trick. To introduce music lovers to the world of contemporary opera, alternating it with Monteverdi, French Baroque opera, groundbreaking works of Gluck the reformer. Hopefully, the music lovers will cease to listen endlessly to the beautiful tunes from the core repertoire and instead will start exploring the structure of the pieces, will comprehend their inner logic, will understand that the 21st-century opera composers often employ the same methods as the masters of the past. They will appreciate elements of pastiche in Péter Eötvös' works and will no longer associate them with caterwauling cats.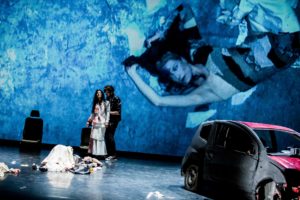 La voix humaine. Photo: Krzysztof Bieliński / TW-ON.
For various reasons, not only patriotic, it is good to start the education well with works by Polish composers – with comprehensible, well-delivered text, which the listeners will not have to read from the surtitles projected above the stage. Because of similar considerations soloists should be required to work diligently with vocal coaches and sing their parts with respect for the words, regardless of the language. After all, opera is primarily drama, and the ease of following the libretto helps greatly with following the changes in the musical narrative. An opera should captivate like a novel, shock like a tragedy by Shakespeare, terrify like a horror film, amuse like the best cabaret. Paradoxically, the technological revolution may boost the popularity of contemporary opera. What we will miss in the opera house, we can listen to in a recording or watch on YouTube. We can enjoy comparisons between various versions of a work that is just emerging – assuming a slightly different form in each staging, in each performance. Nothing can stop us from suggesting an idea for a new composition to a composer, suggesting an unlikely source of inspiration, on one of the numerous online fora for example. From debunking this bizarre myth that opera is a dead art, a closed chapter in the history of music, a galvanised frog that will stop moving as soon as directors of opera houses give up the temptation to occasionally present a new work and spend the funds they have managed to save as a result on yet another premiere of Traviata.  In suits of course.
Jokes aside. We are writing about serious matters. About a chronic disease of a form that could flourish, if we realised at last that opera is not a museum piece and that its musical potential lies in every one of us. Through it, it is still possible to spin social allegories, discuss important dilemmas of the present, tell stories from the lives of scholars and car mechanics – supported by the power and depth of emotion probably no other art has at its disposal. Provided we find an opera house that will welcome it with open arms and just as open mind.
Such an opera house turned up in Wrocław. Nine years ago Ewa Michnik, the previous director of the Wrocław Opera, decided to bring together works already in the company's repertoire and present them during a Contemporary Opera Festival. The programme of the first festival featured Zbigniew Rudziński's Antigone, two operatic double bills – Tadeusz Baird's Tomorrow paired with Joanna Bruzdowicz's The Penal Colony, and Esther by Tomasz Praszczałek (today writing under the pseudonym PRASQUAL) coupled with Hagith by Karol Szymanowski – Szymanowski's King Roger directed by Mariusz Treliński, a much more interesting production than his earlier staging for Teatr Wielki-National Opera, and Krzysztof Penderecki's Paradise Lost. The set was complemented by a ballet production featuring The Saragossa Manuscript by Rafał Augustyn, who also reconstructed the second part of the bill, Devil's Frolics by Adam Münchheimer and Stanisław Moniuszko, the full score of which was lost during the Second World War. Apart from Esther, a chamber work that won a prize at a composing competition in St. Petersburg in 2002, these are all works by established and eminent composers, works that should appear regularly in the repertoires of Polish opera companies. The first festival was very well received by the critics and began to be seen as one of Ewa Michnik's most important initiatives – especially given the fact that the company's director had no intention of becoming content with just one edition.
Ubu Rex. Photo: Tomasz Zakrzewski / Opera Śląska.
Two years later, thanks to a co-production with Prague's Národni Divadlo, we could for the first time see Bohuslav Martinů's opera Hry o Marii (premiered in Paris in 1934). Yet what came to be regarded as the most important event of the 2nd Festival was the presentation of La libertà chiama la libertà, part three of Eugeniusz Knapik's operatic triptych The Minds of Helena Troubleyn, in a production that was taken over – from the author of the idea of the project, the Flemish multimedia artist Jan Fabre – by a young and very promising director, Michał Zadara. The consternation caused by the inclusion in the programme of Giacomo Orefice's mediocre Chopin of 1901 (justified solely by the celebrations of the Chopin Year) was alleviated by a very successful production of Hanna Kulenty's The Mother of Black-Winged Dreams, prepared by Ewelina Pietrowiak, another talented Polish opera director. Wrocław also hosted Philip Glass' The Fall of the House of Usher, Barbara Wysocka's debut at Teatr Wielki-National Opera, which won the Polityka weekly's prestigious Passport Award. This time there was no ballet – the programme was complemented by King Roger and Paradise Lost.
The 3rd Festival, in 2012, again featured intriguing novelties: a concert performance of Peter Eötvös' opera Angels in America, based on Tony Kushner's famous Pulitzer-winning play (conducted by Bassem Akiki); the chamber opera Zítra se bude by Aleš Březina, who composed music to Jan Hřebejk's Oscar-nominated film Divided We Fall (a production from Prague's Národni Divadlo w Pradze); another production directed by Ewelina Pietrowiak – Zygmunt Krauze's The Trap after Tadeusz Różewicz's play inspired by the biography of Franz Kafka; and the opera-performance Martha's Garden by the Wrocław composer Cezary Duchnowski, with Agata Zubel singing the solo part. Operatic themes were also to be found in a guest production from Hessisches Staatstheater Wiesbaden, Bluebeard's Secret, a ballet fantasia based on Bartók's masterpiece, and featuring music by Henryk Mikołaj Górecki and Philip Glass.
The 4th Festival, organised as part of the 2014 World Music Days, was surprisingly modest, although critics wrote favourably about both Angels in America (this time in a staged version) and the premiere of PRASQUAL's Songs from the Cage to Różewicz's poems with excellent performances by Jadwiga Postrożna, Mariusz Godlewski and the actor Jerzy Trela.
Three years passed. The director of the Wrocław Opera changed. As did, radically, the company's repertoire plans. The next edition of the festival started by Ewa Michnik will be launched under a slightly perverse title of Contemporary Opera Festival+. The plus sign means that its formula will be expanded again: to include, for example, symposia devoted to the future of opera and a ballet production of Eufolia/Ambulo with music by Kilar, Górecki, PRASQUAL and Andriessen, choreographed by Jacek Przybyłowicz and Jacek Tyski. Pendrecki's Ubu Rex from the Silesian Opera in Bytom, winner of the Golden Mask, needs no special introduction. Poulenc's La voix humaine from Teatr Wielki-National Opera sharply divided the critics. I did not like it, others were really enthusiastic. The premiere of Immanuel Kant, Leszek Możdżer's "jazz opera", will certainly attract crowds – if only because of the fact that the piece became one of the first victims of the new repertoire policy at the Warsaw Chamber Opera under the helm of Alicja Węgorzewska-Whiskerd and has had to wait before being revealed to the world.
I do not know about you, but for me all this makes up a logical whole and I hear no cacophony in it. Opera is opera is opera is opera. Even contemporary opera. Especially contemporary opera.
Translated by: Anna Kijak