One of them was born in Brno; the other spent most of his life there. Aside from that, they differed in every respect. Die tote Stadt – an opera by the 23-year-old Erich Korngold, the compositional Wunderkind whose ballet Der Schneemann had scored triumphs ten years earlier at the Vienna Hofoper – was sought out by two theatres at once. The world première took place on 4 December 1920, simultaneously in Hamburg and Köln. The Köln production was conducted by Otto Klemperer himself, and the roles of Marie/Marietta and Juliette were played by his wife, Johanna Geisler. For the next several years, the work scored an uninterrupted series of triumphs all over the world. Despite its enthusiastically-received première at the Národní divadlo in Brno (23 November 1921), Kát'a Kabanová – a mature masterpiece by the 67-year-old Janáček – suffered disaster a year later in Prague; and a week later, at the same Theater in der Glockengasse in Köln under the baton of the same Klemperer, an even worse one – so ignominious that the second showing never came to pass. Die tote Stadt appeared at the right time – it helped people to overcome their mourning of sons, husbands and fiancés killed during the Great War, as well as the victims of the deadly Spanish flu epidemic that had moved from the front and the POW camps to the civil population. Kát'a was a record of Janáček's personal tragedy – his obsessive, unrequited love for Kamila Stösslová, the young married woman who also stood behind every note of The Cunning Little Vixen, the Glagolitic Mass and String Quartet no. 2.

I had been gearing up for the new staging of Kát'a Kabanová at the Opéra National de Lorraine for a long time. I had let someone drag me to a showing of Korngold's opera at Semperoper Dresden a week before the première in Nancy, above all hoping to erase my bad impressions from the production at Warsaw's Teatr Wielki – Polish National Opera: the horrifically-cast role of Paul, the orchestra playing without the faintest idea of the youthful Austrian Jew's sources of inspiration, not to mention Mariusz Treliński's directorial perspective, which was as spectacular as it was nonsensical. Unfortunately, David Bösch did not resist the temptation to 'literalize' the libretto, which is loosely based on threads from Georges Rodenbach's Symbolist novel Bruges-la-Morte. The gloomy Bruges, covered by a network of slimy canals, is above all a metaphor for possessive femininity – both in the literary prototype and in the somewhat trivialized text of Die tote Stadt. It manipulates the mind of the widower in deep mourning, 'returns' his beloved Maria to him in the form of an imperfect double, pushes him to commit a crime – in Rodenbach's work, a real one; and in Erich and his father Julius' libretto, playing out in Paul's tormented imagination. For all of this to strike an equally tender chord in the viewer as nearly 100 years ago, this tale needs to be left in a sphere of ambiguity. Meanwhile, Bösch lays out for the audience in the simplest possible terms that everything is taking place in the protagonist's head. Instead of leaving us eye to eye with the monster-city, he treats us to a Freudian psychoanalysis with elements of Gestalt therapy. In his vision, there is no place for any contrast: everything is tainted by decay. Paul is stuck in his neglected petit bourgeois apartment, staring at a hideously ugly portrait of Maria, finding no comfort either in the words of his faithful servant Brigitta, who is more like a slovenly cleaning lady, or in the tirades of Frank, who is as broken as he himself is, and imprisoned in a wheelchair. He sees his dead wife in a woman too vulgar: oddly angular in motion for a dancer, clothed in a tacky-looking dress, behaving like a juvenile nymphomaniac. The production takes on a bit of colour in Act II, when Paul wanders in the night among the canals of Bruges – subtly suggested by Patrick Bannwart's stage design – ending up among parades of nuns and commedia dell'arte characters, mixed in with figures of omnipresent death. It culminates in a procession scene illustrated with spectacular projections in Act III, after which it again sinks into the stuffily disordered apartment of Paul, who in desperation commits the supposed murder of Marietta. In the finale, there is no hope: the 'resurrected' dancer returns for her umbrella and leaves; the widower – after a final conversation with his friend – curls up in a ball in the dirty floor, cradling a curl of Marie's golden hair. The mourning continues – contrary to the composer's intentions and the sounds of the celesta dissolving into nothingness.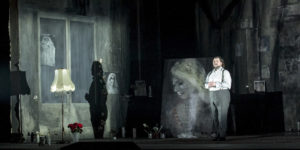 Die tote Stadt. Burkhard Fritz (Paul). Photo: David Baltzer.
In musical terms, on the other hand, the Dresden production took me to seventh heaven. The Staatskapelle, under the baton of Dmitri Jurowski, probably managed to convince all undecided parties that Korngold's score is closer to the works of Zemlinsky and Mahler than to the hits of the Viennese operetta. In its transparent textures, swinging rhythms and subtly-shaded colours of individual orchestra sections lurked evil and salvation, longing for times past and sadness overcome by hope for a better tomorrow. In the rendition of Burkhard Fritz – possessed of an intonationally secure, not too expansive in terms of volume but surprisingly warm-sounding Heldentenor – Paul turned out to be a fragile but at the same time mature man, able – the director's concept notwithstanding – to face his own emotions. In vocal terms, he surpassed Manuela Uhl (Marie/Marietta), a big dramatic soprano tainted by quite stentorian vocal production and horrific diction, though I must admit that in 'Glück das mir verblieb' from Act I, she came out surprisingly well in her duet with Fritz, trying rather to melt into the lyrical phrasing of her partner than to outshout him. Beautiful creations of Frank and Fritz were produced by Chistoph Pohl, who sings with a round, superbly-placed, though in terms of dynamics not-too-nuanced baritone. Among the players of the supporting roles, worthy of mention is the deep contralto Tichina Vaught, perfect in terms of character in the role of Brigitta.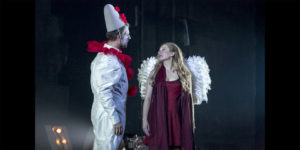 Christoph Pohl (Fritz) and Manuela Uhl (Marietta). Photo: David Baltzer.
My trip to Dresden confirmed me in my conviction that their musicians are masters, while the Warsaw production wasted the potential of Korngold's youthful score – which, while perhaps not too innovative, is technically superb and very well planned-out in dramaturgical terms. I went to Nancy with the Teatr Wielki – Polish National Opera's shocking production of Kát'a Kabanová from nearly eight years ago (directed by David Alden with Expressionist stage design by Charles Edwards) in my memory. In the capital of Lorraine, Janáček's masterpiece was to take on a form proposed by David Himmelmann – a German known to Polish music lovers above all for a fragment from a Bregenz production of Tosca that played a prominent role in the James Bond film Quantum of Solace. His most recent staging, from a bit under a year ago, a Tosca at the Osterfestspiele Baden-Baden, did not inspire any great enthusiasm among critics; however, it must be admitted that Himmelmann is an experienced stage director with a solid musical education, which is perhaps why he felt justified in picking a bit at the material of the work.
However, one must also bear in mind that picking at Janáček's ideally-constructed operas can turn out to be of disastrous effect. Kát'a Kabanová superficially gives the impression of an older and more bitter sister of Jenůfa. Kabanicha appears to be a ghostly caricature of Kostelnička; the title character, the hounded victim of a narrow-minded community that will finally drive her to suicide; her two men, Tichon and Boris, distorted emanations of the characters of Števa and Laca, the two perpetrators of the misfortune of the dishonoured girl from a Moravian village. This is not the way to go. As I wrote some time ago now, the key to understanding both Kát'a and its literary prototype, i.e. Alexander Ostrovsky's The Tempest, is knowledge of the social history of Russia. Into this precise analysis of the conditions lying at the foundations of Russian despotism, into this commendation of passive resistance and painful hymn to freedom regained by death, Janáček wove the experience of his own unhappy feelings for Kamila Stösslová. Kát'a Kabanová is, however, a perversely optimistic opera: it is not Jenůfa, but the unfaithful wife of Tichon who shatters the found order of things. She overcomes fear, shame and moral scruples to admit with reckless courage to her guilt. Kát'a knows that the truth is going to come out regardless, so she takes matters into her own hands. She throws off the yoke imposed upon her and sets off on a journey. It is a pity that in her case, it will be at once her first and last – into the dark current of the Volga – but after all, one has to begin somewhere.
Kát'a Kabanová. Trystan Llŷr Griffiths (Kudrjaš) and Peter Wedd (Boris). Photo: Opéra National de Lorraine.
Russian libertarians understood Ostrovsky's message, as did Janáček – giving Kát'a perhaps the most expansive and internally-nuanced role in his entire operatic œuvre. Most stage directors, even if they don't have a thorough knowledge of this text's conditions, do instinctively distribute the accents in accordance with the composer's will. Himmelmann decided to do otherwise. He placed the entire action of the opera in an enclosed space – otherwise phenomenally arranged on a two-level stage and, thanks to the masterful work of the technicians, maintained in continual silent motion – probably with the intent of emphasizing the atmosphere of growing oppression (stage design by David Hohmann). As a result, he weakened the tension contained in the libretto and the score, for it is not without reason that Janáček shifts the action back and forth between the banks of the Volga and the stuffy interiors of the merchant's home. The German stage director shifted the action into the unspecified realities of Eastern Europe and equally indeterminate contemporary times (judging from Lili Wanner's costumes, the 1980s). He shut his protagonists up in a two-floor hotel-boarding house clearly run by Kabanicha. When there was no more reason for the protagonists to be present onstage, he packed them into the elevator, closed the hotel room doors behind them, or threw them into the wings. He turned all of the characters into one-dimensional caricatures. Kabanicha is a truly farcical hag; Tichon, a pitiful mama's boy; Boris, a common coward; Varvara and Kudrjaš, a pair of thoughtless egoists who will flee to Moscow at the first opportunity; and Kát'a, a neurotic, sexually frustrated woman overtaken by guilt feelings. This interpretation of the main protagonist was emphatically highlighted by Himmelmann in the finale: when the scenery had finally disappeared from the stage, revealing the black abyss of the Volga (actually a very good idea), the farewell with Boris turned out to be a hallucination of Kát'a, who was obliged to dialogue with a partner hidden in the wings.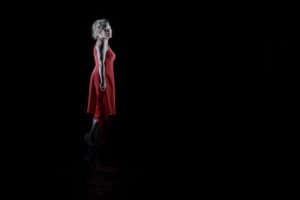 Helena Juntunen (Kát'a). Photo: Opéra National de Lorraine.
It is amazing that with this kind of stage direction, the soloists did not get lost in their roles, and put on a masterful display of singing in accordance with Janáček's idiom. Helena Juntunen – a technically superb Finnish soprano gifted with a dark and deep voice, but surprisingly girlish in expression – created a well thought-out interpretation of the character of Kát'a, highlighted by a perfect understanding of the text and skill in picking out its characteristic micro-motifs (with phenomenally 'torn' sentences in the scene preceding the suicide). Superbly blended with her dense soprano was the metallic tenor of Peter Wedd (Boris), who –  thanks to abundant experience in the Wagner repertoire – did not fall into falsetto even once, and in several places showed a today-rare ability to sing a sonorous piano on a long, beautifully-closed phrase (for example, the brilliant 'Jste to vy, Katerino Petrovno?'). In vocal terms, Éric Huchet fully equaled him as Tichon – brighter in tone, superb in articulation, convincing as an actor in the completely unconvincing role imposed upon him by the stage director. Leah-Marian Jones, who too often replaced singing with noisy melo-recitation, did not do as well. I don't know, however, if anyone would be able to adapt the role of Kabanicha to such a concept for the interpretation of this character. An excellent performance was turned in by Eléonore Pancrazi and Trystan Llŷr Griffiths in the roles of Varvara and Kudrjaš. Aleksander Teliga once again successfully portrayed Dikój, though his Czech sounds as enigmatic as the Polish of Mestwin in the recent Poznań staging of Legend of the Baltic.
The real hero of the evening, however, turned out to be the conductor. Mark Shanahan brought out of this score the entire essence of Janáček's late style: the contrasts of textures and motifs; utilization of instruments in unusual registers and, accordingly, surprising colouristic effects; polyrhythmic linking of measures; sudden changes of tempo. Most importantly, however, he did not try to forcibly 'prettify' Kát'a or smooth out its rough edges. Where necessary, he told the instruments to scream; elsewhere, to sob; yet elsewhere, to flow in waves like the Volga. And when the narrative required silence, he masterfully played silence in the orchestra. I do not doubt that he worked with equally meticulous care on the shape of every vocal phrase.
What I ought to do now is wrap both of these shows up with a metaphorical ribbon and carefully place them in the treasury of my memory. I shall not hear such intelligently and solidly prepared performances any time soon. With all certainty – and that, soon – I shall see less intelligent stagings.
Translated by: Karol Thornton-Remiszewski