In June 1869, Cosima bore Siegfried – the third child of her non-marital relationship with Wagner – and sent a letter to her husband, yet again imploring him to grant her a divorce. Hans von Bülow finally gave in: 'You have decided to devote the treasure of your heart and mind to a higher being. I have no intention of condemning you for same.' What ensued was probably the happiest period in the longtime lovers' lives. The divorce proceedings were completed in July 1870; one month later, Cosima and Richard were married. Shortly thereafter, the composer decided to give his wife a surprise: he sat down to write the piece that awakened her from her sleep at the Tribschen villa near Lucerne on the morning of 25 December, the day after Cosima's birthday. Musicians from the Tonhalle-Orchester Zürich – thirteen of them – gathered on the staircase and played a symphonic poem with the monstrously long title of Tribschener Idyll mit Fidi-Vogelgesang und Orange-Sonnenaufgang, als Symphonischer Geburtstagsgruss. Seiner Cosima dargebracht von Ihrem Richard, known today as the Siegfried Idyll. Initially, Wagner had no intention of publishing it; however, financial pressures induced him to do so at the Schott music publishers, expanding the ensemble to 35 instruments.
The Siegfried Idyll has entered the standard concert repertoire as Wagner's only original work for chamber orchestra. Later arrangements – prepared by, among others, conductor Felix Mottl and composer Hans Werner Henze – have normally limited themselves to shorter instrumental fragments of his operas, or to orchestral takes on the Wesendonck Lieder, which were originally scored for voice and piano. When rumours reached my ears concerning an initiative of the Scottish ensemble Mahler Players, which – after the warm reception of their Mahler in Miniature series comprised of, among other items, a chamber version of Das Lied von der Erde – had decided to take on Wagner, at first I thought they were totally out of their minds; then I listened to a few of their previous recordings online, at which point, without further ado, I set forth on a mad journey to Inverness: to a concert in which conductor and ensemble founder Tomas Leakey juxtaposed Schoenberg's Verklärte Nacht with Act I of Wagner's Die Walküre.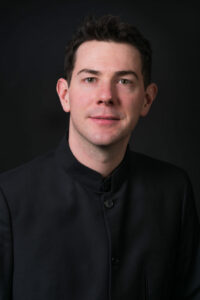 Tomas Leakey. Photo: Mahler Players
Schoenberg's early work, initially written for string sextet, is most often heard today in the composer's 1943 revised version for string orchestra. In the rendition of Mahler Players, it would thus not have been anything noteworthy if Leakey had not connected Schoenberg's inspiration from a poem by Richard Dehmel (describing the journey of two lovers through a dark forest, during which the woman reveals to her beloved that she is pregnant with someone else's child) with the equally dark narrative of Die Walküre (where Siegmund, freshly arrived from the backwoods, enters into an incestuous relationship with his twin sister Sieglinde, with whom he begets Siegfried, a hero unblemished by evil who will change the fate of the gods). The conductor treated the audience to a few introductory words before the concert and, in the second portion, transitioned smoothly from a sensual and tender interpretation of Verklärte Nacht to the stormy beginning of Wagner's drama – in a masterful arrangement by Matthew King and Peter Longworth, who in some mysterious way managed not to degrade the expressive power of this substantial score, despite a reduction by nearly three quarters of the original ensemble. Even more noteworthy, the soloists (Peter Wedd in the role of Siegmund; Claire Rutter as Sieglinde; and actor/singer/performance artist Iestyn Edwards, normally associated with a totally different repertoire, in the role of Hunding), did not convey the impression of being inhibited by the more intimate take on Die Walküre – they sang with full voices, totally involved in their characters, and not even for a moment giving the audience any reason to suppose that they are taking part in some weird and not-entirely-justified endeavour.
After the concert at the Inverness cathedral. From left to right: Tomas Leakey, Peter Wedd (Siegmund), Iestyn Edwards (Hunding) and Claire Rutter (Sieglinde). Photo: Mahler Players
Actually, they were more than convinced of what they were doing. Since the beginning of the ensemble's existence – it was founded in 2013 – Tomas Leakey and his instrumentalists have been continuing a wonderful tradition of musical work at the grass roots. They have been introducing the inhabitants of the Scottish Highlands, one of Europe's most sparsely-populated regions, to the world of classical music with no concessions, immediately taking on masterpieces of the highest order, engaging soloists who score successes at the best opera houses, independently preparing themselves for the work painstakingly, thoroughly and with fantastic artistic results. And in return, they have received a generous reward: the Neogothic cathedral in Inverness was packed to the gills; the performance was received with shouts of rapture and lengthy standing ovations. The artists encountered an equally warm reception the previous day at St. Giles' Church in Elgin, and the day after at the Macphail Centre in Ullapool – a fishing port numbering slightly over 1000 inhabitants that also hosts, among other cultural events, an annual three-day book festival. In past seasons, the Mahler Players have ventured into even less accessible corners of northern Scotland – with music by their namesake, with a chamber version of Dvořák's New World Symphony, with orchestral excerpts from Parsifal. In the coming years they are planning, among other events, concerts with Act III of Siegfried, Act II of Tristan und Isolde, and a symphony based on themes from Wagner's late sketches, commissioned from Matthew King. They have no great difficulty finding partners and sponsors for their projects; after six years of activity, there is no doubt that their initiatives will encounter the enthusiasm of an audience hungry for new experiences.
I dedicate this short report to some organizers of our musical life, who stubbornly hold to the thesis that the only way to popularize this artistic field is to organize operetta galas, tenor tournaments and super-productions with large outdoor screens and stadium amplification. For connoisseurs, on the other hand, they offer summer festivals featuring foreign artists who – for a generous fee – will agree to return from a prestigious concert tour via a roundabout route through Poland.
Translated by: Karol Thornton-Remiszewski