I read the first part of Arthur Rubinstein's memoirs – My Young Years – shortly after they were published in Poland, that is more or less at the height of my own "Wagnerian fever". This may be the reason why I have such a vivid recollection of Rubinstein's youthful fascination with Emmy Destinn, the debacle of his collaboration – perhaps even love affair – with the Czech soprano, lean days in Berlin and failed suicide attempt, when he tried to hang himself on a belt from a hotel dressing gown. After all these disasters Rubinstein was taken under the wings of Józef Jaroszyński, a rich landowner, bon vivant and amateur musician, whom Rubinstein had met earlier through the Wertheim family. Jaroszyński generously gave the pianist four thousand roubles, which Rubinstein decided to splurge on a tour of Europe in the company of Paweł Kochański and his benefactor. When they were staying in Karlsbad, Józef imprudently boasted to Arthur that he had got a ticket to a performance of Parsifal in Bayreuth. When Rubinstein realised that his friend had not the slightest intention of relinquishing this treasure to him, he flew into a rage. The following pages of the memoirs are taken up with a dramatic tale of his attempts to get a ticket for himself ending with the purchase of an admission card confiscated by the police from the local "touts". A few days later Rubinstein behaved exactly like Jaroszyński: instead of giving a ticket to another performance of Parsifal to a desperate "Basia", i.e. Joanna Wertheim, he kept her in suspense until he finally managed to get one more card – this time free, in Cosima Wagner's box, for a fictitious Otto Schultz, a name assigned to a small reserve pool of tickets to be used "in emergency".
This was in 1908, in the first season of Siegfried Wagner's reign. Parsifal was conducted by Karl Muck, whose recordings, made twenty years later, still constitute a point of reference for most lovers of this masterpiece, myself included. A lot has changed since then on the Green Hill: Bayreuth has lost its monopoly on staging Parsifal, the shrine of Wagnerian tradition has turned into an experimental lab for luminaries of Regieoper, and ardent music lovers are increasingly replaced by rich snobs. What has remained is the cavernous orchestra pit, almost completely hidden under the stage, the famous wooden tip-up seats on which it is hard to sit through a performance – all the more so given that the auditorium is neither ventilated nor air-conditioned – and the aura of inaccessibility still surrounding the Festival. It was cultivated in the editorial team of Ruch Muzyczny by Józef Kański – the only regular at the proud Festspielhaus among us. For many years I did not have the courage to follow in his footsteps. I changed my mind, when I saw the cast of this year Parsifal, nearly identical and just as encouraging as in the previous season. Having looked at my calendar, I also decided to apply for accreditation for the second performance of Lohengrin. A confirmation soon came and I felt almost like Rubinstein with a free ticket for the non-existent Otto Schultz.
Tannhäuser, Act 3. Stephen Gould in the title role, and Lise Davidsen as Elisabeth. Photo: Enrico Nawrath
Shortly before my departure for Bayreuth I presented two broadcasts on the Polish Radio 2 with Marcin Majchrowski: of this year's premiere of  Tannhäuser and first performance of Lohengrin. After the inaugural evening I was left astonished that Tannhäuser could be conducted as gracelessly, sloppily and without a sense of style as it was done by Valery Gergiev, and genuinely delighted with the performance of Lise Davidsen, making her Bayreuth debut as Elisabeth. I also have a vague feeling that I want to see Tobias Kratzer's staging live – despite the fact that his Götterdämmerung in Karlsruhe really enraged me and his La forza del destino in Frankfurt irritated me with its contrived interpretation made to suit a preconceived thesis. In Lohengrin the chorus and the orchestra underwent a sudden, though expected, change under Christian Thielemann's baton. The soloists were a mixed bag: the otherwise excellent Camilla Nylund, stepping in for Krassimira Stoyanova as Elsa at a short notice, was disappointing, and listening to Klaus Florian Vogt in the title role was like Chinese torture. I have been wondering for years about the source of admiration for this Wagnerian tenor, who, against all performance traditions, sings most of the role using voce mista and falsetto, without proper support, with a voice that is harmonically poor and quite simply tired. I had seen Yuval Sharon's production on video, so I had my doubts whether I really wanted to experience all this in Bayreuth and with the same cast at that.
As it turned out, I should not have worried. Nylund withdrew after the first performance and was replaced by Anette Dasch, Jonas Kaufmann's partner in several productions of Lohengrin, a singer with a soprano which is fairly small in size but beautiful in colour and "fragile" enough for Elsa. Much to my surprise I found that the volume of Vogt's voice was much bigger than the recordings suggested; the singer is also a very efficient actor. Which does not change the fact that his voice is a screaming (sometimes also literally) antithesis of the Wagnerian Heldentenor – especially when combined with the singer's penchant for rigid, strangely chanted phrasing which could not in no way be compensated by his excellent diction. The ever reliable Georg Zeppenfeld created a very convincing portrayal of Henry the Fowler, while Elena Pankratova – whom I had had an opportunity to admire as Leonora in Fidelio in Bilbao – coped brilliantly with the fiendishly difficult role of Ortrud, this time avoiding occasional lapses in intonation on the highest notes, which had marred her performance a bit during the first evening. I continue to have a problem with Telramund as portrayed by Tomasz Konieczny: our fine bass-baritone is increasingly prone to booming singing, devoid of dynamic nuances, and forced – which often affects the beauty of his sound. Nor was I enraptured by the voice, rather "short" at the bottom, of Egils Siliņš in the quite substantial part of Herald. The whole thing was brilliantly controlled by Thielemann, although, as I have said on other occasions, I prefer interpretations of Wagner that are less expansive, pulsate more lively and seek internal variety of texture rather than overwhelming beauty of chords.
The hybrid staging by Sharon, who had to adapt his vision to the already made sets and costumes by Neo Rauch and Rosa Loy, still remains fractured – despite some directorial corrections in comparison with last year's version. Its greatest asset is the overall visual concept, clearly dominated by Rauch, who breaks fairy tale, sometimes even expressionistic, landscapes with "industrial" elements bringing to mind the aesthetics of socialist realism. The grotesque costumes, lights and extraordinary colours of the sets suggest that the source of inspiration was the famous Delft pottery – with its refined palette of subdued shades of blue, blurred greys and warm violets, against which the bright orange stands out all the more strongly in the wedding night scene. The surrealist beauty of these ideas cannot be conveyed by any video recording: the beginning of Act II, with a blurred outline of a transformer which emerges from gloomy mists and fumes like the Thrushcross Grange from some post-apocalyptic vision of Wuthering Heights, literally takes your breath away. Sharon loses his way in this landscape, trying to put together two incompatible elements: a mysterious visitor restoring energy to a community plunged into darkness, and female force opposing patriarchy.  To be honest, not much comes from all this, but there are a few very memorable scenes; for example, adding ordinary brushwood to a pyre meant for Elsa and constructed out of useless transformer coils – a clear symbol of losing control over a world that has ceased to be understood. I still believe that new successive corrections will enable Sharon to put this staging on the right track: to make it even more unreal, clear it of any unnecessary journalistic appendages, focus on the ambiguous relations between the characters.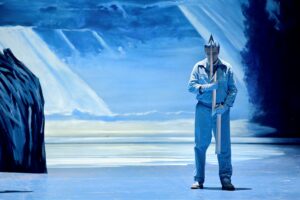 Klaus Florian Vogt as Lohengrin. Photo: Enrico Nawrath
The preparations for the premiere of Parsifal in 2016 (the production will close after this season) were marked by a scandal. The director Uwe Eric Laufenberg was a last-minute replacement for the Berlin-based performer Jonathan Meese – whose contract was terminated apparently because of budgetary considerations – and he brought with him a stage concept initially devised for the Cologne Opera. The production aroused mixed feelings. Laufenberg, known for his penchant for referring to pressing problems of the present in his productions, was accused on the one hand of Islamophobia and on the other – of scandalous offence against religious feelings of Christians. Fans of the previous vision, by Herheim, who in his Parsifal took apart Germany's history, found it too conventional, traditionalists – too extravagant.
Yet it is an exceptionally successful Regietheater production. In Laufenberg's vision Parsifal is paradoxically spot-on when it comes to the intentions of Richard Wagner, who decided to create a musical treatise on redemption and liberation from suffering. This sometimes requires – to invoke the words of Schopenhauer – that the existing order of the world be overcome and annihilated.  Laufenberg has noticed that in his Parsifal Wagner explores the experience of all religiosity and thus goes beyond the narrow framework of worship. In order for faith to be saved, ritual must be annihilated. The director is very consistent in putting his idea into practice and his production is technically masterful. Act I of Parsifal is set in a ruined church which, despite clear references to the present, bears a strange resemblance to the ornamentless sets of the Grail Castle in Paul von Joukowsky's premiere stage design (sets by Gisbert Jäkel, costumes by Jessica Karge, lighting by Reinhard Traub, video by Gérard Naziri). The image brings to mind both the theatre of war in the Middle East and the Trapist monastery in Tibhirine, where in 1996 seven monks were murdered, a crime that still remains a mystery (the "Algerian" theme is highlighted by Gurnemanz made to look like Brother Luc, a doctor who ran a clinic in Tibhirine open to patients of all denominations). Into this space, nearly completely abandoned years later and slowly reclaimed by nature, the director introduced the narrative of Act III. He placed Klingsor's castle in Act II – like in Wolfram von Eschenbach's epos – in the "Kingdom of Persis": a residence of a contemporary Oriental magnate dripping with ornaments and full of women.
All these locations are temples of distorted rituals: the Grail Knights deliberately open up Amfortas' wound in order to receive the body and blood of a "substitute" Christ. Titurel watches over the ceremony like a cruel God the Father, as it were.  Klingsor is a figure of all fanaticism: he prays ardently towards Mecca, only to flagellate himself in a room full of crucifixes a moment later. Longing for salvation, Kundry vacillates among various incarnations, but in each on them she shows more compassion than those whom she desperately leads into temptation. Parsifal really arrives out of nowhere, lugging a swan pierced with an arrow; the swan – although dead – seems to be more alive than members of the brotherhood closed in their doctrine.  Redemption by the transformed Parsifal occurs through the death of ritual: not religion but its paraphernalia, placed by all believers in Titurel's coffin in the finale. Parsifal slams them shut with a stone – so that they would not resurrect, so that they would allow true faith to be reborn: into a world without unnecessary suffering and needless pain.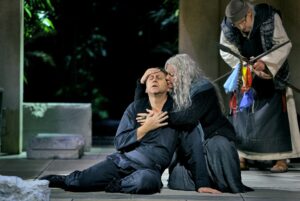 Parsifal, Act 3. Andreas Schager (Parsifal), Elena Pankratova (Kundry), and Günther Groissböck (Gurnemanz). Photo: Enrico Nawrath
Laufenberg has created a coherent modern mystery play, brilliantly combined with music under Semyon Bychkov's assured and sensitive baton. The eponymous hero was portrayed very expressively by Andreas Schager, a singer with a ringing and powerful tenor, with a clearly defined Wagnerian "steel", although occasionally with a too wide vibrato in the middle register. What I missed a bit in the performance of Derek Wilson (Klingsor) was demonic element, which should be an essential quality of a fallen angel tormented by temptation. On the other hand, the delicate, plaintive bass-baritone of Ryan McKinny was very well suited to the figure of Amfortas, and the imperious, mature bass of Wilhelm Schwinghammer – to the ominous figure of his father Titurel. I do not know whether there is another singer in the world capable of revealing the changeable faces of the tormented Kundry with the sensitivity and passion of Elena Pankratova – an artist with a voice of quite extraordinary beauty, perfectly controlled across all registers, shimmering with the colours of all the incarnations of the sinner condemned to eternal wandering. What I heard in the singing of Günther Groissböck as Gurnemanz – who evolves from a detached narrator in Act I into an ecstatic harbinger of redemption in Act III – will be hard to put into words. Something strange was happening to me – as it was the case with Rubinstein, who cried through most of the 1908 performance. It's been years since I encountered such a cultured performance, such a beautiful voice – bringing to mind Hans Hotter's velvety bass-baritone – and such a feeling for the stage. The decision to entrust the role of Wotan/Wanderer to this artist in a new production of Der Ring des Nibelungen next year will probably turned out to be one the best decisions in the post-war history of the Festival.
I left Bayreuth in a mood similar to that of Rubinstein and Kochański over one hundred years earlier: "shaken by this genius, this Wagner". After what I experienced there I am inclined to forgive his descendants everything – even the hard wooden seats and lack of ventilation.
Translated by: Anna Kijak