As the Germans began to lose the war, RAF and US Air Force bombers intensified their raids on Hanover in Lower Saxony – an city of half a million inhabitants, an important railway hub and headquarters of companies like Continental AG, Hanomag and AFA producing tyres for military equipment, tracked  armoured personnel carriers and batteries for submarines. In nearly ninety air raids the allies dropped one thousand parachute mines, thirty-four thousand aerial bombs and nearly one million incendiary bombs. The last raid took place in March 1945. The historic city centre practically ceased to exist. After the war eight million cubic metres of rubble were removed from Hanover. Like in many over destroyed German cities, plans to painstakingly rebuild the old town were abandoned; what was created instead was an "American" metropolis cut through by arterial streets with some buildings of historic significance reconstructed here and there, immersed in a sea of new, modernist edifices.
Among them was a classicist building of Staatstheater Hannover, erected in the mid-19th century after a design by Georg Ludwig Friedrich Laves, one of the most outstanding architects of the Hanoverian court. The opera house opened in 1852 with a performance of The Marriage of Figaro. In 1918 the building passed into the hands of the Prussian government. On 26 July 1943 it burnt down during a mass air raid by the Allies on the centre of Hanover. It was reconstructed after the war under the guidance of the Hamburg-based architect Werner Kallmorgen and reopened in 1950. It underwent alterations – primarily in the auditorium and the vast foyer – made by Dieter Oesterlen in the mid-1980s. The impressive frontage of the edifice now hides a simple and elegant, though quite impersonal interior, which neither interferes with the audience's reception of performances, nor brings anything special into the atmosphere of this theatrical temple.
Rachel Nicholls as Salome. Photo: Clemens Heidrich
I was lucky, in a way, that during my first visit to the Hanover Opera I encountered the work of Ingo Kerkhof, a young director, and not another example of Regieoper, which sometimes can be truly grotesque in German theatres. Kerkhof made his debut in Hanover two and a half years ago with a production of the same Marriage of Figaro that launched the Laves-Oper. A few months later he staged Strauss' Salome, with sets by Anne Neuser and costumes by Inge Medert, choreographed by Mathias Brühlmann and lit by Elana Siberski. The production, presided over by Ivan Repušić, the company's newly appointed Music Director, was quite coldly received – primarily because of Kerkhof's static and not quite developed concept.
This season Salome returned to the stage with a fresh cast and a different conductor. I don't know to what extent Kerkhof had polished his original vision – not a great extent, I suspect, if this time, too, he failed to avoid several inconsistencies, rightly pointed out by the critics after the premiere. I have to admit, however, that his staging is as harmless and as inessential as Oesterlen's impersonal design of the theatre's interior – neutral with regard to the music and bringing nothing new to the production history of Strauss' one-act opera. In various interviews he stressed (like most directors do today) that the action of the opera took place everywhere and nowhere, in some unspecified period, and the narrative focused on the eponymous heroine's rebellion against patriarchal oppression. He conveyed the indeterminacy of time by contemporary costumes, and of place – by minimalistic sets, which proved to be the production's greatest asset. Herodes' palace was completely empty, closed upstage by a string curtain, which quivered in a blue light like a night-time landscape in bright moonlight. The barrier separating Jochanaan from the external world was symbolised by a golden glowing metal curtain. The space was clean and, theoretically, provided a lot of room for manoeuvre for the director. Unfortunately, Kerkhof managed to deliver relatively precise portrayals of only three characters: of Salome, spoiled and cruel, but truly fascinated by Jochanaan; of a prophet blinded by his faith and struggling to resist the princess' designs; and a grotesque Herodes, driven not so much by unbridled lust but an overwhelming desire to control those around him. Narraboth committed suicide as if in passing, Herodias kept passing her daughter on stage, and the other characters made up a chaotic crowd bringing to mind very inebriated participants in a carnival party that is petering out. Salome danced (entrancingly) the Dance of the Seven Veils accompanied by men wearing women's clothes. She unveiled Jochanaan's head brought in a bundle on a platter like a horrifying warning from the mafia. It was only in the finale that a bloodcurdling drama unfolded – when Salome, in ecstasy, spoke to the prophet's remains, smeared his blood on herself and at the end kissed the corpse's lips, as all gathered around watched in horror. At the end, however, instead of being killed by soldiers, she slowly walked away upstage into the rocking night.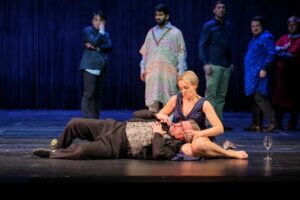 Robert Künzli (Herodes) and Rachel Nicholls. Photo: Clemens Heidrich
Despite the oddities and failed ideas, the whole thing was not bad to watch and brilliant to listen to, thanks to nearly all performers. Rachel Nicholls, in a guest performance as Salome, created a portrayal that was memorable both acting- and singing-wise. Her cool, at times even inhuman and yet surprisingly sensual soprano shone like a knife across the range, from a precisely hit high B to an uncannily vivid pianissimo G flat in the lower register – a note desperately barked out by most performers of this gruelling part. The slightly wooden Kostas Smoriginas (Jochanaan) made up for his stage shortcomings with a beautifully rounded and very well placed baritone. Herodes was brilliantly portrayed by Robert Künzli – a tenor a class above the character singers usually cast in the role, with a ringing voice with a distinctive "steel" in the middle register, perfectly controlled both in legato sections and in faster passages requiring crystal clear diction and lucid articulation. Big applause was due to Rupert Charlesworth, an ardent, youthful-sounding Narraboth. Among the rest of the cast a singer deserving a particularly warm mention was Nina van Essen (The Page of Herodias) with her perfectly focused, warm and soft mezzo-soprano.
Salome's final monologue. Photo: Clemens Heidrich
I have to admit I did not expect such a wealth of colours and such clear contrasts from the local orchestra, conducted by Stephan Zilias making his Hanover debut. The young German conductor has demonstrated several times that he is a true operatic animal. In the case of Salome he worked with an orchestra smaller than the one intended by the composer, and yet he managed to elicit a full sound from it, maintain an obsessive, relentless pulse of the whole narrative and skilfully emphasise the most delicious details, from the lustful passage of the clarinet in the introduction to the ominous murmur of the double basses during the preparations for Jochanaan's execution.
In the final monologue Salome wonders for a moment whether the bitterness in her mouth after kissing Jochanaan's lips comes from the taste of blood. The sensual and, at the same time, cruel interpretation presented by Zilias, under whose baton everyone performed at their absolute best, demonstrated from the very beginning how bitter love tasted. And how easily it could be turned into death.
Translated by: Anna Kijak