I have recently extracted from the depth of my archive an essay on the dilemmas of a critic who sometimes dreams of going to the opera just for pleasure, in nice company, of not analysing every element of the work done on stage and, finally, of simply listening to the music. I wanted it and I got it. Between two Very Serious Jobs I received a proposal from a music loving friend of mine to pop over to Munich for a few days and see two performances at the Bayerische Staatsoper. The trip turned out to be wonderfully successful: excellent company, beautiful weather, very decent performances – at times even dazzling in musical terms. I initially thought about summing up this trip with a short summer post, but the unrelenting critical mechanism made its presence felt already during the first evening. I decided to feed the demon of compulsion – perhaps it is already too late to change certain habits.
I planned to see Rusalka, which had been present in the company's repertoire for nearly eleven years, and a new production of Braunfels' Die Vögel, marking the centenary of the Munich premiere, even before the pandemic. And then I forgot all about it. Maybe it is a good thing that someone made the decision for me, because in this way I could compare two extremely different proposals of Regietheater, in which the supposedly autonomous author of the stage vision enters into a risky dialogue with the text. The problem, missed by a majority of the autonomous directors fiddling around with opera, is that there are at least two parallel texts in this form – the score and the libretto. A wise dispute with both hardly ever happens. The text "overwritten" by the director is rarely an added value. However, there are stagings in which audiences do nevertheless get seduced by a strange story The key to an ambiguous success of such productions is cold precision and iron consistency in rule breaking. Something will always fall through, because operatic texts are exceptionally resistant to deconstruction. This does not change the fact that if I'm moved by something in such a staging, I must admit it.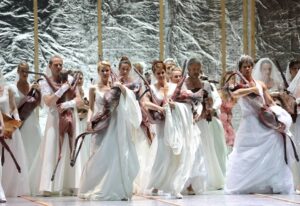 Rusalka in Munich. Photo: Wilfried Hösl
This was the case of Rusalka as presented by Martin Kušej – a production that will be easy to date even a hundred years from now. The Austrian director began to work on Dvořák's masterpiece, when the world was engrossed in the case of Joseph Fritzl, which in March 2009 ended with Fritzl being convicted of murder, multiple rapes, paedophilia, incest, imprisonment and enslavement. The unimaginable nightmare of Elisabeth, Fritzl's daughter and mother of his seven children, lasted over thirty years. For nearly a quarter of a century it unfolded underground, in the cellar of the house in Amstetten, in close proximity to Rosemarie Fritzl, Joseph's wife and Elisabeth's mother, who was allegedly unaware of what was going on. It is not for me to reveal the winding paths Kušej's mind followed to make a connection between this story and a poetic tale of a clash of two world orders and love, of barren pain and vain sacrifices which Vodnik wanted to spare his beloved daughter Rusalka. Yet there are hardly any weak points in the narrative imposed on Dvořák by Kušej. Ježibaba sits half-dazed on the first floor, against a massive wallpaper with a picture of Lake Mondsee, where the "real" wife of Fritzl once ran an inn. Beneath the floor lurks the dark abyss of the cellar, where Vodnik imprisons his victims. It is not difficult to work out that the ghastly polonaise of the brides hugging skinned doe is a nightmare of Elisabeth – being raped, miscarrying and losing her newborn baby after a few days. It is hard to imagine a blunter and more coherent theatrical vision of the Stockholm syndrome – complete helplessness resulting in the victims' animal-like attachment to their abusers.
Günther Groissböck (Vodnik) and Kristine Opolais (Rusalka). Photo: Wilfried Hösl
Kušej raped Rusalka, he imprisoned her in the cellar of his own imagination: so effectively, in fact, that at times the operatic text began to pity him. It is impossible to watch it calmly, impossible to consent to it and yet there is no denying that the director is a master when it comes to creating his characters and formulating the general framework of his concept. At least we have room for a dispute, room for sharp disagreement. Nothing of the sort remains after a performance of Die Vögel as presented by Frank Castorf, once a prophet of German political theatre, today a worn-out scandaliser, provocateur, who has gone so far in his contempt for texts that he no longer wants – or is unable – to put together a convincing whole from the shattered remains of the narrative.
The premiere seemed ill-fated from the start. The director, who had called for a "civic rebellion" against the pandemic-related restrictions, and shouted in interviews that he would not be taught by that Merkel woman how to wash his hands, had to share his work in a strict lockdown: with an audience of fifty people, who after the first performance neither burst into rapturous applause, nor dared to boo. Castorf did not expect this, used as he is to strong reactions. The staging, available as a stream for some time, has only now gone through a trial by fire in front of a still limited audience. I suspect it has disappointed everyone. For it has so much of everything that it really has nothing. In a sense it can be seen as a museum of the now outdated art of the erstwhile restorer of the Volksbühne. We have a revolving stage and structural elements seen in the infamous Bayreuth Ring. We have containers and other cramped interiors, filmed, as usual, by two cameras, which enable the audience to see what goes on inside. There is chaos so beloved by the director. What is missing, however, is substance, even pointless substance.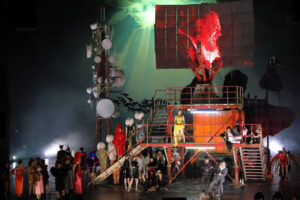 Die Vögel. Photo: Wilfried Hösl
And I wanted to argue with Castorf so much. I was wrong when I suspected that he would transform Braunfels' very loose adaptation of Aristophanes' comedy – with its bitter-sweet finale, so typical of other German works from that period – into a sharp social satire. Instead, Castorf prevented me from entering into any discussion, as he used in his staging of Die Vögel free, schizophrenic even, associations. If there are birds, then we must have Hitchcock or a poster for a concert by The Byrds. If there is Prometheus, he has to be dressed as Karl Marx. Something going not quite right in the birds' realm? It is a certain sign that Ratefreund and Hoffegut should put on SS uniforms. I have to admit that I still have not figured out why Castorf decided to blight the stage with a huge copy of Rubens' The Rape of the Daughters of Leucippus. Perhaps the only reason is that the original can be admired in Munich's Pinakothek.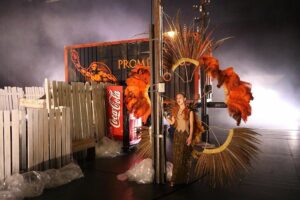 Caroline Wettergreen (Nachtigall). Photo: Wilfried Hösl
During my first evening in Munich I saw a beautiful theatrical catastrophe, during the second – a catastrophe that was hideous as much as it was dead boring. Fortunately, the Bavarian Opera is one of the few opera houses in Europe, where at least the musical side of productions gives no cause for concern. Both Robert Jindra in Rusalka and Ingo Metzmacher in Die Vögel  led the Staatsoper forces in calm, measured tempi, brilliantly highlighting the vivid sound of the Bayerisches Staatsorchester. I still hear the painfully inevitable finale of Dvořák's opera, rolling like black water. I did not expect that the duet between the Nachtigall (excellent Caroline Wettergreen) and Hoffegut er reliable Charles Workman) from the second act of Die Vögel under Metzmacher's relaxed, unhurried baton would reveal so many similarities with not just Ariadne auf Naxos and Tristan, fairly obvious in this context, but also with the shimmering texture of Berlioz's scores. I heard several outstanding singers, primarily Wolfgang Koch as Prometheus in Braunfels' opera, a singer consolidating his position as one of the leading dramatic baritones today; Kristine Opolais (Rusalka), who is paying a high price for overusing her voice in the past, but manages it so wisely that she is able to hide signs of wear and tear; and Günther Groissböck, who once again shook me in his Vodnik's monologue from Act II. I experienced a moment of true rapture thanks to a long-awaited, nearly perfect interpreter of the Prince in the form of Dmytro Popov, a singer with a ravishing, thick and dark tenor, phenomenal breath support and sensitivity which is unusual in such a young singer.
So much musical happiness over two short days of summer holidays – if it had happened two years ago, I would be already making plans for the next season. Now each decision will have to be thought over three times, and information will have to be looked for not on agents' websites or Operabase, but in tweets and Facebook posts. One has to get used to it. What is meant to be is already here, only we refuse to acknowledge it.
Translated by: Anna Kijak