The Finnish National Opera has been really lucky. After several good years under the baton of Patrick Fournillier, an able and reliable conductor, who took up the post of Artistic Director of Warsaw's Teatr Wielki-Polish National Opera in the 2020/21 season, it placed its orchestra in the hands of a musical visionary, and one who was present on site at that. Hannu Lintu has been collaborating with the Helsinki Opera for years, or in any case since he took charge, in 2013, of the Finnish Radio Symphony Orchestra, now based in the new Helsingin musiikkitalo building, located halfway between the legendary Finlandia-talo designed by Alvar Aalto and the Kiasma contemporary art museum, built some twenty years later. He took up the baton as Chief Conductor of the Suomen Kansallisooppera – a few hundred metres' walk from all the institutions mentioned above, in a park along the picturesque Töölö Bay – in January in this year, shortly after the very well received revival of The Flying Dutchman, with which he made his debut at Paris' Opéra Bastille.
It was precisely Lintu that was the main reason behind my trip to Helsinki – to see Billy Budd directed by Annilese Miskimmon, a Norwegian-Polish-Finnish co-production premiered  in Oslo in 2019. The Finnish conductor attracted my attention already with his recording of Witold Lutosławski's Venetian Games and complete symphonies for the Ondine label with his previous orchestra. Lintu's interpretations – from Sibelius, Rautavaara and Saariaho to his phenomenal readings of Beethoven's, Wagner's and Mahler's scores – are at once disciplined and full of emotions vibrating somewhere deep inside, marked by extraordinary attention to detail and, at the same time, an ability to extract from that detail surprisingly relevant content. The other reason – in some respects just as important to me – was Peter Wedd's debut in the role of Captain Vere, especially as in recent years I had encountered two outstanding, though radically different incarnations of this tragic character: by Alan Oke and Toby Spence. What I did not expect, however, was that through Lintu I would be gripped by a completely different scene than usual, that the conductor would use Wedd's greatest assets to sum up, as it were, his unusual and revelatory interpretation of Britten's masterpiece.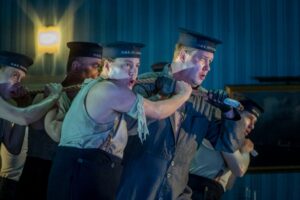 Billy Budd: Scene from Act 1. Photo: Tuomo Manninen
But more about this in a moment. I will start with the staging, which turned out to be as visually attractive (set designs by Annemarie Woods) and as underdeveloped in terms of directing as it had been in Oslo and Warsaw. Miskimmon chose to further emphasise the impression of the impossibility of escaping from a ship "lost on the infinite sea" by transporting Billy Budd to 1940, to a submarine involved in an operation to destroy French vessels after France's surrender to the Third Reich. The decision proved dramatically ineffective and at times downright absurd in its effects. I still do not understand, for example, how the "cursed mist" would any way affect the accuracy of a torpedo attack. All the nautical commands with which E.M. Forster and Eric Crozier packed the libretto, and to which Britten provided a worthy musical equivalent in the score were out of place on board a submarine. Details such as the idea of having Billy hanged somewhere outside the surfaced watercraft – in the heat of naval warfare – are not even worth mentioning. Busy as she was updating the plot, Miskimmon did not have enough energy left to direct the characters. The story is somewhat of an allegory and will not tell itself – the director needs to skilfully draw the sinister, erotically charged triangle in which Captain Vere, the seemingly implacable guardian of the war order, occupies an unclear position between Claggart, inhuman in his corruption, and Budd, inhuman in his perfection, the obverse and the reverse of the same coin. A coherent tragedy, swelling like a festering ulcer, has been transformed by Miskimmon into a series of loosely connected and paradoxically static – despite the frequent running around on stage – episodes.
Jussi Merikanto (Mr. Redburn), and Juha Pikkarainen (Bosun). Photo: Tuomo Manninen
Yet musically the Finnish Billy Budd exceeded my wildest expectations. The great collective hero of the evening was the chorus, brilliantly prepared by Marge Mehilane and Marc Ozbiča. It delivered the text perfectly and at the same time responded alertly to Linto, who skilfully emphasised the relentless drive of the chorus' music, its sometimes painful harmonic roughness and surprising richness of sound hues. A thunderous and fully deserved applause greeted Ville Rusanen in the title role – a singer endowed with a not very beautiful, but movingly "human" baritone voice, and building his character with the perceptiveness of a veritable dramatic actor. His Billy was stronger in heart than fear, stronger in instinct than the will to survive, stronger in spirit than death – a true holy fool, the only one in this predicament of war who knew how to accept the inevitable. I was a bit disappointed with Timo Olavi Riihonen, partly because of the director, who had no sensible idea how to deal with the character of Claggart. The reasons were partly objective: Riihonen's beautiful, rounded bass had nothing demonic about it; at times it sounded good-natured even. There were practically no weak links in the supporting roles, though it is worth singling out the performance of Jussi Merikanto (Mr. Redburn), a singer with a resonant, handsome and technically well-assured baritone, who made his character credible not only through excellent acting, but above all through musical means.
Ville Rusanen (Billy Budd). Photo: Heikki Tuuli
It is time to explain the revelation announced at the beginning. Lintu, a conductor sensitive to detail and capable of reading between the lines of the score, brought out in his interpretation something that many other masters of the baton miss. It was not until the epilogue that I understood why his Billy Budd was "dirtier", more cruel, at times even merciless in the orchestral layer, why there was so little obvious beauty in it. Peter Wedd is certainly not a classic Britten tenor; he has clearly not yet fully "grown into" the part of Captain Vere, his performance not yet sufficiently nuanced dynamically, too heavy-handed in the upper register. However, as is his wont, Wedd saved his best for the final monologue – a divine cantilena, ethereal piani, a forte in which the despair of the whole world could be heard. The structure of the work suggests that towards the end Vere tries to give himself an answer to the question that troubled him in the opening monologue. Hannu Lintu makes it very clear that he will not find this answer. In his interpretation the Captain only seemingly achieves peace of mind, in vain seeking support in the orchestra, which constantly deceives him, fails to provide him with a harmonic basis, and every now and then drowns out his thoughts with sounds of war (the relentless beats of the timpani and the bass drum are still ringing in my ears). In the last phrase, the line "centuries ago, when I, Edward Fairfax Vere, commanded the Indomitable", the Captain gives up in this unequal struggle. The orchestra dies out, Vere's voice tails off, everything breaks up into nothingness.
I have never heard such a harrowing ending of Billy Budd. And it's been a long time since I saw such a moved audience. That eerie, disintegrated phrase carried a warning that was clear to all. May it never come true.
Translated by: Anna Kijak