I was going to see Calixto Bieito's legendary production in Oslo over two years ago, but my plans were thwarted by the COVID outbreak. When the pandemic subsided and the operatic life returned to a fragile normal, I tried again. My friends could not understand why I ignored fresh revivals of the Spanish iconoclast's Carmen at other, much "trendier" opera houses, for example the Viennese Staatsoper or Paris Opera. I had my reason: although in 2018 I returned from The Queen of Spades at Operahuset with very mixed feelings – for which the fault lay primarily with the director and the otherwise superb conductor, who failed to figure out the stylistic idiom of Tchaikovsky's late oeuvre – what prevailed in the end was the delight in the white nights and dazzling architecture of the Norwegian opera house, but, above all, the palpable, even in the adverse circumstances, enthusiasm of the artists, who approached each task with a sincerity and enthusiasm worthy of the best craftsmen.
This is rather important in this case, for Bieito's production is almost a quarter of a century old and in most opera houses has lost the charm of its original freshness. Few people remember that at the 1999 festival in the Catalan town of Perelada it caused a true storm. The director was accused of vulgarity, of celebrating brutal sex and violence – as if everyone had forgotten that Bizet himself deliberately did not put the tragic story in inverted commas, did not clearly define the character of the protagonists, that departed from the established pattern to go astray into the dangers of realism and so outraged the Parisians with all this that they paid no attention to the mastery of the music. It is worth noting that the international operatic career of Bieito, the son of a humble railway worker, an admirer of Iberian zarzuelas and at that time newly appointed artistic director of Bilbao's Teatro Arriaga, began precisely with Carmen. Those who know only this one among Bieito's productions have no idea of his later creative development, which began barely a year later with the scandalising staging of Verdi's Ballo in maschera and the opening scene featuring men with their pants down and relieving themselves on toilets with transparent walls. Those who have seen only Bieito's most recent productions have no idea that his famous Carmen is, in fact, a model example of Regietheater from the end of last century – a production that is not so much provocative, but one that provokes the audience into thinking, trying to reach the audience's sensibility without losing nothing of what the authors of the work wanted to say.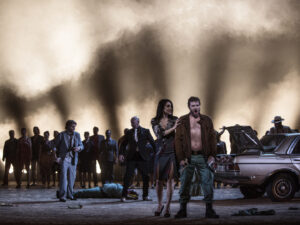 Carmen, Den Norske Opera, 2015. Photo: Erik Berg
A spectre of machismo hovers over Bieito's concept. The stage – like in Patrice Caurier and Moshe Leiser's production premiered two years earlier, in 1997 – literally reeks of sweat, unfulfilled male lust, female loneliness, omnipresent lasciviousness and need for ordinary human closeness. Bieito can even be forgiven for copying the corrida scene in Act 4 from the two Frenchmen – though his result is inferior. He shifts the narrative both in time and in space. The action in his Carmen takes place in post-Francoist Spain, perhaps somewhere in its overseas exclaves like Ceuta or Melilla. Everything else is like in Bizet's work: animal desires, moral mess, all-encompassing slackness. Apart from a few characteristic props – a flagpole in Act 1, very uncool Mercedes W123 signifying the tackiness of the smuggling trade, crates of alcohol and cartons of cigarettes, electronic equipment and household goods marked with distorted but still recognisable logos of international companies – the stage is virtually empty. Bieito is very precise in presenting the relationships between the characters. Carmen is a quintessence of alluring strangeness, Don José – a dull, brutal soldier, Escamillo – a primitive male who knows how to turn his popularity in the bullring to his advantage.
The theme of bullfighting runs constantly through the production – from the pantomime in the overture, featuring Lilas Pastia, who pretends to be a prestidigitator, playing with a red handkerchief from underneath which, instead of the expected magic ball, he will show his finger in a vulgar gesture, to the symbolic presence of the "Osborne bull", which appears in a beautiful, discreetly erotic scene at the beginning of Act 3. The advertisement for the Veterano brandy, produced by the Andalusian company Osborne and introduced into the Spanish landscape in 1957 in the form of distinctive wooden boards – which some tried to eradicate from the public space five years before the premiere of Bieito's Carmen – also plays an important role in the introduction to Act 4. When the board with the bull collapses with a bang onto the stage, its shattered remains take part a moment later in a parody of a corrida.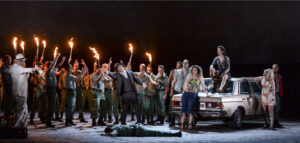 Carmen, Den Norske Opera, 2017. Photo: Erik Berg
Significantly, most directors today would not dare to use the solutions that constitute the strength of Bieito's concept. There would not be a little girl lasciviously dancing flamenco. There would be no such vivid images of sex. There would be no brutal scenes of violence requiring true film acting skills from the singers.
This is why I went to see that Carmen in Oslo, the capital of a country which knows how to distinguish stage illusion from reality. And yet I froze, when the smugglers threw Zuniga like a sack of potatoes against the body of a dilapidated Mercedes-Benz. That is why I watched the love scenes with such admiration. That is why I could not help laughing when drunken girls literally rolled out of a car outside Lilas Pastia's tavern. This was the kind of theatre I needed and I did not even expect that following a sudden cast change I would also get a cast as starry as those in Paris or Vienna.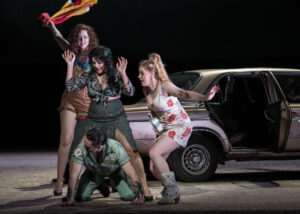 Carmen, Den Norske Opera, 2022. Photo: Erik Berg
Don José was sung that one evening by Charles Castronovo, known to Polish opera lovers from the Wrocław Tales of Hoffmann, a performance for which he paid with a serious case of COVID. I hasten to report that the American tenor is back in top form, impressing not only with his golden, almost baritonal voice, but also with beautiful phrasing and well though-out character concept. Ingeborg Gillebo, a singer with a soft mezzo-soprano, secure intonation-wise and perfectly suited to the title role, did not pace herself well and ran out of steam in the final duet with her former lover, played out on an empty stage. Marita Sølberg was an excellent Micaëla. She not only has a technically well-assured soprano, but can also act brilliantly. It was wonderful to hear the soubrette-like Frøy Hovland Holtbakk (Frasquita), as if taken straight out of the old Opéra-Comique, with the irresistibly funny and vocally compelling Christina Jønsi as Mercedes. There were also two revelatory performances: the phenomenal Dmitry Cheblykov as Escamillo, a young but already fully formed, slightly "grainy" baritone, impeccable both in terms of voice production and diction; and the velvety-voiced Jacob Abel Tjeldberg, making his debut as Zuniga.
In addition to the repeated praise for the chorus and the orchestra, I must express my highest admiration for Ariane Matiakh, a French conductor who fell in love with Bizet's music at home and then got an opportunity to share that love with opera houses in Europe. It is good that she accepted Bieito's concept and skilfully combined it with Bizet's score: into a bitter reflection on the twilight of male gods and an uncertain hope for the dawn of female deities.
Translated by: Anna Kijak