Apparently Ingmar Bergman learned about his first success in the film industry, which was soon to set his career on a whole new track, while reading a newspaper in his own toilet. Although the Palme d'Or at the ninth Cannes Festival went to the documentary Le Monde du silence, directed by Jacques Cousteau and Louis Malle, Bergman's 1955 comedy Smiles of a Summer Night (Sommarnattens leende) was also among the winners of six official prizes with the Prix de l'humour poétique, awarded in this particular category only once in the entire history of the festival. Bergman must have felt deeply embarrassed by this accolade and not only because the good news found him on the toilet. He had been directing films for nearly ten years. His oeuvre at that point included films – like Sawdust and Tinsel and Summer with Monika – which with time became part of the canon of Swedish cinema, and which their creator himself valued very highly. He may have been a little bit coy in his statements to the press, in which he emphasised that he took up comedy for financial reasons, without much conviction, as he had always been regarded in his family as a surly, touchy and humourless child. In any case, he left the Cannes screening halfway through, indignant that the audience – instead of laughing uproariously – only occasionally rewarded his Smiles of a Summer Night with a perfunctory round of applause.
He did not appreciate the sense of humour of the French, who immediately were taken by the Shakespearean farse about a superannuated lawyer Fredrik Egerman and the entire amorous constellation of characters complicating his life: his young wife Anne, "unconsummated" for two years; Henrik, his son from his first marriage, who is struggling with his desire for his nubile stepmother; the actress Desiree, with whom Fredrik once had an affair and who reappeared in his life with a child bearing his name and at an age unequivocally pointing to the date of his conception; her puppet lover, Count Malcolm, and the countess, who desperately flirts with Fredrik in order to draw on the inexhaustible pool of male jealousy and get her husband back. The intrigues of the upper classes are counterpointed by the coarse and painfully direct love of the servant Petra and the coachman Frid. Things take an unexpected turn, when Desiree, in love with Fredrik and seasoned in love battles, persuades her mother, Madame Armfeldt, to organise a party with all of the above at her country estate – at a very unusual time, in the middle of the joyous Swedish Midsommar celebrations …
If Bergman lacked a sense of humour, this would be like saying that Conrad, the protagonist of Erich Kästner's novel The 35th of May, lacked imagination. In addition, Bergman drew on the best possible source, namely Shakespeare. The inspirations drawn from A Midsummer Night's Dream are not only obvious but also filtered through the director's unique sensibility and his extraordinary feel for erotic human relations. Smiles of a Summer Night even features a Puck – in the form of Desiree's impish offspring – and the double role of Titania and Oberon is played by the mean, grumpy and yet irresistibly moving Madame Armfeldt. The audience in Cannes – instead of collapsing with laughter – froze in front of the screen in silent awe. After its festival success Bergman's work was ranked among the ten most important films of the year by Cahiers du Cinéma and was nominated for the BAFTA award. Masterfully directed and brilliantly acted, the scene of the mutual unmasking of Desiree's two lovers – the lawyer in a saggy nightcap and the count in a ridiculous hussar uniform – has gone down in the history of cinema. Fanclubs of the film were set up all over the world and there were several imitations, including Woody Allen's A Midsummer Night's Sex Comedy.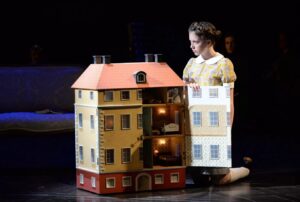 Agatha Meehan (Fredrika Armfeldt). Photo: Sharron Wallace
However, very few people in Poland realise that Bergman's Smiles of a Summer Night was given a second life primarily thanks to Stephen Sondheim's musical A Little Night Music (the title of which refers not only to the amorous rituals of a "midsummer's night", but also to Mozart's famous serenade, with its references to music accompanying outdoor flirtations in darkness lit by candles and torches). This may be because the musical as a form is still regarded in Poland as a guilty pleasure for less sophisticated audiences, the last resort for musicians and producers who have failed on the "real" operatic stage, a modern equivalent of a trashy operetta. Sondheim's oeuvre reaches Poland by a roundabout route, paradoxically through film: older audiences were delighted by his songs in Richard Lester's A Funny Thing Happened on the Way to the Forum (1966), younger ones – by Tim Burton's brilliant film adaptation of Sweeney Todd (2007). Yet A Little Night Music has an international reputation of one of the American composer's most sophisticated masterpieces: musically, it requires truly operatic skills from the performers; dramatically – craftsmanship normally associated with outstanding performances in plays by Shakespeare, Ibsen and Strindberg.
British opera companies try to include "lighter" operas and musicals in their repertoires every season. This is particularly true of Opera North, which has an exceptionally versatile orchestra and a team of soloists cast in roles allowing them to shine and show off all their current vocal and acting skills. That is why no one is surprised by the presence in this year's production of A Little Night Music at Leeds' Playhouse (in a co-production with the local Quarry Theatre) of Dame Josephine Barstow (Madame Armfeldt) – an eighty-two-year-old soprano who used to score triumphs in Bayreuth, London, Munich and Vienna in roles like the Marschallin in Strauss' Der Rosenkavalier, Lady Macbeth in Verdi's opera and Sieglinde in Wagner's Die Walküre – or of the excellent Dutch baritone Quirijn De Lang (Fredrik), a singer at the peak of his vocal powers, cast equally readily in oratorio parts, roles in classical Mozart operas as well as parts from the canon of modernist and contemporary repertoire. Shining performances among the rest of the cast – apart from the expressive Sandra Piques Eddy presenting a superbly acted Desiree – come not only from major performers of minor roles, but also from singers just taking their first steps on stage, still undecided as to whether they will devote themselves wholeheartedly to a career in London's West End, or go for interpretations in the spirit of reconstructing old performance practices, or perhaps – as their voices and skills develop – take up challenges in a heavier operatic repertoire.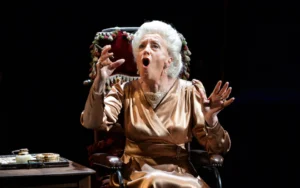 Dame Josephine Barstow (Madame Armfeldt). Photo: Sharron Wallace
The most admirable thing is that they all treat the spoken and the sung word with equal affection and competence. With an equally "poetic" sense of humour they portray their ambiguous characters, building bridges between radically different conventions, singing styles and acting techniques in an admirably offhand manner demanded by Sondheim's genius (Madame Armfeldt's phenomenal "Liaisons", irresistibly bringing to mind both the reminiscences of the Countess in Tchaikovsky's The Queen of Spades, and Przybora and Wasowski's frivolous song "Biżuteria" (Jewellery) performed by Barbara Krafftówna). Hidden behind a semi-transparent curtain, the orchestra under Oliver Rundell accompanies the soloists as alertly as a bird – in the original Broadway line-up with a discreet brass accompaniment, with the piano and celesta, without a large rhythm section that effortlessly "carries" most standard musical productions.
James Brining's direction in Madeleine Boyd's sets and costumes is certainly no match for Bergman's original in either panache or splendour of imagination. It is, nevertheless, effective in organising the varied planes of this convoluted tale: by moving the narrative to a time a little closer to us, presumably the inter-war era, it makes it more digestible for British audiences, obsessed as they are with the period. The staging requires no additional explanation: thanks to the singers' impeccable diction and superb voice production, it goes straight to the hearts of the Yorkshire theatre regulars, who come here not only for musicals and Christmas adaptations of The Lion, the Witch and the Old Wardrobe, but also – and perhaps above all – for plays like Tony Harrison's The Trackers of Oxyrhynchus and offerings from the youngest luminaries of British drama.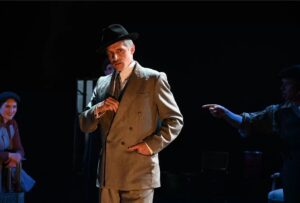 Quirijn de Lang (Fredrik Egerman). Photo: Sharron Wallace
It would be hard for me to try to convince my readers of the intrinsic value of A Little Night Music, written in collaboration between the great – though still not appreciated everywhere – composer and the eminent British screenwriter and librettist Hugh Wheeler, known to fans of classic detective novels for the books he published under the pseudonym Patrick Quentin, in fact a partnership of authors with several writers, primarily Richard Wilson Webb. And yet I will try: a good whodunnit can tell us more about the people and the world around us than pretentious "high" literature written in line with the dictates of fashions making it possible to become well-known on the international publishing market. Well-performed, A Little Night Music still says more about the human need for truth and love than a thoughtlessly sung operatic masterpiece.
Translated by: Anna Kijak
Original text available at: https://teatr-pismo.pl/19180-milosc-w-swej-prostej-i-niesmialej-mowie/