Congratulations to Agata Zubel, who got awarded Europäischer Komponistenpreis (European Composer Award) 2018 for her recent work Fireworks. To celebrate the occasion, I am reposting my essay from six years ago, written before her monograph concert given as part of the Sacrum Profanum Festival in Cracow.
***
In Warsaw, newborn girls are dressed in pink and boys in blue. In Kraków, a blue layette is prepared for girls, for this is the colour of Our Lady. Agata Zubel is from Wrocław, I don't know what the local customs are there. From a very young age, girls focus on the faces around them and listen more carefully to what is being said to them. This would fit Zubel. Boys like to fiddle around with everything they can lay their hands on. As a rule, they are more active, display greater interest in their surroundings and like experimenting. This also fits her. Girls at play enjoy the company of other children, while boys prefer to play with objects. Zubel was moping around in the yard poking the ground with a stick, so Mom sent her to school to study violin, even though musical traditions were not nurtured at home. At school, there were other children and many more interesting subjects than the violin – for example, percussion, to which Agata devoted herself unreservedly at primary school after two years of training with the violinists. But that is such a boyish instrument…
Boys most often receive a dressing-down at school for bad behavior, while girls have their substantive shortcomings pointed out to them. I don't know if Zubel was a little rascal, but when her future husband – then ten years of age – averred that she could become a composer, she reportedly replied that it couldn't be done, as there were no women in this profession. Well, maybe apart from Grażyna Bacewicz (patron of their school) and Grażyna Pstrokońska-Nawratil (lecturer at the State Music College in Wrocław). Yet when a composing competition was organized at the school, she won it with the piece Wirówka for percussion ensemble. And when asked where the title came from, she told a tall tale about a migraine and a big load of washing (thereby letting them think she had a spin dryer in mind). Even though it is of course boys who tell lies twice as much as girls. (Evidently that wirówka was really supposed to be a centrifuge – but no one else had to know that, now, did they?)
Between at the TW-ON, 2010. Anna Sąsiadek and Mikołaj Mikołajczyk. Photo: Bartłomiej Sowa.
Agata Zubel is undoubtedly a woman and undoubtedly a composer. Attempts to place her œuvre in a context of feminist discourse are most often the expression of a gradual retreat from the masculine archetype, from collective conceptions men have about women and their œuvre. Interest in women's issues in musicology – sparked by Theodor W. Adorno and Michel Foucault – was not well-received in Poland, unless we count the efforts of Danuta Gwizdalanka, who took up the gender studies thread already in the mid-1990s while working at the University of Michigan at Ann Arbor. The main focus of investigations in feminist musicology – since the dawn of this discipline – has been the differences between male and female œuvres. Some researchers contend that there are essentially no differences. The rest argue that the narrative in the female œuvre is more communicative, less self-absorbed and based more often on collective than on individual experience. And that female composers devote more care and attention to the emotional layer of their compositions, using subtler means to build tension, but have problems with grasping larger forms and multilayered, expansive sound structures. Zubel's œuvre gives the lie to both theses. It is as forthright and powerful as the most truly masculine music. It is as delicate and translucent as the most truly feminine music. In social discourse, it functions as effectively as the boldest feminist manifesto.
The phenomenon that is Zubel is all the more difficult to explain because she does not allow herself to be constrained by the limitations of a single field of artistic life. Agata Zubel was born in 1978 in Wrocław, and it is here that she finished both primary and secondary music school, before landing in the composition department at conservatory as a solidly-trained percussionist. Her choice of major field was determined by the aforementioned Wirówka, highly rated by Jan Wichrowski, who accepted the young neophyte into his studio. The peculiar evolution of Zubel's musical imagination was determined by her years of experience with percussion – an instrument that sensitized her to rhythm and timbre, shielding her from the Modernist temptation to develop texture from melodic motifs woven into the harmonic fabric. When she became fascinated with the voice as an expressive tool, Zubel decided to take singing lessons with Danuta Paziuk-Zipser – yet she knew that what she wanted, above all, was to experiment, diversify, completely restack the building blocks and search for unexpected dramaturgy in her voice.
After her first 'serious' works, in which she employed an instrumental medium that she knew inside out (e.g. Variations for snare drum quintet from 1995 and, from two years later, Lumière for percussion, awarded 1st prize at the Andrzej Panufnik National Composers' Competition, as well as the PWM Edition prize), the time came for compositions featuring the human voice. A Song on the End of The World for voice, reciter and instrumental ensemble, to words by Czesław Miłosz (1998) won two prizes –1st prize and the Polish Radio special prize – at the Adam Didur National Composers' Competition in 2000. When American mezzo-soprano Christina Ascher – a splendid performer of microtonal music, graphic scores and live electronics who also collaborates with dancers and drama artists – came to Wrocław, the young composer wrote what became a career landmark for her, Parlando for voice and computer (2000). In this work, it is already possible to discern the most important elements in Zubel's later vocal style: sonoristic use of the voice, building of drama from tensions and contrasts based on timbre, rhythmic latitude in measureless fragments, fluid changes in manner of sound production. Zubel, who has always thought that a composer should also be involved in performance and vice versa, shortly afterwards began to interpret Parlando herself with Cezary Duchnowski.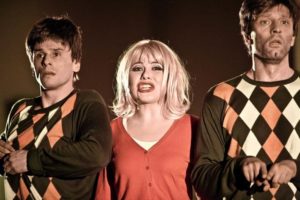 Between. Mirosław Woźniak, Agata Zubel, and Mikołaj Mikołajczyk. Photo: Bartłomiej Sowa.
Such were the beginnings of Elettrovoce – a duo composed of two Wrocław composers in which she seeks new ways of vocal expression, while he seeks novel contexts for traditional sounds, employing the latest computer technology to this end. Sometimes a piano also appears in this configuration, but always used in an unconventional manner – as a kind of sound building material for an intimate time-space in which the voice plays, the computer sings and the collaboration between the two composers assumes all the features of a compositional symbiosis. Elettrovoce do not content themselves with their own compositions: also appearing in their repertoire are compositions by Kaija Saariaho, Sławomir Kupczak and Michał Talma-Sutt; Zygmunt Krauze's Star, in a version for voice and computer-generated sound; and songs by Derwid – i.e. Witold Lutosławski – for voice, cello, piano and computer. Sharp-tongued critics are beginning to grumble that there is more and more of Duchnowski in Zubel's music, and more and more of Zubel in Duchnowski's. Delighted admirers invite them to perform at concerts all over Europe and honour them with prizes at such events as the Dutch Gaudeamus competition for performers of contemporary music (2005).
Agata Zubel graduated from the Wrocław Academy with a Primus Inter Pares commendation and continued her education at the Conservatorium Hogeschool Enschede in Holland, before gaining a Doctorate of Musical Arts in 2004 from her alma mater. The very same year, she became involved in a venture which was initially beyond her imagination, but then turned out to be right on target: an experimental improvisation project at a concert during the International Summer Courses for New Music in Darmstadt. In 2005, she received Polityka magazine's prestigious Passport award. This was the beginning of a triumphal procession of her works through festivals in Poland and abroad: Warsaw Autumn, Wrocław's Musica Polonica Nova, Poznań's Musical Spring, Musikhøst in Odense (Denmark), Alternativa in Moscow, Beethovenfest in Bonn (Symphony no. 2 for 77 performers, commissioned in 2005 by Deutsche Welle).
Zubel is increasingly distancing herself from a harmonic way of thinking – she emphasizes the primacy of expression achieved through her own means: a distinctive timbral polyphony, organization of chaos into colouristic groupings and controlled aleatoricism in the spirit of Lutosławski's legacy. She dislikes speaking about her own music and doesn't want to provide it with author's commentary. She forces the listener to think. On occasion she admits to her inspirations. From Paweł Szymański, she has drawn her peculiar use of musical time – rejecting, however, the games with convention that he so favours. She owes her masterful juggling of rhythms not only to her percussion experiences, but also to her fascination with the œuvre of Stravinsky. Her experiments with timbre incline her sometimes toward Ligeti, sometimes toward the French Spectralists. She is continually searching and stresses that the distinctiveness of her works is actually rooted in that quest.
For some time, one could have gotten the impression that the critical establishment rated her vocal art more highly than her composing accomplishments. When she won Polityka's Passport, the justification for the verdict emphasized that it is an 'award for her extraordinary vocal performances and stage personality, as well as her ability to harmoniously reconcile the creativity of composition with the re-creativity of performance'. Music lovers associated her first and foremost with performances of contemporary music. The value of this marvelous performer was also confirmed in subsequent years. In 2006, she delighted audiences at the Musica Polonica Nova festival with her interpretation of Lutosławski's Chantefleurs et Chantefables, which was witty, dazzling and different from both Solveig Kringlebotn's 'canonical' interpretation and Olga Pasichnyk's charm-laden version. Three years later, she captivated listeners at Warsaw Autumn with a virtuosic performance of Bernhard Lang's DW9. She has successfully taken on leading roles in new operas (La Malaspina in Salvatore Sciarrino's Luci mie traditrici, the title role in Dobromiła Jaskot's opera Phaedra and Madeline in Philip Glass' The Fall of the House of Usher, as well as a creation in Cezary Duchnowski's opera Martha's Garden, honoured in 2009 by the Association of Polish Musicians with an Orpheus prize).
Between. Photo: Bartłomiej Sowa.
Her voice, supple and vibrant, indeed amazes the listener by reason of its versatile expressive qualities, skill in highlighting the moods contained in the music and masterful weaving of timbral effects into their texture. Zubel employs it in an equally varied manner in her own works – from intimate dialogues with computer and traditional instruments (Unisono I for voice, percussion and computer and Unisono II for voice, accordion and computer from 2003, as well as Stories for voice and prepared piano from 2004), through sparkling, sonoristically sophisticated compositions for larger vocal-instrumental ensembles (of Songs to Biblical texts, for voice, cello, choir and orchestra, written and performed on commission from the Wratislavia Cantans festival in 2007), to extensive experiments featuring electronica, in which the voice expresses pure primal energy evoked by varied means: singing, whispering, murmuring, laughing and shouting (the opera-ballet Between for voice, electronica and dancers, staged in 2010 at the Teatr Wielki – Polish National Opera in Warsaw).
Fate likes to play tricks on music critics as well. Although the Polityka Passport jurors spoke of Zubel's œuvre in quite a condescending tone and only mentioned it third when justifying their verdict, it was this award that enabled the young composer to sail out onto broad and sometimes restless waters. After the aforementioned Symphony no. 2, she was showered with commissions for other works, includingString Quartet no. 1 for four celli and computer for the Ultraschall Festival in Berlin (2006); Cascando for the Central Europe Music Festival in Seattle (2007); Symphony no. 3, written thanks to a Rockefeller Foundation grant (2009); Aphorisms on Miłosz for the Sacrum Profanum Festival (2011); The Streets of a Human City, commissioned by Deutschlandfunk (2011); Shades of Ice for the London Sinfonietta (2011); Labyrinth, commissioned by the Polish Institute in Tel Aviv (2011) and What is the word for Klangforum Wien and the Adam Mickiewicz Institute (2012). Not I for voice, chamber ensemble and electronica (2010) is to be heard for the first time at today's concert. In 2011, Zubel became composer-in-residence at the Other Minds Festival in San Francisco; and for the past two seasons, she has also been a beneficiary of the Kraków Philharmonic's residence program.
The opera-ballet Between defined the second phase of a close collaboration with stage director Maja Kleczewska – after her excellently-received musical setting for Peter Weiss' play Marat/Sade at Warsaw's National Theater. The music for a production of Babel (based on Elfriede Jelinek's play) at the Polish Theater in Bydgoszcz went basically unnoticed – although single voices appeared stating that the highly expressive and expansive musical narrative did not suit Kleczewska's obscene yet, paradoxically, overly aestheticized conception. A genuine storm broke out, however, after the première of Oresteia, a coproduction of the National Opera and National Theater in Warsaw. Some were tearing their hair out that Zubel's composing potential had been wasted and instead of the anticipated 'drama-opera', we saw dreadful theater with a trimmed-down musical layer. Others were moaning that the music of Zubel – who works on abstract sound material and thinks in terms of timbre, structure and sonoristic effects – does not always work well in dramatic theater. Yet others claimed that if it were actually worth going to Oresteia at all, this was only due to the Wrocław composer's predatory, suggestive music. One thing is for sure: the penultimate item of the Territories series left no one unmoved, while Zubel – unlike Kleczewska – emerged from this storm completely unscathed.
Agata Zubel is a touch-sensitized percussionist. She is a singer attuned to every dimension of the human voice. She is a composer sensitive to the build-up and discharge of tensions using sonoristic devices in isolation from traditionally-understood harmonic centers of gravity and tempo proportions. Someone once claimed that Zubel wrote Between in a language which does not yet exist or which we don't understand. This is not true. Zubel writes in the language of women. For girls are more sensitive to touch and sound – they hear everything twice as loudly as boys. This is precisely how the feminism of this music manifests itself.
Translated by: Karol Thornton-Remiszewski