Comparing events and aesthetic trends in the history of opera is both interesting and instructive. This time I tackled two works seemingly separated by a huge gulf: Tristan und Isolde and The Bartered Bride. Wagner finished working on his drama in 1859. Smetana got around to composing his comic opera four years later. However, the two works were premiered within less than a year. After failed attempts to stage it in Strasbourg, Paris, Karlsruhe, Vienna, and even Rio de Janeiro, Tristan eventually found its way on to the stage of the Königliches Hof- und National Theater in Munich, but it was not until June 1865. The Bartered Bride was premiered in May 1866 at Prague's Provisional Theatre, next to which today's National Theatre was later erected. Neither Tristan nor The Bartered Bride was a runaway success. The two operas began their triumphant march across international stages after the death of their composers – again, more or less at the same time, at the turn of the 1880s. Gustav Mahler admired both operas and conducted both at the Metropolitan Opera – he presented The Bartered Bride to the New York audience in 1909, precisely one year after performances of Tristan he had conducted to rapturous applause.
Although this might sound like a heresy, the strange parallelism in the life of the two masterpieces may have similar causes. Contrary to the unjust opinion of many music lovers – especially those in Poland, who to this day regard Smetana as a Czech Moniuszko but with more luck with sponsors and publicity specialists – both composers were modernists and keen reformers, although in different fields. Wagner sought to put into practice the idea of the Gesamtkunstwerk in the form of a modern music drama, while Smetana came up with a vision of a modern comic opera. The unique "Czechness" of Smetana's mature oeuvre does not in any way diminish its progressive nature. The inspirations behind the musical language of the author of The Bartered Bride were similar to those behind Wagner's style: it is as full of novelty as it is of sophisticated references to the classics of the Italian bel canto and Meyerbeer's oeuvre. The apparent simplicity of the first Czech national opera lies solely in its melodic layer – in which, it should be noted, the composer almost never resorted to literal quotations from folklore. Mastery of the orchestra, unconventional harmonic solutions and the internal pulse of the work inextricably interwoven with the prosody of the language contributed to the creation of a completely new operatic idiom. Unfortunately, for a long time Smetana's was the fate of other pioneers whose ideas were mercilessly juxtaposed with the style of their later continuators. Accused of "Wagnerism" by his contemporaries, snubbed by many of his successors, Smetana still falls victim to dismissive remarks of musicologists who look for "Smetanisms" in works by his less inspired imitators.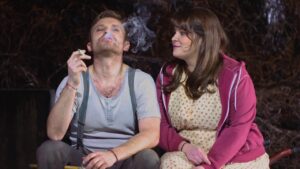 The Bartered Bride in Munich. Pavlo Breslik (Hans) and Selene Zanetti (Marie). Photo: Wilfried Hösl
Personally, I love The Bartered Bride in all its language versions, primarily the German version by Max Kalbeck, which for decades was more effective in conquering international stages than Karel Sabina's Czech original. This is why I couldn't miss an opportunity to see, literally on two consecutive nights, modern productions of the two masterpieces in German theatres: the last performance of the season of The Bartered Bride at the Bavarian State Opera and the premiere of Tristan at the Frankfurt Opera. Especially given that the two directors have a lot in common: both are fairly young, were born in Germany, have a solid musical background and quite considerable experience in opera, acquired also outside their homeland.
A few years ago I wrote rather critically about David Bösch's Die tote Stadt for Dresden's Semperoper. For a long time the director has tried to shed the image of a theatrical "Brother Merry" who is in his element only in comedy. Judging by his take on Korngold's opera, he has not been very successful in this. In The Bartered Bride he was able to give free rein to his imagination and go for a rather unique, at times quite risky, sense of humour. He sets the crazy story of the two suitors of the beautiful Marie (Mařenka's name in the German version) on a neglected farm in one of the poorest German Länder, probably in the former GDR – much to the delight of the obscenely wealthy residents of Munich, I suspect. The action takes place between a privy, a stack of scalded hay and dung, and a worn-out conveyor belt (Patrick Bannwart's brilliant sets). Class divisions between the protagonists are aptly replaced by Bösch with social inequalities in today's Germany (costumes by Falko Herald). Marie's indebted parents look as if they have come straight from an intervention TV documentary, while Micha and Agnes – as if they have been plunged into this pandemonium straight from a nouveau riche villa in Bavaria. Kezal owns a marriage bureau specialising in matching partners ready to pay a lot of money for their wedding to be as tasteless as possible. The people living in the village are divided into dirty farm workers (older generation), and dyed brunettes and blondes accompanied by long-haired metal fans dancing "Seht am Strauch die Knospen springen" ("Proč bychom se netěšili") with their hands making the characteristic devil horn gestures. The circus artists arrive in the village in a Trabant and mix with the participants of a village fête during which beer flows from a makeshift beer cart, and physiological urges are satisfied in one stack of hay.
Mirjam Mesak (Esmeralda) and Wolfgang Ablinger-Sperrhacke (Wenzel). Photo: Wilfried Hösl
The action is a fast-flowing coarse farce which may make the more sophisticated music lovers flush with embarrassment. Fortunately, I am not subtle and so I greeted each new coarse gag with increasing amusement – especially that the gags suited the narrative perfectly and the artists threw themselves into them unsparingly with full conviction. It would be difficult to imagine a better cast for The Bartered Bride: with splendid voices, excellent acting skills and extraordinary sense of comedy. The phenomenal Hans of Pavol Breslik, singing with an open, crystal clear, typically "Czech" tenor, worked brilliantly with Marie as portrayed by Selene Zanetti, who has a soprano which is rather dark for the role, but sensual and touchingly soft (she was magnificent in her Act III aria). Wolfgang Ablinger-Sperrhacke (Wenzel) and Mirjam Mesak (Esmeralda) were perfect in their character roles – with Ablinger-Sperrhacke proving to be a much better singer of the part than most performers of the role today, and Mesak displaying great ballet and acrobatic skills (which enabled her to do a bit of rope-dancing as well!). No one doubts Günther Groissböck's comic talent, but there were moments when he even outshone himself as Kezal – I couldn't decide what to admire more in the famous duet with Hans in Act II: the singing of the two gentlemen or the acting of Groissböck praising a girl "who's got the money". The whole performance was conducted very stylishly and in daring tempi by Tomáš Hanus, the current Music Director of the Welsh National Opera.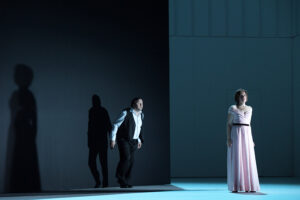 Tristan und Isolde in Frankfurt. Vincent Wolfsteiner (Tristan) and Rachel Nicholls (Isolde). Photo: Barbara Aumüller
I'll begin my report on Tristan und Isolde from the singers this time, because I admit I went to see the premiere of the new production in Frankfurt primarily because of Rachel Nicholls, who made her debut as Isolde five years ago in Longborough. Since then her soprano has become firmer, has developed at both ends of the range and grown in dramatic strength. Nicholls sings with a tireless voice – irresistible like an elementary force and shimmering like light reflected by snow – emphatically stressing the nuances of her protagonist's inner transformation. Vincent Wolfsteiner, whose tenor is rather fragile and without much depth, was not even half as intense in his expression, but I have to admit that he did know how to pace himself and survived without harm until the end of the performance. In the duet "O sink' hernieder, Nacht der Liebe" he even rose to a higher level of musical rhetoric, at times bordering on ecstasy. Christoph Poll's handsome although a bit fragile baritone (Kurwenal) did not reach the height of expression until Act III. On the other hand admirable performances came from Claudia Mahnke, velvety-voiced and beautifully nuanced in her rendition of Brangäne, and, above all Andreas Bauer Kanabas, who sang the bitterness and pain of King Marke with a ringing bass, even and resplendent in its colour, combined with an impressive stage presence and excellent acting. However, Sebastian Weigle's overall musical concept was less convincing than in the case of last year's Walküre – the conductor has a penchant for sharp tempi and, in my opinion, excessive lightening of textures, which does not always suit the score of Tristan, pulsating, as it is, like a living organism and moving inexorably forward.
Christoph Pohl (Kurwenal), Andreas Bauer Kanabas (King Marke), Vincent Wolfsteiner (Tristan), Rachel Nicholls (Isolde), Claudia Mahnke (Brangäne) and Tianji Lin (Shepherd). Photo: Barbara Aumüller
Yet with all these reservations the Frankfurt Opera's Tristan has proved to be one of the best Wagner productions of recent seasons. This is also thanks to Katharina Thoma's staging – understated, visually sophisticated (sets by Johannes Leiacker, costumes by Irina Bartels, lighting by Olaf Winter) and trying to get to the essence of this mysterious narrative. The director places the action of her Tristan is a sterile space in which transitions from the reality of phenomena to the reality beyond cognition – from the world of the Day to the world of the Night – occur through symbolic gestures and abstract props (a simple boat, black in Acts I and III, white in Act II; a black wall marking a moving boundary between the two worlds in Act II; bright sunshine coming through the door left ajar during Isolde's final arrival). At several points in the action Thoma introduced discreet biographical tropes, linking the figure of Tristan to Wagner's complicated childhood (for example, the black spectres of the parents during Tristan's agony – wearing white featureless masks bringing to mind the Japanese noppera-bō demons, which torment the living with an illusory resemblance to their beloved dead). If there is anything jarring in this concept for me, it is only the finale, in which Isolde sends Tristan deep into the long-for Night of death and is left alone on the side of the Day – on an empty, blindingly white stage. But it will take me a long time to forget the mysterious expression on Nicholls' face, slowly cut off from the audience by the curtain flowing from above.
So there is some hope yet. Thoroughly modern directors tackle masterpieces of reformers and delve into their meanings instead of imposing their own meanings on them. Let us hope we will not miss another revolution in the theatre.
Translated by: Anna Kijak