For several months I had been planning to visit Teatro Real to see the company's production of Die Walküre, in which Günther Groissböck was to have sung the small but important role of Hunding. Shortly before the performance he disappeared from the cast, replaced by another audience's favourite, René Pape. Soon Groissböck resurfaced elsewhere, as Ochs in a new production of Der Rosenkavalier at Berlin's Staatsoper, where the parochial Baron auf Lerchenau was initially to have been sung by none other than… René Pape. It didn't take me long to change my plans. Judging by the reviews of the Madrid performance, and by what I saw and heard in Berlin, both gentlemen benefitted from the change. Groissböck took the audience by storm: he once again outdid himself in a role which is gradually becoming the role of his life. Moreover, he did one hell of a job for André Heller, an omnivorous artist beloved by the Austrians, who in his long life has tackled virtually everything – cabaret song, sung poetry, organisation of mass events and spectacular exhibitions (including the fairy-tale Swarovski Crystal Worlds in Wattens, Tyrol), sculpture, set design, postage stamp design, circus art, writing, acting and God knows what else – but this was his first time directing an opera. He did create a handsome production, but it was marred by a number of sins committed by a novice who sometimes didn't know what to do with the multitude of ideas coming to his head from all directions.
Pity, because Heller started from the right assumption: that Der Rosenkavalier was a masterful combination of irony, pastiche and travesty.  I once wrote that this comedy was worth considering in terms of an intellectual game of two titans of modernist theatre – Richard Strauss and Hugo von Hofmannsthal – who in an atmosphere of complete understanding mixed in it everything like in a melting pot: languages, conventions, identities of the protagonists. The librettist created a confusion of languages, having the Marschallin speak a refined German, Ochs – the Viennese dialect spiced up with pretentious macaronic terms, and the Italians – a hilariously broken vernacular. The composer played with the musical material and with the operatic convention – providing no fewer than three sopranos with many opportunities to show off, entrusting the episodic character of the Italian Singer with an arduous Mozartian aria, playing with the Viennese waltz, and shamelessly making fun of Tristan und Isolde, in which he was greatly helped by Hofmannsthal, who incorporated into his work characteristic phrases from Wagner's drama. Both stirred things up so much that the director initially planned for the Dresden premiere had to be replaced with the experienced Max Reinhardt. A well-staged Rosenkavalier should work on several levels – a bit like Sesame Street, which can send both a kindergarten kid and a university professor into paroxysms of laughter: each for a completely different reason.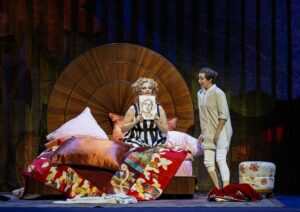 Camilla Nylund (Marschallin) and Michèle Losier (Octavian). Photo: Ruth Walz
Heller began with an elaborate trick: a made-up performance of Der Rosenkavalier of 9 February 1917 for wartime widows and orphans, with such a cast and creative team that every Strauss lover will never cease to hope to see something similar in their afterlife. A brilliantly faked poster – included in the programme and displayed on the fire curtain before Act I – featured the names of leading singers of the day; the silent roles were cast by Heller with figures like Zweig, Piccaver and Hofmannsthal himself, the musical direction was entrusted to Franz Schalk, set design – to Koloman Moser, one of the finest representatives of the Vienna Secession, and costume design – to Emilie Flöge, an extravagant fashion stylist, and Gustav Klimt's friend and muse. Then the director decided to "reconstruct" this performance on the stage of the Staatsoper.
The idea was brilliant (some members of the audience were taken in) but difficult to put into practice, because it required artists of the same stature as in the poster. This wasn't the case this time, although it is not entirely true of Arthur Arbesser, the Austrian master of haute-couture, who in his costumes skilfully drew on Rococo, Art Nouveau, Art Deco and dress codes of the day. Xeni Hausner, an eminent painter and experienced set designer, was less successful. The Marschallin's Japanese-style bedroom didn't bear the slightest resemblance to the dazzling geometricism and refined colour scheme of Moser's designs. For some reason Faninal's residence was dominated by Klimt's monumental Beethoven Frieze – no doubt a masterpiece, but not really in the style of a Viennese upstart merchant.  What was completely unclear was the reason behind the transfer of Act III from an out-of-town inn to a dark fin-de-siècle palm house, which disrupted not only the logic of the narrative but also the coherence of the overall aesthetic concept.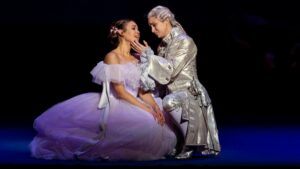 Nadine Sierra (Sophie) and Michèle Losier. Photo: Ruth Walz
Worse still, Heller – instead of guiding the actors on stage –  would again and again wink at the audience. It was to no avail, because some of his ideas were too hermetic (Klimt and Flöge among the guests at Faninal's house), other – dubious (primarily in the finale, in which the now adult Mohammed picked up a handkerchief – dropped not by Sophie but the Marschallin – and hid it as if it were a priceless relic). The action stalled completely at times and the singers had to direct themselves. The only one who succeeded in this was Groissböck, an artist with an extraordinary sense of comedy, whose performance would surely have prompted Strauss to revert to the original title of the opera, Ochs auf Lerchenau.
The Austrian bass was without a doubt the strongest link in the cast. His soft, excellently placed voice carried above the orchestra, despite lacking somewhat in volume, impressing the audience with a faultless intonation and evenly produced sound both at the upper end of the scale and in the famous "cavernous" low notes of the broad waltz "Ohne mich". In addition, Groissböck has at his disposal brilliant diction; he knows how to play with colours and to place accents within a phrase with the sensitivity of a seasoned actor. Camilla Nylund delivered the text much less accurately; moreover, sometimes her sensual soprano – silvery and bright at the top – lost its resonance in the middle and disappeared in the bottom register. Nevertheless, I did admire her bitter, melancholic interpretation of the monologue "Die Zeit, die ist ein sonderbares Ding" from Act I. Michèle Losier, who has a distinctive and velvety-sounding mezzo-soprano, is yet to find her way in the role of Octavian – for the moment she still lets herself be carried away by emotions, which sometimes affects the precision of her singing. Nadine Sierra's dark soprano is not quite suited to the role of the innocent Sophie in the bloom of first love, but it has to be said that the she knows how to use it and how to keep the sound consistent when singing piano – I appreciated this especially in the trio "Hab' Mir's gelobt", in which all three singers displayed extraordinary musicality. Among the other soloists Katharina Kammerloher (Annina), lively and technically excellent, deserves a particularly warm mention. Praise is also due to Adrian Eröd, who stepped in at the last moment for an indisposed Roman Trekel  (Faninal), and Atalla Ayan (Italian Singer) with his secure intonation and ringing voice.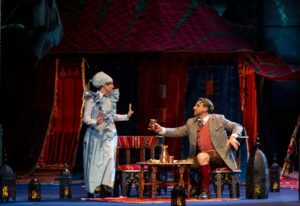 Michèle Losier and .Günther Groissböck (Ochs). Photo: Ruth Walz
Undoubtedly, I will see better productions of Der Rosenkavalier one day. Perhaps I will soon see an equally solid cast of soloists in this masterpiece. Yet I have a feeling that it won't be any time soon – if ever – that I will hear live such a profound and thoughtful, and, at the same time, non-standard interpretation as the one presented by Zubin Mehta. The venerable maestro – once famous for his lavish, vigorous, even ruffled approach to Strauss' music – this time celebrated the nuances of the score as if he didn't want to part with it. Tension built up gradually and just as slowly eased; each musical structure swelled like a germinating seed, only to grow, blossom, bear fruit and fall back to the ground. Everywhere there was room for respite, for tender, even sensual collaboration with the singers, for silence and sustain, for emphasis of relations – never captured before – between instruments. This was one of the longest Rosenkavaliers I had ever heard. And I wanted it to drag on. Für alle Zeit und Ewigkeit.
Translated by: Anna Kijak