Fidelio did not reach Paris until May 1829, when it was staged in the first Salle Favart, the home of Théâtre-Italien at the time, by the German troupe of Joseph August Röckel, who had sung Florestan during the premiere of the second version in Vienna, in 1806. In May 1860 the opera found its way into Théâtre Lyrique, in a three-act French version, with action transferred to 1495 Milan, Pauline Viardot portraying Isabella of Aragon, who had replaced the original character of Leonora, and a tenor appearing under the pseudonym Guardi and singing Gian Galeazzo Sforza, who had replaced Florestan. The contrived plot had nothing to do with reality: the marriage was very unsuccessful because of the homosexuality of Gian Galeazzo, who in any case died in 1494. By that time Isabella had given birth to three children, among whom most likely only the son Francesco was legitimate. Irrespective of the historical awareness of nineteenth-century Parisians, the premiere was a flop.  Fidelio aroused mixed feelings and ran at the Boulevard du Temple house for just eleven performances. It was passionately defended by Berlioz, who compared Beethoven's score to an sturdy beech tree luxuriantly green among rocks and ruins, hardened by the obstacles it had to overcome on its way from a germinating seed to a proud tree.
After the premiere of the third version, Fidelio basically never left the international repertoire. However, it was rarely seen in the French capital, despite sporadic triumphs like, for example, in 1936, when Bruno Walter conducted it at the Palais Garnier. It may have aroused justified suspicions of ideological nature in the land of the Great Revolution. Fidelio can hardly be regarded as an apotheosis of freedom and personal dignity, unless the story is to be measured by a wholly anachronistic yardstick. Rather, it is a self-conscious voice in the dispute over the idea of prison, in which artists saw a breeding ground for attitudes and characters, and pioneers of social sciences – a tool to subordinate the individual to the requirements of an efficient system. With time, however, Beethoven's only opera acquired a number of meanings and was elevated from a praise of marital loyalty to the rank of a symbol of miraculously recovered freedom. This is how it was received in 1955 at the reopening of Vienna's Staatsoper, and this is the role it played in 1989 in Dresden, when street demonstrations coincided with the premiere of Christine Mielitz's meaningful production. This is how it is interpreted by everyone – myself included – after a year and a half of a pandemic that has turned not only the opera world upside down.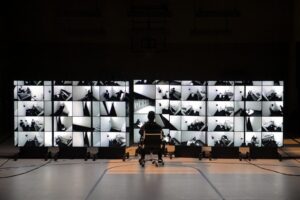 Linard Vrielink (Jaquino). Photo: Stefan Brion
However, the French director Cyril Teste, entrusted with the latest production at Paris' Opéra-Comique, decided not to stop there and to draw on other catchy tropes as well. At least this is what emerges from his pre-premiere interviews, during which he presented Leonora as an Enlightenment-era feminist and referred to the panoptic model of power which, according to Michel Foucault, went beyond the walls of an oppressive system and contributed to the birth of a globally supervised society. This is one way of interpreting the piece, but you have to be able to show it. Teste's staging turned out to be derivative, also in relation to Mielitz's concept, and questionable from the point of view of directorial craft as well. Teste replaces his inability to direct characters with projections, ubiquitous in today's theatre, and Frank Castorf-style habit of filming elements of the action on stage. He moves the narrative to a contemporary maximum security prison, where Rocco and Leonore – instead of digging the prisoner's grave when ordered to do so by Pizarro, who intends to deal personally with the inconvenient witness – prepare Florestan for execution by a lethal injection. I understand that no one had come up with such an idea before, but one does not have to be an expert on the American penitentiary system to realize that Pizarro could have got rid of his enemy in a much simpler way. Teste does not understand the inner codes of the piece: he transforms the symbolic scene of communion – in the form of an offering of bread and wine to the prisoner – into a chaotic fiddling with a water bottle and a sandwich stolen from the canteen. Florestan thanks for them, but does not manage to take a bite or a drop, because Leonore, in an apparent act of violence, knocks both out of his mouth. The plot moves forward at a snail's pace, the prisoners, having been granted a moment of freedom, wander aimlessly around the stage, then start a basketball game – which goes surprisingly smoothly for them despite years of solitary confinement – Florestan does not suffer much, Leonore is not particularly happy to have her husband back, and the opera comes to life in the last minutes of the finale, before the audience has time to realise why there is such joy.
The lack of engagement on stage went hand in hand with a bizarre approach by the conductor Raphaël Pichon, a highly valued interpreter of Baroque music, who led his Pygmalion ensemble as if he had the score of one of Lully's late operas on his stand. The orchestra played with a dry sound, aggressively emphasising bar measures, shaping phrases against the composer's intentions, and in the resulting din losing elements of key importance to the narrative, elements like as the famous timpani tritones in the introduction to Act II. Pichon did not help the singers, whose voices were often lost in the difficult acoustics of the Opéra-Comique, covered by the generally unbeautiful and surprisingly loud sound of the early instrument ensemble.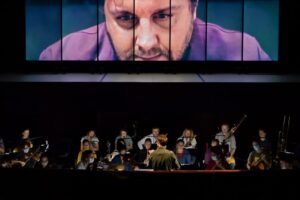 Michael Spyres (Florestan). Photo: Stefan Brion
Siobhan Stagg, whose soft, radiant soprano was described by Christa Ludwig as the most beautiful she had ever heard, had fallen ill before the premiere and in the first two performances limited herself to acting duties only. During the opening night she was replaced with Katherine Broderick singing from the orchestra pit – apparently rather successfully. I saw the second performance, when Leonore was sung by Jacquelyn Wagner, a singer with a dark and, at the same time, beautifully focused and crystal clear voice with a potential to tackle much heavier roles.  She started a little tentatively – which is entirely understandable given the unfavourable circumstances – but by the middle of Act I she had already established herself as a leading cast member and was rightly rewarded with thunderous applause by the audience towards the end. Of the two "comic" lovers, I was more impressed by Jaquino portrayed by the young Dutchman Linard Vrielink, whose voice has a touch of rapid vibrato, well suited to the part. Mari Eriksmoen, who was otherwise excellent, sounded too dramatic at times as Marzelline. Among the lower male voices I was particularly moved by Don Fernando of Christian Immler, an intelligent singer with a velvety, technically-assured bass-baritone. Albert Dohmen (Rocco), a distinguished Straussian and Wagnerian singer, was no more than satisfactory this time. Both gentlemen were clearly superior to Gabor Bretz (Pizarro), a singer whose voice was not distinctive enough and too bright for the part and whose character was turned by the director into a pathetic, detestable clown.
I realise that most music lovers came to the Opéra-Comique that evening to hear Florestan being sung by the phenomenal Michael Spyres, fresh from the success of his Baritenor recording for Erato. I had not been in such a quandary as a critic for a long time. In my mind I can hear what interpretative heights this singer could reach under the baton of a true expert on Beethoven's music. Spyres began the Act II monologue in his usual fashion: from an ethereal pianissimo, gradually rising to a powerful, angry fortissimo followed by an endless deadly silence. The problems started in the final poco allegro section with an obligato oboe, when the accompaniment, banged away horribly by the orchestra, forced Spyres to articulate the musical text precisely and do nothing more than that. Gone was the feverish torrent of expression, gone was the emotion, the desperate struggle between euphoria and madness in one of the most intense – not only in Beethoven's oeuvre – episodes of musical anguish. Similarly, there was no lyricism in the trio "Euch werde Lohn in besseren Welten" and no ecstatic joy in the duet "O namenlose Freude" – for which the fault lay not only with the helpless director, but also with the conductor, who decided to remove from this scene key passages of spoken dialogue, including Leonore's famous "Nichts, mein Florestan!", which in a well-directed and performed Fidelio can make a stone cry.
Linard Vrielink, Mari Eriksmoen (Marzelline) and Siobhan Stagg (Leonore). Photo: Stefan Brion
What else can an incorrigible admirer of Beethoven's only opera do but return to À travers chants by the equally beloved Berlioz: "I do realize that most distinguished critics will not agree with me. Fortunately, I am not one of them".
Translated by: Anna Kijak