Jane Austen was a wonderful storyteller. So wonderful that I owe my entire notion of Bath – where she spent six years of her life and where her pastor father was buried – to her books. I remembered from Northanger Abbey that Bath was a delightful place, provided you knew someone there, and that fine weather drove all the locals out for a walk, prompting weather-themed conversations. Raised in the countryside, Austen had an ambivalent – to put it mildly – attitude to Bath. She moved here with her family at a time when the town was already enjoying a reputation as the most fashionable and elegant resort in England thanks to the forefather of British dandies known as "Beau Nash" ­– an arbiter elegantiarum, informal master of ceremonies, keen gambler and a lady killer. To Austen Bath must have seemed like a metropolis – a city dazzling with the beauty of its buildings, full of temples of culture, tempting with a multitude of shops, but, at the same time, terrifying: because of the crowds of visitors, the abundance of brothels and the suffocating atmosphere of a "seat of amusement and dissipation".
Amazingly, my impressions from my first visit to Bath were similar to Austen's. Gigs made in London were replaced with omnipresent cars. The streets were teeming not with spring-craving aristocrats, but with crowds of tourists making up for the time lost during the pandemic. The more convinced I was that I was following the simplest route to my destination, the more astray I went. Yet I left the city believing that Bath was a delightful place – especially given that I managed to fulfil Mrs Allen's requirement from Northanger Abbey. I knew someone here.
I had met this someone before, more precisely – I had met his extraordinary theatrical imagination, returning from performances directed and devised by him as Joanna Kulmowa writes in her poem Po co jest teatr (What is theatre for): deep in thought, but above all in awe. Thomas Guthrie began as a fine singer with a warm, handsome baritone, great musical sensitivity and exceptional interpretative instinct. He followed a path similar to that of most of his British colleagues: from a child chorister at St John's College, Cambridge, through reading Classics at the local Trinity College and studying music at the Royal Northern College of Music, Manchester, to first prizes in vocal competitions and scholarships to study under renowned masters like Thomas Allen. He took part in small-scale operatic ventures as well as events under the baton of outstanding conductors. He was equally enthusiastic performing in both leading and episodic roles. In addition, he sang in the Glyndebourne Festival Chorus and collaborated with early music ensembles. He took part in the famous pilgrimage of John Eliot Gardiner's musicians, celebrating the 250th anniversary of Bach's death with concerts in churches all over the world, during which almost all of Bach's cantatas were performed. With time Guthrie gained recognition as a performer and scholar of the art song repertoire, including the legendary cycles of Schubert and Schumann.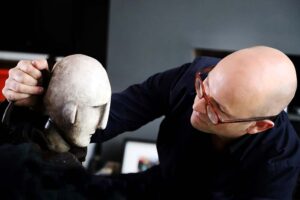 Thomas Guthrie. Photo: Frances Marshall
However, there was something that always made him different from the aspiring singers from his homeland, who were busy climbing their career ladders and building their own positions on prestigious stages across the world. It became apparent that Guthrie was a born storyteller, a modern-day aoidos, who spun his stories in such a way that he was able not only to include in them the author's intentions and his own interpretation of them, but also to draw the audience into the discourse – the less familiar the audience was with the material and convention of the work, the better. Other artists delivered their musical sermons from the inaccessible heights of the stage. Guthrie discovered he had the soul of an itinerant preacher. He began to direct. By accident or out of contrariness, in the course of preparations for a production staged by a certain ambitious opera troupe. He sang a small role in the production and eventually ended up on the poster as co-director, convinced from the first rehearsals – apparently rightly so – that he was able to better direct his fellow singers. In 2004, commissioned by New Kent Opera, he produced a venture that gave everyone a foretaste of the vision of theatre that had been forming in his mind and took the critics' breath away – a semi-staged performance of Schubert's Winterreise, in which Guthrie the singer was hidden behind a coarsely carved puppet wandering through a monochrome deserted landscape of animated drawings by Peter Bailey.
Three years later Guthrie became a Jette Parker Young Artist at the Royal Opera House, London, where he assisted in productions by Robert Carsen and Katie Mitchell, among others. Yet it was Winterreise and "grassroots work" that set the course for his later activities. Guthrie is not so much an educator as a restorer of community through music and theatre. He loves working with amateurs, children, people unjustly excluded and those who have become demoralised through fault of their own, but not in order to "train" them to appreciate high art.  On the contrary, Guthrie listens to them, searches for a common ground and only then does he introduce them to the world of his own imagination and co-creates theatre with them, theatre where every shadow, every flash of light and visual sign becomes a fully-fledged participant in the drama, a disembodied being conducting a dialogue with the audience. Where a puppet is more alive than a human, where everything is "different than ever before" (Kulmowa again) and constantly balances on the thin line between adult fantasy longing for childhood, and the world of primeval emotions and fears.
My first live performance of one of his productions was five years ago at Longborough. It was Mozart's The Magic Flute, in which Guthrie easily involved the audience in the production of additional special effects. I did not think that this stylised, minimalistic, sometimes even naïve theatre would work even better in Wagner's The Flying Dutchman – without a ship, without a sea and without a port, but with such an emphatic suggestion of their existence, achieved with a few gestures and inconspicuous props, that every staging of this opera has seemed overloaded to me ever since. For more than a decade Guthrie has been making his tiny theatre in the most unlikely configurations and spaces – in 2017 he staged an adaptation of Carmen at the Dartmoor Prison, with the production featuring the local inmates. However, as a director he prefers to tell more intimate stories: through art songs cycles and masterpieces of the oratorio repertoire.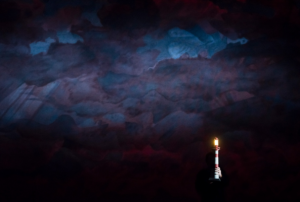 Der fliegende Holländer at the LFO, 2018. Photo: Matthew Williams-Ellis
From the beginning of the pandemic, which hit the British music community particularly hard, Guthrie sought not only to financially support artists confined to their homes. Above all, he pulled them out of their apathy and hopelessness, initiated new ventures and called for a complete change in their thinking about art and its contribution to the life of the community at large. Last year, together with the Oxford Bach Soloists, he directed an online-only staging of Bach's St John Passion, again combining the asceticism of theatrical means with an incredible precision of directing actors: those of flesh and blood, in the persons of the musicians, and those from a different, symbolic narrative order – dead or at least silent witnesses of Jesus' Passion, "played" by elements of technical equipment.
In Bath he produced a project drawing on his earlier experiences with Bach's Passion and motets. This time he joined forces with a similar enthusiast of community music making: Sarah Latto, artistic director of the Echo, a young professional vocal ensemble, and current head of Paragon Singers, which has grown from a group of eight music lovers meeting for rehearsals in a flat near Bath's Georgian Paragon Buildings complex to become one of the finest chamber choirs in the region. The very fact that Messiah 250 did take place testifies to the artists' inexhaustible tenacity. The title refers to the 250th anniversary of a performance of Handel's masterpiece at the local Octagon Chapel under the direction of William Herschel, the discoverer of planet Uranus and infrared radiation, who was also a keen musician and composer – as well as the first organist at the newly built chapel. Project events were planned for 2019 – with some delay with regard to the anniversary, as Herschel's concert took place in 1767. Nothing came out of these plans in 2019, then came the pandemic, but the project originators had their own way in the end. The concert on 5 March crowned the whole venture, which also included sessions for beginners and advanced music lovers, documentary workshops for Bath Spa University students as well as a partnership with the local charity Julian House, which focuses on supporting and activating the homeless.
Messiah 250 at St Swithin's Church. Photo: Echo Vocal Ensemble
The Octagon, a private chapel, was never consecrated and lost its religious function already in the 19th century. Thus the concert was held at St Swithin's Church, next to which the remains of Reverend George Austen, Jane Austen's father, were laid to rest in 1805. The small church in what used to be the outskirts of Bath was full. The story of the Annunciation, the suffering of Jesus and the promise of universal resurrection was told again by Guthrie in a language derived directly from music and drawing on the most sincere emotions. What mastery and, at the same time, simplicity in the communication of the directorial cues are needed in order for joy, uncertainty, awe, despair and ecstasy to be marked with a different shade on the face and in the gestures of each musician, including the instrumentalists? What understanding is needed between Latto, who holds the whole thing together, and the director to make every gesture of the conductor both musically legible and significant in the story, to make it at one time resemble maternal tenderness, at another a grimace of derision, at yet another pure ecstasy? What wisdom to trust that such theatre liberates, purifies, allows musicians to reach their interpretative best? And to be right to boot?
I don't know whether Jane Austen would have liked a Messiah told in such a way. I have a feeling that, indeed, she would. Perhaps she would have felt less strange in this unfriendly city. In Austen's times the world suffered from a shortage of men. Today it suffers from a shortage of storyteller directors, especially ones that are worth their salt.
Translated by: Anna Kijak
Original article available at: https://teatr-pismo.pl/18069-piewca-wspolnoty/