Wróciłam właśnie ze Szwajcarii, gdzie dobiegła końca "polska" odsłona interdyscyplinarnego festiwalu CULTURESCAPES, zorganizowana w setną rocznicę nawiązania stosunków dyplomatycznych między państwami. Przez blisko dziesięć tygodni zaprezentowano tutejszej publiczności setki najrozmaitszych spotkań z kulturą naszego kraju, zdaniem kuratorów imprezy – Jurriaana Cooimana i Kateryny Botanovej – kojarzonego wciąż "z czołową rolą w transformacji demokratycznej i z ruchem Solidarności". Czy rzeczywiście i jak się ma to założenie do prawdziwego obrazu twórczości Polaków i życia artystycznego w Polsce, napiszę wkrótce na łamach "Tygodnika Powszechnego". Tymczasem, trochę dla uciechy w przedświątecznym rozgardiaszu, przypomnę swój tekst sprzed blisko dziesięciu lat, opublikowany w dawnym "Ruchu Muzycznym", na marginesie warszawskich reperkusji Dni Kultury Polskiej w Oslo. Na szczęście wiele się od tego czasu zmieniło. Niestety – jeszcze nie wszystko.
***
Jak wyglądały ubiegłoroczne Dni Kultury Polskiej w Oslo? W programie przewidziano występy polskich kabaretów, polską zabawę taneczną, wystawy malarstwa i fotografii, uroczystą Mszę św. i akademię z okazji święta Konstytucji 3 Maja, pokaz filmów dokumentalnych o "Solidarności" oraz spotkanie z polarnikiem Markiem Kamińskim. W tych okolicznościach trudno nie przyklasnąć Polsko-Norweskiemu Projektowi Artystycznemu, realizowanemu w ramach Funduszu Wymiany Kulturalnej przy pomocy grupy producenckiej AdOpera! z Bergen oraz Norweskiego Ministerstwa Kultury i Spraw Kościelnych. Norwegowie dają pieniądze, operatorem środków jest nasze Ministerstwo Kultury i Dziedzictwa Narodowego. Owocem – wspólne przedsięwzięcie Teatru Wielkiego-Opery Narodowej i Den Nye Opera z Bergen Ofelie/Sonety/Alpha Hellsteniusa/Mykietyna/Gryki, w Warszawie przedstawione dwukrotnie. I chwatit, jak można wnosić z poprzedniej polsko-norweskiej koprodukcji na warszawskich deskach: danej dwukrotnie opery Sera tegoż Henrika Hellsteniusa, którą w numerze 26/2003 zrecenzował Olgierd Pisarenko.
Dodam, że zrecenzował ją przychylnie. Bo ta współczesna opera buffa z bardzo przewrotnym zakończeniem – o złej Lilith, która walczy z dźwiękowym "hałasem", utożsamianym przez nią z chaosem i śmiercią, i o dobrej anielicy imieniem Sera, próbującej zapobiec nastaniu wszechwładnej ciszy – w pełni na to zasłużyła. Duży w tym udział ma zręczne, zabawne libretto Axela Hellsteniusa, brata kompozytora, znanego miłośnikom kina skandynawskiego ze scenariusza do wzruszającej tragikomedii Elling, która w 2002 roku zdobyła nagrodę publiczności Warszawskiego Festiwalu Filmowego. W Ofeliach Henrik zdecydował się na współpracę z Cecilie Løveid – dramaturg, która nie lubi narracji, feministką, która nie lubi kobiet i poetką, która nie lubi muzyki. A w dodatku nie ma za grosz poczucia humoru. Efektem tej współpracy jest niemiłosiernie długa opowieść o niezrównoważonym psychicznie Hamlecie, ciapowatej, na wpół niedorozwiniętej Ofelii i zdeprawowanej do cna Gertrudzie – z wątkami kazirodczymi, elementami soft-porno i debaty w sprawie życia poczętego.
Hellstenius jest kompozytorem ciekawskim i wszędobylskim. Nie sądzę, żeby dobrze się czuł upchnięty w ciasną szufladkę z napisem "spektralizm". Daleko mu też do postmodernizmu, rozumianego jako śmiertelnie poważna zabawa konwencją i epatowanie kiczem pod pretekstem dyskursu z kulturą wysoką. Hellstenius nie ślęczy nad algorytmem dyskretnej transformaty Fouriera (inni spektraliści też tego nie robią, ale boją się przyznać). Nawiązuje raczej do prekursorów muzyki spektralnej – Messiaena, Debussy'ego, może nawet Scelsiego – tworząc swoisty neoimpresjonizm: skrajnie subiektywny, utkany z barw pojedynczych dźwięków, uwodzący jednostajnością rytmów. A zarazem – co rzadkie u kompozytorów współczesnych – bardzo wokalny, zdradzający ogromną wrażliwość w dziedzinie emisji i "poruszania afektów" w śpiewie.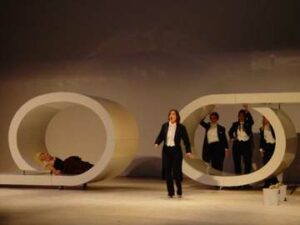 Ofelie Hellsteniusa w TW-ON. Fot. Katarzyna Walkowska
Może więc dziwić jego decyzja, by w Ofeliach zdać się na wątpliwy instynkt librecistki i reżysera Jona Tombrego, którzy zrezygnowali z narracji linearnej, do ostatniej chwili zmieniali porządek scen i wprowadzali do scenopisu coraz to nowe pomysły. A Hellstenius posłusznie znosił ich fanaberie, dopisując – podobno z lubością – kolejne elementy tej zwariowanej układanki. Kłopot w tym, że libretto – każąc odbiorcy raz po raz wchodzić z Ofelią do tej samej rzeki – rwie się w natłoku wątków głównych, pobocznych i zbędnych. Z braku ciągłości narracji musimy się mierzyć z retrospektywą, wtórnym montażem epizodów i bezlikiem mętnych monologów wewnętrznych. O co tu chodzi? Że Hamlet porzucił Ofelię, bo zrobił jej dziecko? Że jest frajer, bo uprawia seks oralny z własną mamusią? O to, że Ofelia ma kiełbie we łbie i marzy wyłącznie o awansie społecznym? Kim są Panny Leśne: zazdrosnymi koleżankami Ofelii, demonicznymi czarownicami czy może alegorią wszechwiedzących plotkar, które pośrednio doprowadzą do tragedii?
Niestety, inscenizatorzy zatrzymali się w rozwoju emocjonalnym niewiele dalej niż protagoniści. W konsekwencji na scenie króluje gest rodem z ambitnych przedstawień licealnych, parafialnych i wczesnostudenckich, jakie zapamiętałam z najczarniejszych lat stanu wojennego. Dość powiedzieć, że Ofelia poniosła w finale śmierć na schodach kanału orkiestrowego, oblana wodą z wiader przez Leśne Panny. Ku wielkiej uciesze widowni. Śpiewacy turlają się, czołgają i kopulują na sprężystych mebelkach, których walory dizajnerskie przywodzą na myśl tanie stoliki z IKEA, kształt zaś – męskie i żeńskie organy płciowe. Na domiar złego – jakby nie starczyło grafomanii samego libretta – część środków Funduszu Wymiany Kulturalnej poszła na kuriozalne tłumaczenie Joanny Dutkiewicz. Oto próbki jej radosnej twórczości, świadczące o doskonałym opanowaniu języka ojczystego: "jedyne, w czym jestem nabożna, to picie dużo wody i używanie kremu z filtrem" albo "Bardzo mało do roboty. Tylko czytać". Przykłady można by mnożyć. Szczególnie dobitnie przemówił do mnie jeden ustęp: "Czarne kafle. Czarne łoże. Mroczne pierdolenie". Nic dodać, nic ująć. Gdyby organizatorzy skorzystali z translatora internetowego, wyszłoby taniej, być może celniej, a już z pewnością śmieszniej.
Szkoda Hellsteniusa. Chwilami spod tego bełkotu wyłaniało się coś naprawdę urodziwego: fragment pobrzmiewający dalekim echem Peleasa i Melizandy, jakieś senne powidoki komedii madrygałowej, wyrafinowane dialogi przypisanych bohaterom instrumentów. Szkoda śpiewaków, zwłaszcza fenomenalnej Tory Augestad w roli Gertrudy, choć i Leśne Panny (Liine Carlsson, Ebba Rydh i Janna Vettergren) radziły sobie niezgorzej. Zawiodła nieco para głównych bohaterów – Elizabeth Holmertz i Tadeusz Jędras – trudno jednak z polotem realizować partie wokalne, kiedy reżyser obarcza śpiewaków tak idiotycznymi zadaniami aktorskimi. Szkoda Wojciecha Michniewskiego, który udowodnił po raz kolejny, że w gęstym lesie współczesnych partytur mógłby się poruszać nawet z zawiązanymi oczami.
Jak w tym zestawieniu wypadły Sonety Szekspira Mykietyna w wykonaniu koncertowym z projekcjami Adama Dudka i Alpha Kryonia XE Gryki? Ano bez wątpienia korzystnie, choć znów mam niejasne wrażenie, że strona polska poszła po linii najmniejszego oporu. Utwór Mykietyna przedstawiono w wersji jeszcze mniej teatralnej niż w 2006 roku, a balet jednej z najciekawszych kompozytorek młodszego pokolenia zaczyna robić za zapchajdziurę, dostawianą do innych realizacji na podstawie coraz to innych skojarzeń. Najpierw były "żeńskie" Terytoria (na jednym wieczorze z Fedrą Dobromiły Jaskot), teraz jest "brzmienie zorzy polarnej", jak ujął to w książce programowej Marcin Krajewski, w kwietniu będzie Alpha i inne, czyli spotkanie młodej polskiej choreografii ze współczesną muzyką polską. Zgoda, każdy pretekst jest dobry, ale nie wygląda to na przemyślaną promocję naszej muzyki i teatru. Do Bergen pojadą gotowce, które łatwiej sprzedać za granicę, niż rozumnie włączyć w obieg własnego życia muzycznego.
Może zresztą przesadzam? Polsko-norweska wymiana kulturalna ma przecież długą i burzliwą historię, w której zawsze zachowywaliśmy dość bierną postawę. Dagny Juel, muza bohemy norweskiej, mogła się przecież związać z Munchem albo Strindbergiem, tymczasem jej wybór padł na Przybyszewskiego – ekscentryka, pijaka i skandalistę, literacko zaś grafomana, wątpliwego mistrza przerostu formy nad treścią. No i jak tu się zżymać na pretensjonalne wypociny Løveid do spółki z Tombrem, skoro Strindberg nazwał Przybyszewskiego "genialnym Polakiem"? Ciekawe, co nad dalekim, cichym fiordem powiedzą o Gryce i Mykietynie. Oby wykazali się lepszym gustem niż Strindberg.