Zanim jeszcze zakochałam się w Muminkach, zaczytywałam się w wierszach, baśniach i powiastkach fińskiego romantyka Zachariasza Topeliusa, między innymi w Dalekiej podróży małego Lucka, do której nawiązałam w tytule tej notki. I od tamtej pory marzyłam o dalekiej podróży do Finlandii. Udało się dopiero teraz: w przedziwnych i coraz bardziej niepokojących okolicznościach. Zrządzeniem losu, akurat w ten weekend media w Polsce zaczęły się rozpisywać o fińskiej strategii "kompleksowego bezpieczeństwa", która od zakończenia II wojny światowej przygotowuje mieszkańców na ewentualny konflikt zbrojny z Rosją. Mało kto pisze, jak mocno Finowie przeżywają obecną napaść Rosji na Ukrainę i jak ich emocje rzutują na odbiór sztuki, w tym także opery. Kiedyś, w swojej pierwszej recenzji z Billy'ego Budda, zwróciłam uwagę, że wojna zabija anioły. Wizjonerska interpretacja arcydzieła Brittena przez Hannu Lintu bardziej była o wojnie niż o aniołach, i w takiej właśnie postaci wstrząsnęła publicznością Fińskiej Opery Narodowej. Doniosę o tym Państwu za kilka dni, a tymczasem podzielę się kilkoma impresjami fotograficznymi z Helsinek, ściślej z przechadzek po dystrykcie Töölö w zachodniej części Półwyspu Helsińskiego. Mieści się tam nie tylko gmach teatru operowego, ale też wiele innych fascynujących budynków i założeń urbanistycznych, reprezentujących barwną mozaikę stylów w fińskiej architekturze XX wieku: od eklektycznej mieszanki neogotyku i neoromańszczyzny, poprzez secesję i nordycki klasycyzm aż po "heretycki" modernizm projektów Alvara Aalto, ściśle zespolonych z pejzażem i prześwietlonych na wskroś oślepiającym światłem Północy. Zapuściłam się też na luterański Cmentarz Hietaniemi, gdzie prócz wielu osobistości zasłużonych dla fińskiej kultury i tożsamości narodowej spoczywają setki żołnierzy poległych w wojnach zimowej, kontynuacyjnej i lapońskiej.
Było słońce i był mróz. Czasem zrywał się wiatr, jak w rozdziale o gościach z Zimy Muminków. "Osoba rozsądna wiedziałaby, że w ten właśnie sposób rozpoczęła się długa wiosna. Ale złożyło się tak, że nad brzegiem morza nie było żadnej rozsądnej osoby, był tylko Muminek". Kilka dni temu do małego trolla, idącego pod wiatr w zupełnie złym kierunku, dołączyła także całkiem nierozsądna krytyk operowa z Polski.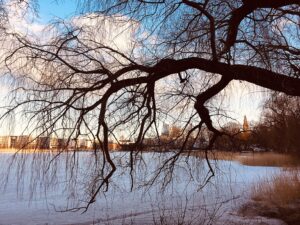 Widok na zatokę Töölö od strony parku Hesperia…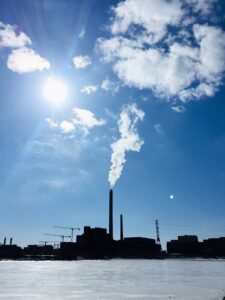 …i na industrialny krajobraz Helsinek z plaży Hietaniemi nad Zatoką Fińską.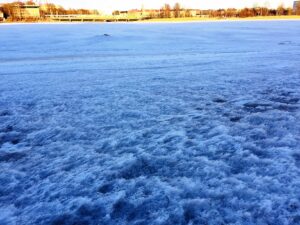 Dodam przy okazji, że wody Töölönlahti są jeszcze całkiem zmarznięte.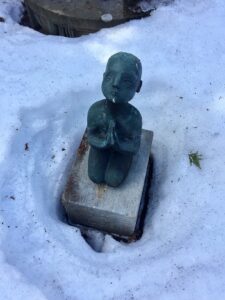 To jeden z najmniejszych nagrobków na cmentarzu Hietaniemi, równy powierzchnią kartce papieru i może dlatego tym bardziej chwytający za serce.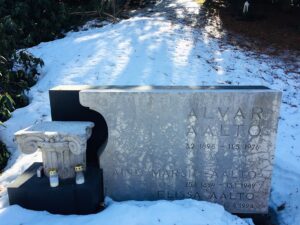 To zaś niewiele większy grób Alvara Aalto, twórcy najcenniejszej perły architektonicznej nad zatoką Töölö: gmachu Finlandia Talo, siedziby między innymi Filharmonii Helsińskiej i Orkiestry Radia Fińskiego.
Wszystkie zdjęcia: Dorota Kozińska