Wyruszając w drogę powrotną z Bazylei do Warszawy zatrzymałam się na skwerku przed hotelem, zwabiona widokiem przeszklonej szafy z niepotrzebnymi książkami. Spodziewałam się w niej znaleźć jakieś lekkie czytadło na podróż z długą przesiadką we Frankfurcie, z osłupieniem zdjęłam z półki nietknięte zębem czasu, może tylko odrobinę pożółkłe wydanie Ucieczki na południe Sławomira Mrożka. Los pisze za mnie najlepsze libretta operowej wędrówki. Nadchodzi ciężka zima, a ja wracam z ucieczki na południe, do miasta zaledwie pięć stopni szerokości geograficznej dalej na północ, gdzie znów przyjdzie mi na własną rękę szukać czego, co by mnie uwolniło "od uczucia pewnej pustki". Ciekawe, czy za pół roku z okładem, kiedy swoim zwyczajem ruszę w rajd po niszowych festiwalach, wpadnie mi w ręce porzucony egzemplarz Maleńkiego lata.
Wszystko to tym dziwniejsze, że do nadreńskiej Bazylei na styku trzech granic – szwajcarskiej, niemieckiej i francuskiej – wybrałam się na Il ritorno d'Ulisse in patria. Spektakl w adaptacji i reżyserii Krystiana Lady, odwleczony w czasie jak powrót Odysa, bo marcową premierę zmiotła poprzednia fala pandemii. Autorską wizję opery rzekomo ułomnej, Monteverdiańskiego "brzydkiego kaczątka", które kluje się mozolnie z wielkiego stylów pomieszania i dopiero w toku narracji zaczyna odsłaniać wyraziście skontrastowane emocje i nastroje, przede wszystkim zaś wspaniale zarysowane portrety dwojga głównych bohaterów. Ciekawość zżerała mnie od wiosny, Lada postanowił bowiem usunąć z pierwotnej struktury dramaturgicznej postać Ulissesa, przyznając otwarcie, że zamierza wciągnąć publiczność w swoisty performans, "participatory project" na motywach dzieła Monteverdiego, rozmyślnie zrealizowany nie na wielkiej scenie Opery, lecz w przyległym budynku Schauspielhaus. Tytułowego króla Itaki zastąpił bohaterem zbiorowym, figurą obcości, archetypem przefiltrowanym przez doświadczenia z lektury Joyce'a, Hauptmanna i Kazandzakisa, odbitym w zwierciadle współczesnych problemów uchodźstwa i migracji. Wprowadził na scenę ośmiu "mężczyzn z Bazylei", wtapiających się w miejscową społeczność przybyszów z zewnątrz. Muzyczny portret Ulissesa zastąpił ich milczeniem, strzępami wypowiedzi, mową ciała, dyskretnie łączącą epizody elektroniką.
Lada tym się różni od większości młodych reżyserów operowych, że rozebrawszy dzieło na części pierwsze, potrafi je później złożyć – czasem w zaskakującą całość, nie gubiąc jednak ani nie psując niczego po drodze. Odnoszę wrażenie, że w rozmowach przedpremierowych położył zbyt duży nacisk na pomysł zrealizowania "Ulissesa bez Ulissesa". Największym atutem jego koncepcji jest bowiem mistrzowskie uwypuklenie pewnego elementu narracyjnego, który w Il Ritorno tkwi od początku i często umyka uwagi zarówno inscenizatorów, jak i wykonawców. Na zdumiewającą zbieżność schematów dramaturgicznych w operach Monteverdiego i późnych sztukach Szekspira wskazał między innymi John Eliot Gardiner. Zdumiewającą, bo raczej mało prawdopodobne, by Monteverdi zetknął się kiedykolwiek z twórczością mistrza ze Stratfordu. Mimo to dzieła obydwu przeglądają się jak w zwierciadle, prawem jakiejś kulturowej konwergencji: zawarte w nich napięcie wynika z kontrastu szybko następujących po sobie scen, na przemian tragicznych i pełnych ironii, wyciskających łzy śmiechu i szczerego wzruszenia. Lada skondensował trzy akty opery w nieprzerwaną, mniej więcej dwugodzinną akcję – wyreżyserowaną na podobieństwo operowej Burzy lub Opowieści zimowej, wartką dramaturgicznie, spójną i wciągającą. I choć dokonał daleko idącej adaptacji – z czym od początku się nie krył – Monteverdiemu krzywdy nie uczynił, a mitowi chwilami nawet pomógł, sprowadzając go do bardziej ludzkiej postaci. Przejmujący finał, w którym Penelopa wykrzykuje "Or si, ti riconosco" na widok każdego z ośmiu przybyszów, przywodzi mi na myśl alternatywną, przez tysiąclecia zepchniętą w niepamięć wersję mitu, w której wytęskniona, złamana samotnością królowa oddaje się po kolei wszystkim zalotnikom.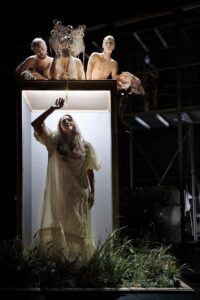 Pośrodku Katarina Bradić (Penelopa), u góry Alex Rosen, Rolf Romei i Théo Imart. Fot. Judith Schlosser
W spektaklu z Bazylei jest mnóstwo innych tropów i doskonale rozegranych epizodów, które świadczą o tym, że Lada rozumie mechanizm formy operowej, wie, jak funkcjonuje mit, i potrafi to wszystko powiązać ze współczesnością – bez popadania w dosłowność i banał. Mając do dyspozycji ograniczoną liczbę śpiewaków, przydziela im po kilka ról – nie zawsze w zgodzie z tradycyjną praktyką wykonawczą, kierując się przede wszystkim logiką skupionej narracji. I tak Penelopa jest zarazem Ludzką Kruchością, bogowie przeistaczają się w zalotników, alegorie Czasu, Fortuny i Miłości pełnią rolę łączników między Ziemią a Olimpem. Reżyser proponuje epikurejską wykładnię mitu o wielkiej wędrówce i jeszcze większej tęsknocie. Piękni, władczy, zajęci sobą bogowie postanawiają zabawić się w ludzi i ponoszą porażkę w starciu z człowieczeństwem: śmiertelnym, ułomnym, a mimo to uparcie dążącym do szczęścia, jakie wynika choćby z braku cierpienia. Najbardziej wzruszającą postacią jest Eumajos, naiwny okularnik w roboczym kombinezonie, gotów przyjść z pomocą wszystkim Odyseuszom tego świata. Jego przeciwieństwem – ziejący nienawiścią Irus z przytroczonym do pleców opryskiwaczem, z którego celuje w obcych jak w pluskwy. Centralną postacią narracji jest Penelopa, kobieta niezłomna, wierna nie tylko pamięci utraconego męża, ale i samej sobie. Miłość do Odysa daje jej siłę i uczy ją współczucia. Pomaga zadowalać własne ciało, odmawiać miłości uzurpatorom i dawać ją tym, którzy naprawdę jej potrzebują.
Kreślenie wstępnego rysunku postaci na odsłoniętej scenie, zanim rozlegną się pierwsze dźwięki muzyki, staje się powoli znakiem rozpoznawczym przedstawień Lady. Promienni, kunsztownie wyfiokowani bogowie, tuszujący mankamenty urody groteskowymi suspensoriami i gorsetami (znakomite kostiumy Bente Rolandsdotter) krążą w ciszy wśród rekwizytów, mierząc z łuku do ludzkiej tarczy podpisanej imieniem Ulissesa. W przerwach od strzeleckich popisów wychodzą na proscenium i zamaszyście gestykulują. Moszcząca się w fotelach publiczność dopiero po chwili zdaje sobie sprawę, że bóstwa sterują ruchem na widowni. Potem z równą uciechą "wciągają" instrumentalistów do kanału orkiestrowego i dają sygnał rozpoczęcia opowieści.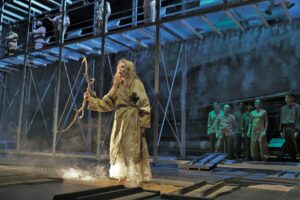 Katarina Bradić. Fot. Judith Schlosser
Nieustannym zwrotom narracji towarzyszą płynne zmiany scenerii (Didzis Jaunzems), złożonej z kilku prostych drabin, skrzyń, rusztowań i podestów, precyzyjnie sterowanych przez pracowników technicznych, statystów oraz samych śpiewaków. Minimalizm dekoracji tym skuteczniej skupia uwagę odbiorców na psychologii bohaterów i wielowątkowej historii, która osiąga dramaturgiczną kulminację w scenie próby zalotników. Penelopa staje w prochu ziemi jak najprawdziwsza szamanka, okryta brudnym, zetlałym płaszczem zaginionego męża, wznosząc nad głowę łuk z rogów jelenia. Przebrane za ludzi bóstwa tracą moc, zanim dotkną broni Odysa. Zginają się w pół przed śmiertelną kobietą, najwierniejszą z wiernych, najmocniejszą z mocnych, najczulszą z czułych. Odchodzą upokorzeni, oddając pole bezimiennym tułaczom, którzy pod koniec wmieszają się między widzów, ujawnią swoją tożsamość i powikłane losy, odnajdą swój dom na Itace. Mit się wypełnia, a zarazem zderza z rzeczywistością. Po dwudziestu latach rozłąki Ulisses wraca pod całkiem inną postacią.
Bazylea jest jednym z mateczników ruchu wykonawstwa historycznego, nie dziwi zatem biegłość warsztatowa i wyczucie Monteverdiańskiego stylu u członków zespołu I Musici de la Cetra, przygotowanych przez Johannesa Kellera i Joana Boronata Sanza. Nie spodziewałam się jednak, że ten skromny, eksperymentalny spektakl dostarczy mi tylu olśnień wokalnych. Spodziewaną gwiazdą wieczoru była Katarina Bradić jako Penelopa, którą cztery lata wcześniej słyszałam w tej samej partii w Brukseli, pod batutą René Jacobsa. Nie dość, że od tamtej pory kontralt Bradić nabrał blasku i gęstości we wszystkich rejestrach, to jeszcze Lada wykorzystał w pełni potencjał aktorski śpiewaczki – serce podjechało mi do gardła już w początkowym lamencie "L'aspettato non giunge". Prawdziwym odkryciem okazał się jednak Ronan Caillet w roli Eumajosa: francuski tenor, uczeń między innymi Christopha Prégardiena, zachwyca niepospolitą muzykalnością, urodziwym głosem o lekko barytonowym zabarwieniu i znakomitym warsztatem teatralnym. Nie sposób przejść obojętnie obok talentu Théo Imarta, młodziutkiego męskiego sopranisty, który wcielił się w Junonę, Amfinomosa i Amora – to kolejny żywy dowód, że czas "bezcielesnych" kontratenorów odchodzi szczęśliwie w przeszłość, a ich miejsce zajmują śpiewacy o głosach giętkich, barwnych i pełnych wyrazu. Równie dobrze rokuje obecność Jameza McCorkie w obsadzie. Wykonawca partii Telemacha jeszcze niedawno występował w rolach barytonowych: niedawno zmienił fach na tenor, zachowując mosiężny blask w dolnym rejestrze i niezwykle spójną z jego "czarnym" głosem, quasi-soulową artykulację. Spośród pozostałych solistów na szczególne słowa uznania zasłużyli Rolf Romei (Jupiter/Pisandro/Los) – weteran Opery w Bazylei, wyrazisty tenor spinto, kojarzony na co dzień z całkiem innym repertuarem; oraz aktor dramatyczny Martin Hug, brawurowy i zaskakująco sprawny wokalnie odtwórca roli żałosnego Irusa.
Martin Hug (Irus). Fot. Judith Schlosser
O takim właśnie teatrze – wnikliwym, oszczędnym, poszukującym – marzyłam naiwnie, kiedy polski świat operowy wkraczał w czarną noc pandemii. Może się kiedyś doczekam. Z tą nadzieją wracałam na północ, do kraju, gdzie "czasem było tak nudno, że miejscowi dygnitarze, zasłoniwszy starannie okna, przylepiali przed lustrem sztuczne nosy z papieru, byle się trochę rozerwać".