I have already proven not a few times – and that, not only on these pages – that I am perverse. When everyone else is heading north, I fly south. When they are enthusing about yet another première at some famous theater, under a conductor who has won a lion's share of prestigious competition prizes, I get on a train or plane and travel to some hole-in-the-wall where that same opera is being led by a conductor known to a tiny coterie of admirers, in a production featuring young or unjustly ignored singers. I discover, I admire, I seek out new experiences, I let myself be carried away by new performance trends.
This time I have a feeling I have gone a bit too far. Encouraged by the musical success of Die Walküre in Karlsruhe, I decided to follow it up by dropping in to Dresden for a presentation of Siegfried with stage director Willy Decker, conducted by Christian Thielemann, and then set off for Athens for a performance of Lohengrin in the staging of Antony McDonald which, after its première at the Welsh National Opera, appeared twice at the Teatr Wielki – Polish National Opera and then huddled away somewhere in a corner for over two years, waiting to be rediscovered. Dresden's Semperoper is one of the best opera houses in Germany, a mecca for Wagner maniacs who are increasingly disappointed with the theatrical quality of the Bayreuth productions. Tickets for next year's festival Ring in Dresden apparently sold out in less than 24 hours. The Greek National Opera – like the country as a whole – is struggling with the effects of the crisis that in recent days has also affected the theater's management: a few months before its move to new headquarters at the Kéntro Politismoú Ídryma Stávros Niárchos, Minister of Culture Lydia Koniordou removed previous artistic director Myron Michailidis and named as his successor the composer Giorgos Koumentakis, previously director of the Opera's small stage.
David and Goliath. I probably need not add that since the beginning, my sympathies have always been with the underdog. For years, I have had trouble appreciating the craftsmanship of Thielemann – an artist without doubt competent, but in my opinion derivative, drawing mindlessly upon the German conducting tradition of the mid-1950s. His interpretations have reminded me here of Furtwängler, there of Klemperer or Karajan; but they have been devoid of individuality – and, even more importantly, authentic experience, that peculiar tension that puts listeners in a trance and makes them indifferent to the 'inhuman' dimensions of Wagner's scores. About Michailidis' abilities, I knew nothing aside from the fact that the Crete-born conductor had studied at the Hochschule der Künste Berlin, prepared Tristan und Isolde two years ago in Athens, and is apparently about to mount a production of Der Ring des Nibelungen in its entirety.
My Dresden prejudices lightened up already in the first few measures of the prelude to Act I. The local Staatskapelle – in comparison with the ensemble of the theater on the Green Hill – plays with a brighter and softer sound, especially in the strings; aside from that, on account of the peculiar layout of the interior and the orchestra pit, the sound is more exposed and 'defenseless'. Thielemann – compared with previous takes on Siegfried from Bayreuth – conducted the orchestra at slightly more blistering tempi. He chiseled the texture down to the last detail, assembling it from masterfully shaped and polished slivers fitted into their places as if in an ancient mosaic. Today, Thielemann's Wagner is clean and clear, following all the rules of the art of building a convincing musical narrative. It contains sublimity and pathos; there are intense, but restrained emotions; there is no place for breaking discipline. To put it briefly, it is not my Wagner – the one that can overflow like an ocean under the baton of Böhm or Negus. A matter of taste. I am well aware that the Dresden ensemble's wonderful, well thought-out interpretations represent the very highest standard of Wagner performance. So if I complain that in the finale of Act III, I missed that flaw on the surface of the jewel, that characteristic trait that would underline the momentousness of Brunnhilde and Siegfried's discovery of that most powerful and primitive emotion – fear – then it is only because in the Ring, I am looking for somewhat different meanings from the overwhelming majority of 'Wagnerites'.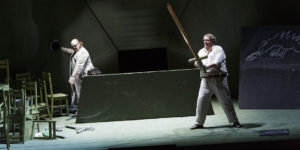 Dresden Siegfried. Gerhard Siegel (Mime) and Stephen Gould (title role). Photo: Klaus Gigga.
What I missed in Thielemann's interpretation, I was repaid with interest in the singing of nearly all of the soloists, chief among them the dependable Stephen Gould in the title role, who got better and better with each act. I find his Tristan wearisome; but his Siegfried – golden in tone, with superb intonation, evolving wonderfully from spoiled brat to passionate lover tormented by doubts – completely enchanted me. Another hero of the show turned out to be Gerhard Siegel (Mime), a phenomenal actor, vocally brilliant, confirming me in my certainty that this is a role not for a character singer, but rather for a distinguished tenor who has managed to pass through all the degrees of Wagnerian initiation. Nina Stemme is Brunnhilde incarnate, lived in every inch, though her beautiful dramatic soprano has now lost a bit of its previous brilliance and has taken on a too-wide vibrato. To this day, I have the heavenly song of the Waldvogel in my ears – the youthful Finnish artist Tuuli Takala breathed the entire freshness and precision of her Mozart coloratura into this role. Christa Mayer was in a class by herself in the role of Erda: a mezzo-soprano with contralto tessitura, ideally balanced in its registers, beautifully resonant at the bottom of the scale. The only one who disappointed me was Markus Marquardt (The Wanderer): yet another ruler of Valhalla lacking in divine authority and – compared with Renatus Mészár, heard recently in Karlsruhe – in the musicality essential to this role.
The now-legendary staging of Willy Decker (whose Dresden Ring premièred in 2001) has not aged even one iota, and proves the to some extent wasted potential of the German Regieoper. Despite a few almost-overblown ideas – chief among them the giant teddy bear found in the forest by Siegfried – it is coherent, conceptually polished, economical and refined in visual terms (stage design by Wolfgang Gussmann) and, most importantly, faithful to the text. Decker deftly maneuvers among irony, pathos and mystery. He builds suggestive signs and images, set in context, that other stage directors have been mindlessly aping for the past 15 years or so. He makes wise allusions to tradition, for instance in Siegfried's breathtaking fight scene with a dragon comprised of black plywood boards painted with phosphorescent paint, animated by invisible supernumeraries. A similar illusion of three-dimensional reality, but featuring live mimes, was created by Étienne Decroux, one of the pioneers of physical theater, in his shows.
Three days after the Dresden Siegfried, I landed in Athens, rather hoping for a sentimental return to the world of Antony McDonald's riotous imagination, than expecting great musical impressions – aside from Peter Wedd, the Lohengrin to this day inseparably connected with the Welsh National Opera/Teatr Wielki – Polish National Opera coproduction. The Greek National Opera ensemble took the bull by the horns with indubitable enthusiasm, considerably greater than that of the Warsaw theater's musicians. The effects of their work are in certain respects impressive, though one could sense that Michailidis is only taking his first steps in the Wagnerian field. While the orchestral details were carefully polished, one could not see the forest beyond all those trees. The choir made every possible effort, but nevertheless was lost in the dense textures, which had its effect on both the intonation and the rhetoric of the message. To make the singers' task easier, the conductor pressed forth like a bat out of hell – at the expense of the narrative's coherence. I was at a performance featuring the second cast, in which Telramund (Valentin Vasiliu) was disappointing in every way; the beautiful, musical bass voice of Petros Magoulas (Heinrich der Vogler) had to outshout the orchestra in Act III; and the experienced Romanian soprano Iulia Isaev (Elsa), whose phrasing is superb, was often under pitch in Act I and basically never did entirely get into her role. Julia Souglakou, who was rewarded with a hurricane of applause, in my opinion created a caricature of Ortrud. While the singer does have a proper soprano falcon, ideal for this part, she makes dubious use of it: stentorian, piercing high notes; low notes growled out from her very bowels; the quite peculiar approach to intonation issues all combined to create a flat, indeed operetta-like image of the nasty witch. And yet McDonald had made every effort for none of the protagonists of this Lohengrin to turn out unambiguously as either a devil or an angel.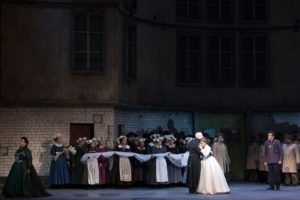 Athens Lohengrin. Julia Souglakou (Ortrud), Peter Wedd (title role), Iulia Isaev (Elsa) and Petros Magoulas (Heinrich der Vogler). Photo: Vassilis Makris.
And that is how he handled the title character of this cruel fairytale from the beginning – instead of an indomitable knight in shining armor, trying to see in him a delicate being from another dimension, longing for ordinary love, losing everything in conflict with a heartless human intrigue to which he is, even so, not able to get to the bottom. Three years ago, Wedd was an ideal vehicle for such a concept. Since then, his voice has changed diametrically. The character who strode onstage was a proud warrior, the hope of Brabant, totally aware of his role as the savior of Elsa. He left the stage as an enraged demigod – with the feeling of a mission unaccomplished. The intimate farewell episode with the swan was lacking in tenderness; the duet in Act III breathed an air of Northern cold. Wedd found himself fully only in the Gralserzählung, one of the most beautiful – if not the most beautiful – that I have heard in my life. The calm, dignified 'In fernem Land, unnahbar euren Schritten', delivered in a voice of not even baritone, but indeed bass timbre; the mistily enchanted 'Alljährlich naht vom Himmel eine Taube'; the enraged 'Sein Ritter ich', in which new wine almost burst the old wineskins – these are only some of the elements of this masterfully-shaped narrative, which would be a triumphant crown for not a few performances of Lohengrin on the world's stages. In McDonald's poetic staging, marked by metaphysical sorrow, it sounded a bit out of place. Wedd has now outgrown it. And in the end, that is very good news, because it means that he is ready for every other possible staging.
Travel educates, and sometimes teaches us a lesson. Small is not always beautiful. Big does not necessarily mean oppressively weighty. As long as music is surprising, it is worth listening to. And drawing conclusions.
Translated by: Karol Thornton-Remiszewski