The premiere of Alcina, Handel's third opera based on themes from Orlando furioso, came at the height of his London rivalry with Nicola Porpora, who not only was Italian, but also had talent, huge financial support from Frederick Louis, Prince of Wales, and several stars in his ensemble – headed by two famous castratos, Senesino and Farinelli. When Popora stormed triumphantly into the King's Theatre, Handel packed his stuff and moved a few streets away, to a brand new theatre in Covent Garden. He started modestly, from the pasticcio Oreste; less than a month later, in January 1735, had to live with the cold reception of  Ariodante; but persevered and on 16 April put on Alcina, this time with more success. He tinkered with the score until the very last moment, got his best singers involved in the production, kept adding new roles and wove into the typically Italian fabric of opera seria choruses and dance divertissements, fashionable in France at the time, taking advantage of the presence of Marie Sallé's famous troupe. Alcina was performed eighteen times in less than two months, was revived after Sallé's departure without the ballet scenes and its run ended for good in 1737. In the same season Handel saw the rival Opera of the Nobility go bankrupt, with Porpora fleeing London in ignominy. Handel soon went back to the Haymarket theatre, but after the failure of Serse he abandoned Italian opera forever.
Resurrected nearly two hundred years later, the "enchanted" Alcina is now considered to be one of Handel's greatest masterpieces. The story of a sorceress who "having enjoyed her lovers for a brief moment, would then turn them into animals and trees," – as we read in the author's commentary to the first Polish translation of Ariosto's poem by Piotr Kochanowski – suggests a number of tropes that are by no means obvious. Alcina can be seen as a figure of transience, a metaphor for the loneliness of a woman who, after years of amorous games, has finally fallen in love and is unable to keep the object of her affections with her. The man in question is the noble knight Ruggiero, rescued by the intrepid Bradamante in the male guise of Ricciardo. As can easily be imagined, this operatic qui pro quo launches a whole sequence of surprising events and amorous errors. What is harder to imagine, the whole thing ends with an extraordinarily emotional clash between the sorceress and a pair of "true" lovers, a class that leaves the audience with a vague feeling of compassion for the abandoned Alcina. This whole convoluted story brings to mind more or less obvious associations with Odysseus' year-long sojourn on the island of the enchantress Circe, who turned his companions into pigs and bore him a son, Telegonus, who, in one version of the myth, would later kill his father and marry Penelope, left behind on Ithaca.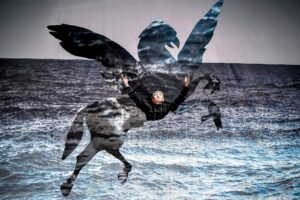 Alcina in Brno. Photo: Marek Olbrzymek
Alcina's island is located in an operatic Neverland, in the middle of the ocean, somewhere east of India. The sorceress' successive conquests are witnessed by her former lovers – turned into wild beasts, trees and sea waves. Her palace is only an illusion that will be shattered with the destruction of the magic urn and triumph of true love. Nothing is what it seems to be here, no one is an unequivocal hero nor – even more so – an obvious villain. Although since the great revival of the opera at Venice's La Fenice in 1960, when Alcina was sung by Joan Sutherland and the production was directed by Franco Zeffirelli, dozens of artists have taken on Handel's masterpiece, no one has ever thought about destroying this enchanted world, engaging in a futile dispute with a fairy tale and rationalising the rather irrational choices of its protagonists.
In Poland Alcina has never been staged, except once at the Dramma per Musica Festival in Warsaw (2018). The story of the absence of Handel's works and other pieces from the standard Baroque repertoire from our stages is part of a broader tale about the state of Polish opera houses and the thinking of their directors. A way out of this impasse would require a radical change of approach: to the music itself, to its links to theatre and literary tradition, and to the people who are experts and can infect others with their enthusiasm. How this is done I will briefly say, referring to the recent premiere at the National Theatre in Brno, a co-production with Théâtre de Caen and Opéra Royal–Château de Versailles.
Let me start by pointing out that the whole venture was done from scratch at a Czech opera house – true, in close collaboration with an external ensemble, but it was a Czech ensemble as well: the Collegium 1704 headed by Václav Luks, who have been consistently building their position as one of the best period performance ensembles in the world, with the joy of playing, singing and understanding on all levels accompanying them at every step of their intense activity. Then I will move to a decision that seems completely incomprehensible in Poland – to present an international star team of soloists only in one performance in Brno, and not the opening night at that. The remaining performances featured mainly local singers, perhaps not quite on a par with foreign specialists, but competent enough not to bring disgrace to the second biggest centre of musical culture in Czechia, where Leoš Janáček spent most of his life.
Photo: Marek Olbrzymek
Then I will stress that the whole production was the work of a Czech creative team – members of which were not only experts at their trade, but also devoted to opera with their hearts and souls, musically well-educated and familiar with the specificity of this extraordinary form. I have written about Jiří Heřman's directorial art many times, on these pages too. Heřman is also a singer, which is why it is hardly surprising that his ideas rarely miss the essence of the work. His theatre is clear, visually beautiful and highly symbolic – like the entire Czech operatic theatre, smoothly continuing the local traditions of expressionism, Liberated Theatre poeticism and the aesthetic legacy of černé divadlo.
Heřman's Alcina impresses with attention to detail and coherence of staging, another evidence of excellent collaboration with the other members of the creative team. Dragan Stojčevski's sets – enhanced and made unreal by a system of theatrical mirrors – combine the ostentatious splendour of Baroque interiors with the oneiricism of fairy-tale landscapes, allusions to Boticelli with references to Magritte's mysterious worlds. The pitch blackness, pale gold, turquoise and smoky pink of the costumes designed by Alexandra Gruskova stand out sharply against the greyness of the sky, the cobalt blue of the sea and malachite green of the vegetation. In Jan Kodet's phenomenal choreography each of the enchanted lovers creates a multidimensional character whose mute tragedy can be discerned even from behind a fixed animal mask.
Heřman balances the dramaturgical shortcomings of Alcina by  grotesque and often broad humour (among the hapless enchanted lovers we find also a large pufferfish as well as a huge penguin introducing some additional chaos into the already convoluted love plot of the opera). Although the director sometimes repeats his gags and other stage ideas, especially in Act III, which at some point gets dangerously close to losing its momentum, fortunately he makes up for these losses in the beautiful finale – with a lonely sorceress no longer entertaining any illusions, an Indian Circe "who cannot die as long as the world lasts", but who probably has no hope that some lost Odysseus will drop anchor by the shores of her ruined kingdom.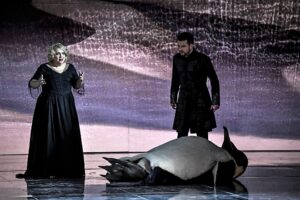 Photo: Marek Olbrzymek
A production put together with such expertise and care opens up a possibility for a truly honest discussion about performance details. The cast I saw at the second performance – the international one, who will soon present Alcina to the wider world – had virtually no weak links. The artistry that shone the brightest was that of Karina Gauvin, an experienced Handelian, who sang the title role. The revelation of the evening was the young Czech contralto Monika Jägerová as Bradamante. Tomáš Král (Melisso) and Krystian Adam (Oronte) were in a class of their own in their small but important roles. However, we may wonder whether the role of Ruggiero, written for Carestini, an alto castrato, should have been entrusted to the otherwise phenomenal Kangmin Justin Kim, a singer with a highly lyrical male soprano voice.  We may argue whether Mirella Hagen's light and girlish flightiness are appropriate for Morgana, who is Alcina's sister after all.
I envy the French, who will soon have an opportunity to relish the whole production and, if necessary, point to a few slight shortcomings in it. That is, if it occurs to them to complain about anything. Representatives of the co-producing companies leaped to their feet after the curtain came down and gave the artists a round of prolonged thunderous applause. This did not surprise me at all. I still cannot believe what I saw and heard so near our southern border.
Translated by: Anna Kijak
Original article at: https://teatr-pismo.pl/17792-kirke-z-morz-poludniowych/