This story could be described as a classic example of tragedies that often occurred in marriages arranged by royal families, when people who were complete strangers to each other and incompatible in every respect were united – with the sole aim of serving the political or economic interests of the powers involved in the practice. The problem is that these two particular teenagers did genuinely fall in love and their love bore such bitter fruit that we can still shed tears over their unhappiness even today.
María Teresa Rafaela of Spain was the daughter of King Philip V of Spain and his second wife Elisabeth Farnese. One year before her birth, in 1725, King Louis XV of France broke his engagement to Philip's eldest daughter, the seven-year-old Mariana Victoria, and married the Polish princess Maria Leszczyńska. In order to normalise the relations between the Spanish and the French branch of the House of Bourbon at least to some extent, in the early 1740s a plan was formulated for a marriage between María Teresa and Louis Ferdinand, Louis XV's fourth child and eldest son, and the long-awaited heir to the French throne. A proxy wedding was held in late December 1744 in Madrid and then the infanta set off on a long journey to France. She reached Versailles on 21 February 1745. Two days later she met her husband, who at that time was not yet sixteen.
Unfortunately, the unanimous conclusion after the wedding night was that the marriage had not been consummated. The teenage dauphin had failed to rise to the challenge. His reserved and shy wife became the object of scorn and derision of the court. Something unexpected happened, however. Instead of wallowing in shame and humiliation, the young couple began to get to know each other better. They did not leave each other's side even for a moment. It was not until September 1745 that María lost her virginity with Louis. A few months later she became pregnant. The child was born after the date set by physicians and the mother died three days later, two weeks after the death of Philip V. She was only twenty years old. The dauphin fell into such despair that his father reportedly had to drag him forcibly from his late wife's bed. One year later Louis Ferdinand was forced to marry again – this time Maria Josepha of Saxony, the daughter of Augustus III, Prince-Elector of Saxony and King of Poland. Louis' firstborn daughter passed away at the age of only two years. The marriage to Maria Josepha produced thirteen children. Five were stillborn. Three died in early childhood. Three sons ascended the throne of France – one of them, Louis XVI, was executed by guillotine. At the age of thirty-six Louis Ferdinand died of tuberculosis. He never became king. He was survived by his father and even maternal grandfather. Before his death the dauphin ordered that his heart be buried in the tomb of his first wife.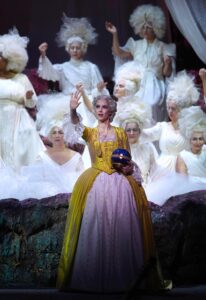 Katya Klein (María Teresa Rafaela of Spain). Photo: Javier del Real
Louis Ferdinand's father-in-law, Philip V, was an ardent lover of music and beautiful voices. In 1734 Elisabeth Farnese brought the famous castrato Farinelli to the Madrid court – as a criado familiar, or servant of the royal family, Farinelli would soothe the monarch's severe melancholy with his singing. It was at the same time that Francesco Corselli – a Piacenza-born son of a French dancer named Courcelle, a name subsequently Italianised – was active in Madrid as a singer, violinist, harpsichordist and teacher of the royal children. In 1738 he was appointed Kapellmeister of the Capilla Real. Shortly before the "remote" wedding of Infanta María Teresa he was commissioned to write an opera celebrating the event. He used for the purpose a libretto by Pietro Metastasio, Achille in Sciro, which had already been set to music by Antonio Caldara, in 1736. Metastasio was by no means the first to turn this mythological theme into an opera: as early as in 1641 the story of the hero in female robes was tackled by Francesco Sacrati – in La finta pazza composed to a libretto by Carlo Strozzi and staged at the Teatro Novissimo in Venice.
Corselli's Achille was premiered at the Coliseo del Buen Retiro under Farinelli's musical direction, and with Santiago Bonavía's sets and stage machinery. The work was much less lucky than Rameau's comic ballet Platée, staged to mark the same occasion, shortly after the "real" wedding of Louis and María Teresa at the Great Royal Stables of Versailles. Achille was forgotten for nearly 280 years, until Ivor Bolton, Teatro Real's Music Director, decided to resurrect it in Madrid. His plans were thwarted by the pandemic – Achille in Sciro directed by Mariame Clément, with sets by Julia Hansen, lighting by Ulrik Gad and choreography by Mathieu Guilhaumon, was cancelled shortly before the lockdown. The premiere took place nearly three years later, though not without mishaps: Franco Fagioli eventually withdrew from the role of Achilles and was replaced by the Spanish countertenor Gabriel Díaz, who fell ill after the second performance. The third show was cancelled and the following ones hung in the balance – the performance I got to see took place in an atmosphere of extreme tension due to the long-planned OperaVision broadcast.
According to the well-known version of the myth, Achilles' mother Thetis decided to protect her only son from death by the walls of Troy at all costs by hiding him disguised as a girl on the island of Skyros, ruled by King Lycomedes. Her ruse was seen through by Ulysses, who, resorting to a different stratagem, persuaded Achilles to follow the voice of his own nature, and to choose battlefield fame over a long life of idleness that would condemn him to oblivion among future generations. Metastasio wove into this narrative love between Achilles and Deidamia, Lycomedes' daughter. Deidamia's love is steadfast like a rock. It is Achilles who hesitates, torn between passion and duty, not realising that it is possible to combine both.
Francesca Aspromonte (Deidamia) and Gabriel Díaz (Achilles). Photo: Javier del Real
Mariame Clément decided to bring into the action of the opera the infanta herself (the phenomenal Katya Klein in the pantomime role of María Teresa), a shy and confused teenager, in whose eyes the story of Deidamia and Achilles is transformed from a royal entertainment into an instructive school of feelings. The whole thing takes place in a conventional "Baroque" setting, with archetypal costumes, in a half-serious, half-comic convention that would have been even more impressive had the producers not got stuck halfway between reconstruction and an attempt to appeal to the sensibility of a contemporary audience. There was not enough fairy-tale wonder, bright colours, exaggeration, contrasts and breathtaking illusion in this concept. On the other hand – there was too much running about, slapstick acting as well as empty gestures repeated again and again. Yet I must admit that I was deeply moved by the director's idea – perfectly conveyed by Klein – to make the infanta identify with Achilles rather than with Deidamia, with an insecure boy who, like her, has no idea what awaits him in a foreign country, far from the hated but nevertheless familiar world; who wants to love and be loved, but deep down senses that love must give way to an inexorable raison d'état.
I am writing this from the perspective of a foreign critic, fully aware of the fact that the allusions included in the production touched the rawest nerves with the local audience. I also take into account the universal need for theatrical "truth", which prompted the creative team to cast most roles in this multi-layered game of appearances in line with today's historical performance convention. Yet – paradoxically – Corselli entrusted the roles of Achilles and Ulysses to women. The only role in the opera sung by a castrato was the character role of Nearco, performed by a tenor in the Madrid production.
I will not protest against this "old-new" convention, especially as most of the singers performed their tasks flawlessly. Particularly noteworthy was the freedom in their delivery of the recitatives, knowledge of style and sense of expression in the showpiece da capo arias, and – last but not least – deep respect for the text of the libretto, delivered without exception with clarity, with due attention to the prosody and logic of phrasing. Given the fiendish difficulty of the title role, in comparison with the rest of the cast Gabriel Díaz – a singer endowed with a voice that is not very glamorous, but nevertheless confident and finely controlled, especially in the lyrical sections – made an unexpectedly good expression. His Achilles found a worthy partner in Francesca Aspromonte (Deidamia), although at times the singer had to make up for some technical shortcomings in her coloratura with excessive expressiveness. Tim Mead was a bit disappointing as Ulysses with his typically English, i.e. not very resonant, countertenor. The young Spanish soprano Sabina Puértolas excelled as the rejected suitor Teagenes. Much more impressive of the two character tenor figures was Krystian Adam (Arcade), a singer with a free, beautifully open voice and excellent sense of Baroque improvisation. Juan Sancho, otherwise convincing as Nearco, often made up for minor shortcomings with some bravura acting. Of the entire cast the only disappointment came from Mirco Palazzi, who sang Lycomedes with a bass too feeble and harmonically too poor for the role of the authoritative, awe-inspiring ruler of Skyros. The Teatro Real chorus, led by Andrés Máspero, was splendid as usual.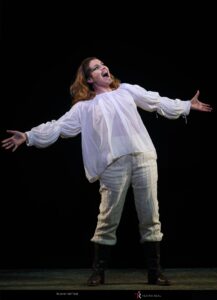 Sabina Puértolas (Teagenes). Photo: Javier del Real
However, the true hero of the evening was Ivor Bolton, who with an impressive sense of style realised the basso continuo on the harpsichord with the other musicians of the Monteverdi Continuo Ensemble, and conducted an expanded Orquesta Barroca de Sevilla from the instrument. Despite occasional false notes in brass and minor intonational lapses, he managed to maintain the nerve and pulse of Corselli's hybrid, essentially Italian, at times seductively French musical narrative, and in the second and third acts highlight the extraordinary dialogues of the violin, mandolin and trumpet with the soloists' vocal displays. What is also commendable is his meticulous approach to working with the singers. Bolton's interpretations are very vivid and bear a characteristic, recognisable mark of his intriguing artistic personality. This is a rarity in today's increasingly uniform world of historically informed performance.
Translated by: Anna Kijak