For some years now, I have been writing about English country-house operas, attempting to treat this phenomenon not only in a musical, but also in a historical and sociological context. I have finally realized that I am a pretentious aesthete. I review productions of the operas that, for various reasons, are the closest to my heart and sensibility, paying no heed to the obvious fact: that behind most of those crazy endeavours stand 'plebeian' productions mobbed by local music lovers hungry for music familiar from recordings and BBC3 programs. That working for each Jenůfa is a Traviata, and even the most beautifully-performed Wagner cannot do without the support of Mozart. And suddenly my world was turned upside down. I decided to come down to earth and immerse myself in the main current flowing with masterpieces that speak with equal power to laypeople and to the most refined opera critics.
I had been planning my trip to Longborough for Die Zauberflöte under the baton of Anthony Negus for a long time. I did not expect, however, that two days before, I would land at the Winslow Hall Opera for Un ballo in maschera directed by Carmen Jakobi, the creator of a phenomenal staging of Tristan at the LFO. One of the youngest 'country' operas in England, it puts on a mere one title annually. The productions play out under a tarpaulin tent on the expansive lawn of a residence erected in 1700, most probably according to a design by Sir Christopher Wren. Up until the mid-19th century, the estate was passed down to successive heirs of William Lowndes, Secretary for the Treasury and chief monetary expert during the reign of William III of Orange. Later, it was the headquarters, in turn, of a coeducational boarding school, an insane asylum, a bottle factory and the RAF Bomber Command. After World War II, it passed from hand to hand until finally, in 2010, it ended up under the care of Christopher Gilmour, son of Ian, a distinguished Conservative Party activist, Defense Secretary in the government of Edward Heath and Lord Privy Seal in the first cabinet of Margaret Thatcher. Two years later, together with his family, the owner moved into the restored building and decided to launch his own theater in Winslow – together with his brother Oliver, a graduate of the Hochschule für Musik in Vienna and a former principal conductor of the Bulgarian National Opera in Sofia.
Un ballo in maschera. Vasile Chişiu as Anckarström (on left) and Veronica Anușca (Oscar). Photo: Winslow Hall Opera.
To date, they have put on six productions, from Le nozze di Figaro to this year's Un ballo in maschera. The endeavour is developing slowly and brings to mind associations with the beginnings of the Longborough Festival Opera: a tiny open-air stage, an orchestra part in a special arrangement for smaller ensemble, a solo cast comprised of singers from the younger generation or not yet known in the British Isles. I admit that getting used to a Verdi score written out for a mere 30 instruments took me a bit of time. And I do not completely understand why Oliver Gilmour decided, despite this, on quite slow tempi, mercilessly laying bare the bizarreness of this version. Battling cognitive dissonance, I decided to focus on the theatrical work. Carmen Jakobi once again did not disappoint my expectations. She paid attention to the Shakespearean features of the libretto's original version, which resulted from the fact that the commission from the Teatro di San Carlo came at a moment when Verdi and Somma were working on a never-realized idea for an opera based on King Lear. She set the action back in the context of events preceding the assasination of Swedish King Gustav III, who was a great lover of opera and drama, and gave himself over to his passion with sincere enthusiasm: he even took part in several productions of the royal theater at Drottningholm. Gustavo in Jakobi's perspective is the most genuine Player King, as in Shakespeare's Hamlet – a ruler overcome not so much by feelings for Amelia, as by just the idea of love as a theatrical construct. The impulsive Count bears many traits of Jacob Johan Anckarström, the Swedish officer who shot the king to death at a masked ball at the Stockholm Opera on 16 March 1792. Ulrica alludes to a historical figure: Anna Ulrica Arfvidsson, a famous fortune-teller who once warned Gustav to be on his guard against a 'man with a sword' who was after his life.
The intelligent and visually beautiful stage design of Jacob Hughes – who utilized, among other things, fragments of Rococo paintings, as well as the famous ceiling with the signs of the zodiac from Munich's Villa Stuck (in Scene 2 of Act I) – created an appropriate frame for the director's concept, limited by the microscopic space of the theater in Winslow. All the more admiration is evoked by her care in outlining the relationship between the characters, which found fullest expression in the finale of Act II, in the shocking 'shame scene' featuring conspirators mocking Anckarström's nighttime tryst with his own wife. Jakobi works using the method of Stanislavski, who emphasized that there are no small roles – there are only small actors. This is probably what I miss the most in contemporary theater – not only opera: precision in shaping every episode, even the least essential, which results in the emotional truthfulness of the entire narrative. It is characteristic that the only singer who broke with rehearsal discipline and arrived in Winslow at the last minute, after performances in Berlin, is the one who turned out the worst in the cast. The name of Rosalind Plowright was supposed to attract an audience; meanwhile, her Ulrica was disappointing in every way: played without conviction, sung with an unbalanced voice, without proper breath support, at times just plain out of tune. I got the impression that Plowright – otherwise a great artist – did not allow herself to be convinced to this crazy endeavour and felt simply uncomfortable onstage in Winslow. Fortunately, the remaining soloists performed in an exemplary manner, chief among them a pair of Romanians – Veronica Anușca in the role of the seductive Oscar, bursting with youthful energy; and Vasile Chişiu, who portrayed the role of Anckarström in a baritone now a bit tired, but nevertheless gorgeous in timbre – along with Tsvetana Bandalovska (Amelia), gifted with a spinto soprano of expressive character, though sometimes not sufficiently open at the top. The biggest surprise of the evening, however, turned out to be Stephen Aviss. Until recently associated with dramatic theater, he began systematic training as a singer quite late and, for the moment, performs only on small stages. And that's a pity: as Gustavo, he displayed everything essential to this hellishly difficult part – a charming lyric tenor, precise articulation, intelligent phrasing and uncommon musicality.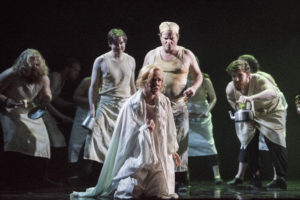 Die Zauberflöte at LFO. Beate Mordal (Pamina) and Colin Judson (Monostatos). Photo: Matthew Williams-Ellis.
And now I shall change my tone and state with conviction that I spent a wonderful evening in Winslow: admiring the performers' enthusiasm, observing the audience's exuberant reactions and participating in them myself, making small talk with strangers during the intermission. Some of the people I chatted with turned out to be residents of surrounding towns; others, high-class experts who had dropped in to Buckinghamshire not only for professional reasons, but also – and perhaps above all – in order to escape from the routine of predictable stagings at the big theaters. Among supporters of summer opera festivals, there is a preponderance of people thirsty for real emotions, courageous enough to admit that they miss the times when opera played a similar role to that now played by films downloaded from Netflix. With the one and only difference that a show watched live always has been and always will be an unrepeatable phenomenon.
Two days later, I returned to Longborough as if to the home of old friends. I expected that the atmosphere accompanying the shows of Die Zauberflöte would be diametrically different from the lofty mood of the previous Wagner celebration; despite this, I did not suppose that I would be drawn into it like a child, completely convinced that the theater is a place where miracles happen. Much of the credit for this goes to stage director Thomas Guthrie, who came onstage right before the show and addressed us like a group of overgrown preschoolers. He stated simply that he would be grateful to us for our collaboration in creating sound effects; he explained at what moments we should stamp our feet, imitating the sound of thunder, carried out a short acoustic test, and then disappeared into the wings. We entered the world of the vivid imagination of Guthrie, Ruth Paton (stage design) and Wayne Dowdeswell (stage lighting) without any prejudices. It has been a long time since I encountered theater in which every shadow, every glimmer of light and visual symbol became a full participant in the drama, a disembodied personality carrying on lively dialogue with the viewer. Guthrie mixed conventions as effectively as Mozart wove together musical styles in his masterpiece. He laid bare the fairytale operating mechanism already in the first scene, atop the sounds of the overture. He showed a boy in bed reading a book, the narrative of which gradually invades his bedroom – in the form of Tamino, chased by a snake puppet with eyes made of lightbulbs manipulated by two separate puppeteers – so as to, over time, drive away from it all elements of reality. The fairytale being read comes to life, constantly maneuvering on the boundary between wonders, adult fantasies and childish fears. In an empty picture frame appears the real Pamina. Props circulate about the stage as if in a naïve folk theater: supernumeraries build a sky from stars and moons stuck onto poles; they create a forest from leafless branches held in their hands; they plant fluttering paper birds in trees. Papagena covers her face with a papier-mâché head of a hideous old lady. Monostatos' retinue parades about in scruffy kitchen helpers' costumes – the nightmares of every child sent away from home to a boarding school. The world of civil order appears in the form of a classical garden. Nothing here matches, and that is why it hangs together so well.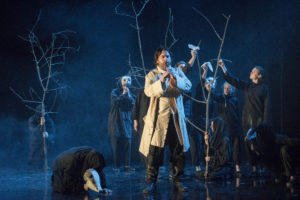 Julian Hubbard as Tamino. Photo: Matthew Williams-Ellis.
Guthrie entered into his role as creator of the show to such an extent that he even staged an unexpected technical intermission during Act I. When we had had enough of watching the workers fix the stage horizon, he asked us as if nothing had happened whether we wanted to hear the Queen of the Night's aria again. Five hundred respectable music lovers answered with a roar en masse: 'Yeeeesssss!!!' I am afraid that the musicians did not share our enthusiasm. Nerves were in evidence, so it was only in Act II that I could fully admire the singers' artistry – as usual in Longborough, cast aptly and with true expertise – and the brilliant concept of Anthony Negus, who confirmed my suspicions that a conductor who discovers such riches in Wagner's scores will miss no pearl in the treasury of Mozart's legacy. Julian Hubbard has at his disposal a tenor considerably more 'heroic' than the voice normally associated with a performer of the role of Tamino – whereby he managed to create a character of flesh and blood, a prince boiling with human emotions, not excluding fear and doubt. A wonderful counterweight to the male romantic lead turned out to be Colin Judson (Monostatos), a true character singer, with such a vis comica that, were he a baritone, I would be ecstatic to cast him as Beckmesser in Die Meistersinger von Nürnberg. Gifted with a warm and bright baritone, Grant Doyle portrayed the 'plebeian' Papageno, enriching his creation with delicious German. He also found a worthy partner in the flirtatious, refreshing soprano of Sarah Gilford (Papagena). Benjamin Bevan did an excellent job with the Speaker; Jihoon Kim turned out somewhat worse as Sarastro, not always resonant at the bottom of that hellishly low role, but nonetheless impressive with a beautiful, velvety timbre in the middle register. Hannah Dahlenberg (Queen of the Night) revealed the full values of her voice only in 'Der hölle Rache' – in the aria 'O zittre nicht', out of necessity performed twice, she sounded timid and did not manage to avoid a few slip-ups in intonation. A brilliant show of ensemble singing was given by both the Three Ladies (Katherine Crompton, Sioned Gwen Davies and Carolyn Dobbin), and the wonderfully ethereal Three Boys (Tristan Locket-Green, as well as Inigo and Osian Guthrie, privately the stage director's sons). In a class by herself, however, was Beate Mordal in the role of Pamina. Superb in terms of character – delicate and girlish but, at the same time, brave, loyal and constant in her feelings – in vocal terms she turned out to be perhaps even better than her stage partner. Her full, though movingly soft soprano charmed me, especially in 'Ach ich fühl's, es ist verschwunden' – a heartbreaking lament of lost love.
But despite all that, the real hero of this rendition of Die Zauberflöte turned out to be Negus and his orchestra. That the conductor had decided on blistering tempi was immediately apparent, in an overture played faster than the already energetic perspectives of Fricsay. However, not for a moment could one feel any shortness of breath. Negus' improbable sensitivity to textural detail found expression already in the fugato segments of the first Allegro, where the musical fabric began to sparkle and shimmer like moiré silk. The priests' march from the beginning of Act II flowed forth with a rapid, yet dignified wave. The final triumph of light over darkness ('Die Strahlen der Sonne vertreiben die Nacht') broke through literally every note of the score. I don't know whether I have ever heard a live interpretation so daring but, at the same time, so coherent and consistently executed – from musicians putting their full trust in the person standing on the conductor's podium.
Because this opera gives not only joy but, above all, faith. It helps one endure the worst. I understood this yet again in the Arcadian scenery of the hills of the Cotswolds, where Pamina and Tamino's love fulfilled itself as beautifully as one could possibly dream of.
Translated by: Karol Thornton-Remiszewski