Sir John Denis Forman, Scottish television producer, admirer of Mozart's piano concertos and author of The Good Opera Guide, summed up La forza del destino as "the one where a marquis is killed by an exploding pistol and his daughter in monk's costume finds her lover has murdered her brother just outside the front door of her cave". He was basically spot on, although he omitted Acts II and III as well as the first scene of Act IV, and missed at least one corpse in the finale. Verdi always preferred pure emotions to psychological motivation of his protagonists and in the case of La forza del destino he stressed emphatically that it was an "opera of ideas". One of these ideas is the titular destiny, which eventually triumphs over all love and dispatches all protagonists to meet their Maker. Stylistically, La forza del destino is an even greater hotchpotch than the earlier Un ballo in maschera. There is a tribute to the Rossinian opera buffa in the baritone part of Fra Melitone; there is the spirit of the Parisian opéra comique embodied by the Gypsy Preziosilla; there are crowd scenes worthy of Meyerbeer; there is a stanzaic ballad of an aristocrat posing as a student; finally, there is a classic "Italian" triangle in which the baritone stands in the way of love between the soprano and the tenor. I need not add that the dramaturgical panache of La forza del destino and its mosaic-like score pose considerable challenges to the performers. In order for the audience to make head or tail of all this and become moved by it to boot, we need a judicious conductor, an excellent cast and a director with extraordinary imagination.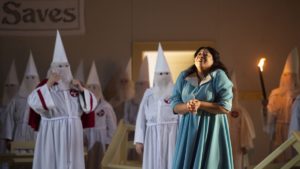 Franz-Josef Selig (Padre Guardiano; left, with red cloak), and Michelle Bradley (Donna Leonora). Photo: Monika Rittershaus
The Frankfurt Opera has entrusted its latest production of La forza del destino to Tobias Kratzer, winner of Der Faust theatre prize for – to put it mildly – an iconoclastic staging of Götterdämmerung in Karlsruhe. The great hope of the German Regieoper is also to direct Tannhäuser for the opening of the upcoming Bayreuth Festival after last year's debut of Yuval Sharon (Lohengrin), whose staging of Die Walküre, part of the Karlsruhe Ring, demonstrated, in my opinion, much greater skill and better sense of the theatrical magic.  Yet critics mollycoddle Kratzer, who did indeed present La forza del destino as an opera of ideas, but he focused on his on his own idée fixe rather than on conveying the composer's intentions. The action of Francesco Maria Piave's libretto, based on Ángel de Saavedra's play Don Álvaro o la fuerza del sino (with inserts from Schiller's Wallenstein) is stretched over time and space. Kratzer jumped at the chance and transferred the whole thing from Spain to the United States, stretching it over time from the American Civil War to the present, and replacing Verdi's fatalism with destiny determined by American imperialism and racially motivated violence. In both instances he was way off the mark: war in La forza del destino serves as a dramaturgical embellishment, while the Marquis di Calatrava opposes the relationship between Leonora and Don Alvaro not because of the colour of the latter's skin but because of his social status. According to the caste system of 18th-century Spain, Don Alvaro was a step or two below a "pure" español from the Old Continent. No question of mésalliance: perhaps only a slightly worse match for the Marquis' beloved daughter, all the more so that the young man was not highly thought of in Seville.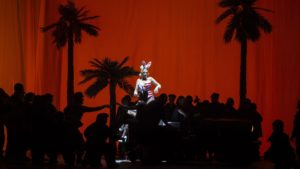 Tanja Ariane Baumgartner (Preziosilla). Photo: Monika Rittershaus
Nevertheless, I decided to take it easy – there are few directors these days with time and willingness to delve into the complicated contexts of the opera. In any case, the beginning was promising: a scene in the Marquis' room with a film running in the background – a stylised Gone with the Wind with a reversal of roles at that: a black Don Alvaro trying to persuade a white Donna Leonora to flee with him, while on stage we had a white Alvaro and a black Leonora. It looked as if we were in for some interesting playing with stereotypes – provided the Kratzer would be precise and consistent in his directing. He was not. Successive acts and scenes made up an overview of important events from the last 150 years of the history of the United States: sloppily thrown together, full of quotes from Kratzer's (and other's) earlier productions, crammed with superfluous details. And, above all, marked by the imagination of a film buff who stylises situations to make them look as if they came from The Birth of a Nation (the scene in the monastery turned into a secret Ku Klux Klan "temple") or Apocalypse Now and The Deer Hunter (Act III set in – surprise, surprise – the reality of the Vietnam War) or Spike Lee's films (the finale featuring a shooting at a motel). When it comes to the purely theatrical matter, Kratzer cannot really cope – wooden singers wander aimlessly around the stage, the humour of the character of Melitone is totally lost, and the numerous disguises and qui pro quos are completely unconvincing, occasionally even grotesque, as in Act II, when no one recognises a woman in a voluptuous Donna Leonora wearing a light-blue dress. On the other hand, there was no end to journalistic tricks – in the form of shocking photographs, quotes from speeches and allusions to front-page headlines. However, I have to do justice to the set and costume designer (Reiner Stellmeier), who provided all this chaos with a clean, lucid theatrical space arranged with modest means.
Craig Colclough (Fra Melitone) and Franz-Josef Selig (Padre Guardiano). Photo: Monika Rittershaus
Musically, the performance was much better, although Jader Bignamini's conducting could hardly be called inspired. The version presented in Frankfurt was the original, Petersburg one, with a short introduction in lieu of an overture, a different order of some scenes and an ultra-romantic finale in which Alvaro dies as well – the otherwise precise orchestral playing and polished choruses lacked exuberant energy and panache, which under true masters of the Verdian style make it possible to avoid longueurs in the narrative. The unquestionable star of the evening was Michelle Bradley (Donna Leonora) – a very young soprano with a surprisingly dark and meaty voice, wonderfully even across the registers and with beautifully coloured bottom notes. She still lacks freedom at the top – which was most acutely felt in the "angelic" prayer "Pace, pace mio Dio!" from the final scene of the opera – and the ability to differentiate moods in this big role. But in a few years Bradley may well become one of the best Leonoras in the world. By comparison, Hovhannes Ayvazyan making his debut as Don Alvaro was just decent – a handsome voice and more or less secure intonation are not quite enough to create a convincing portrayal of an outsider torn by emotions. Of the two male protagonists much more impressive was Christopher Maltman (Don Carlo) – an experienced singer but, again, making his debut in the role, a possessor of a baritone voice that may not be very Verdian but is beautifully rounded, resonant and rich in harmonics. The velvety-voiced Franz-Josef Selig was in a class of his own in the double role of Marquis di Calatrava and Padre Guardiano. I am full of admiration for Tanja Ariane Baumgartner, who bravely overcame all the pitfalls of the role of Preziosilla – dazzling but fiendishly difficult, because it is written high and is full of uncomfortable shifts between the registers. I was disappointed by Craig Colclough, vocally insipid and not at all funny as Fra Melitone – I suspect, however, that the director is largely to blame for this state of affairs.
All in all, a musical job well done, which Tobias Kratzer's disorderly concept, which went against the libretto and the score, did not manage to thwart. It will be interesting to see when this kind of theatre – in some respects conservative, as it meets specific expectations of the audience – will go out of date. At some point in Act III, a memorable quote was projected upstage: "Somehow this madness must cease". I've always said that Martin Luther King was a very wise man.
Translated by: Anna Kijak