Po ubożuchnym poprzednim sezonie, wciąż jeszcze ostrożnie stawiającym kroki po blisko dwóch latach pandemii, sezon miniony prezentował się całkiem okazale. W lutym zaczęły się jednak inne troski: o to, czy naszych operowych planów nie pokrzyżuje wojna, o to, czy szalejąca inflacja i kryzys energetyczny nie zeżrą nam resztek oszczędności, o to, czy wypada jeździć w miejsca, które przedkładają płynność finansową nad nieodłączne od wyborów repertuarowych i obsadowych kwestie moralne. W zakończonym właśnie sezonie – podobnie jak w każdym dotychczas – starałam się działać w zgodzie z własnym sumieniem. I nie ukrywam, że także z własnym gustem, jakkolwiek niektórym wydaje się on osobliwy. Było kilka rozczarowań, ale były też zachwyty – a te, zdaniem wielkiego arabskiego podróżnika Ibn Battuty – trzeba zawsze opisać, choćby wpierw odbierały nam mowę. Zatem do rzeczy i po kolei.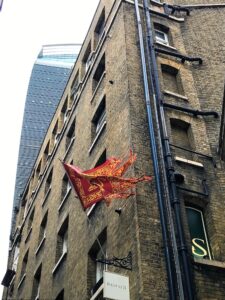 Londyn, listopad 2021, czerwiec i październik 2022. Trzy krótkie i bardzo intensywne wypady do stolicy Wielkiej Brytanii, już w nowym, pobrexitowym porządku. Jesienią na koncert inauguracyjny nowego festiwalu polskiej muzyki sakralnej Joy and Devotion, a na nim wreszcie olśnienie muzyką Krzysztofa Borka, domniemanego kapelmistrza wawelskich Rorantystów, w fenomenalnym wykonaniu The Gesualdo Six; latem na zamykające trasę objazdową Opera North wykonanie Parsifala w Royal Festival Hall, ze wzruszającym do łez Gurnemanzem w osobie Brindleya Sherratta, podziwianym w towarzystwie zaprzyjaźnionego dyrygenta i zaprzyjaźnionego operomana; i dosłownie przed kilku dniami na oficjalne otwarcie sezonu Academy of Ancient Music w Barbican Centre – z Porami roku, swoistym testamentem Haydna dla młodszych pokoleń, o którym napiszę wkrótce. A potem znów polecę do Londynu, zapewne już w listopadzie.
Bazylea, listopad 2021. Cudowna pod każdym względem podróż do europejskiej stolicy wykonawstwa historycznego. Kulturowe (także kulinarne) tradycje miasta zgłębiałam pod czujnym okiem zaprzyjaźnionej artystki-emigrantki, sztukę wokalną uwielbianego od lat Richarda Levitta rozpamiętywałam w przytulnym hotelu przy Wettsteinplatz, gdzie współzałożyciel Studio der frühen Musik mieszkał przez długie lata, nowe spojrzenie na Powrót Ulissesa Monteverdiego bez Ulissesa – w wizjonerskiej inscenizacji Krystiana Lady – opisałam w jednej z najbardziej entuzjastycznych recenzji sezonu. Pewnie wrócę na wiosnę, ale tym razem z całkiem innego powodu.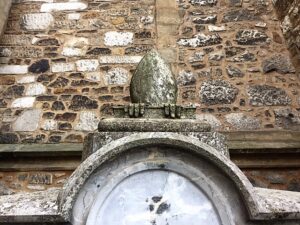 Brno, luty 2022. Po kolejnej fali zarazy, która bezlitośnie pokrzyżowała nasze operowe plany na zimę, podróż sentymentalna do stolicy kraju południowomorawskiego, skąd Upiór publikował przed laty swoje pierwsze recenzje z przedstawień oper Janaczka. Jeśli wszystko pójdzie zgodnie z planem, wróci do tematu w końcu listopada, przy okazji tegorocznego festiwalu Janáček Brno. W lutym jednak królował Händel i jego Alcina, w bajecznym, chwilami zwariowanym ujęciu Jiřiego Heřmana, między innymi z udziałem pingwina, kolcobrzucha i Krystiana Adama w partii Oronte.
Berlin, luty 2022. O tej wyprawie trudno będzie zapomnieć. Decyzję podjęłam ex promptu, za namową zaprzyjaźnionego melomana, tego samego, który w środku ubiegłego lata wyciągnął mnie do Monachium. Trudno było odmówić: w grę wchodziły dwa niemal już legendarne spektakle Wagnerowskie: Tannhäuser w reżyserii Kirsten Harms i Lohengrin w ujęciu Kaspera Holtena. Wiedzieliśmy, że nad Europą zbierają się czarne chmury wojny. Nie spodziewaliśmy się, że za kilka dni lunie z nich deszcz, poprzedzony propagandową premierą Lohengrina w Moskwie.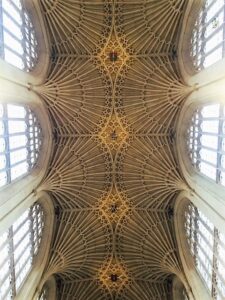 Bath, marzec 2022. Po Latającym Holendrze z Longborough i pamiętnej pandemicznej interpretacji Pasji Janowej Bacha z udziałem Oxford Bach Soloists, kolejne zetknięcie ze wspólnotowym, tylko z pozoru naiwnym teatrem Thomasa Guthriego. Tym razem w postaci półinscenizacji Händlowskiego Mesjasza w kościele św. Swituna, przy którym w 1805 roku pochowano szczątki pastora George'a, ojca Jane Austen. Niezwykła okazja obcowania z wykonaniem, które wyzwala, oczyszcza, pozwala wznieść się na wyżyny – nie tylko wykonawcom, ale też w pełni zaangażowanym w ich dzieło słuchaczom.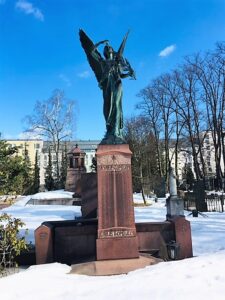 Helsinki, marzec 2022. Z jakichś nie do końca zrozumiałych względów jedna z najbardziej budujących wypraw minionego sezonu. Pierwsza, wymarzona podróż do Finlandii, ojczyzny Zachariasa Topeliusa, Tove Jansson i Alvara Aalto. Pierwszy prawdziwy powiew wiosny, mimo kopnego śniegu i lodu skuwającego szkierowe wysepki na Zatoce Fińskiej. Oraz świeże ujęcie znanej, także z Warszawy, inscenizacji Billy'ego Budda, tym razem znacznie bardziej przekonującej dzięki entuzjazmowi zespołów tutejszej Opery Narodowej, natchnionej interpretacji Hannu Lintu i przejętej antywojenną wymową Brittenowskiego arcydzieła fińskiej publiczności.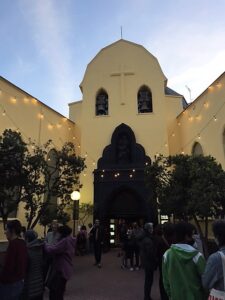 Madryt, kwiecień 2022. Niepodważalny dowód na istnienie prawdziwych przyjaciół, którzy po kolejnym kryzysie egzystencjalnym Upiora po prostu wpakowali go w samolot i zapewnili mu kilka dni świętego spokoju, niebiańskiej kuchni i wspaniałych wycieczek po okolicy. A Upiór, już we własnym zakresie, wzbogacił sobie tę ofertę o przedstawienie Wesela Figara w Teatro Real i eksperymentalny spektakl Extinción w wykonaniu Agrupación Señor Serrano, w legendarnym Teatro de La Abadía, gdzie w 2010 roku odbyła się premiera Końcówki Becketta w reżyserii Krystiana Lupy, z muzyką Pawła Szymańskiego. Nadejdzie wiosna, znów się przypomnę, bo nie ma chyba lepszego miejsca i lepszego towarzystwa, żeby odzyskać wiarę w ludzi i własne siły.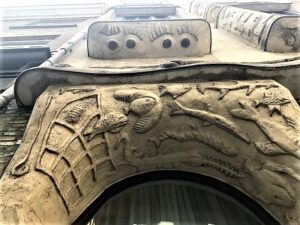 Antwerpia, maj 2022. Drugie już w tym sezonie spotkanie z rzemiosłem Krystiana Lady, tym razem w roli librecisty opery Nawrócona Wima Hendericksa, na motywach znakomitej, wydanej też w Polsce powieści Stefana Hertmansa. Spektakl we Vlaamse Opera wzbudził mieszane uczucia: zachwyt poetyckim, celnie trafiającym w sedno narracji Hertmansa librettem Lady, piękną, choć staroświecką muzyką Hendericksa, i olśniewającą plastycznie, ale statyczną inscenizacją Hansa Opa de Beecka. Wzbudził też nadzieję, że ten świat się odrodzi, a zarazem refleksję, że każde kolejne odrodzenie wymaga zbyt wiele cierpienia.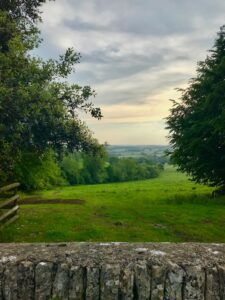 Longborough, czerwiec 2022. Dwukrotny powrót do utraconego w pandemii Edenu. Za pierwszym razem we wspaniałej, choć chwilami wątpliwej pod względem reżyserskim interpretacji Wagnerowskiego Zygfryda pod batutą Anthony'ego Negusa, za drugim – w chwilami wątpliwej muzycznie, olśniewającej jednak erudycją i reżyserską wnikliwością Carmen Jakobi produkcji Umarłego miasta Korngolda. W przyszłym sezonie wiejska opera w Gloucestershire zapowiada Zmierzch bogów, ostatnie ogniwo Pierścienia Nibelunga przed ostatecznym podsumowaniem całości w 2024 roku. Jest po co żyć, choć jeszcze nie ma pewności za co.
Oslo, czerwiec 2022. Burzliwa biała noc w stolicy Norwegii, nie tylko z powodu nagłej ulewy, ale też nagłej zmiany w obsadzie wielokrotnie już wznawianego spektaklu Carmen w reżyserii Calixta Bieita, w którym tego jednego wieczoru w partii Don Joségo wystąpił Charles Castronovo. Słyszałam później utyskiwania widzów tej samej inscenizacji w Paryżu i Wiedniu, z udziałem zblazowanych gwiazd, które nad spójność narracji i nieodzowne rzemiosło aktorskie przedkładają własne popisy wokalne. Upiór jest naiwny i woli dobrze zrobiony teatr, dlatego planuje kolejne powroty do przepięknego gmachu nad Oslofjorden i kolejne spotkania z młodym, pełnym zapału zespołem tamtejszej Opery.
Leeds, lipiec 2022. Zupełnie wariacki, jednodniowy wypad do Leeds Playhouse na pewien zupełnie w Polsce nieznany musical Sondheima, na motywach znakomitego, ale obawiam się, że zapomnianego w Polsce filmu Bergmana. Opera North w każdym sezonie uwzględnia w swoim repertuarze przynajmniej jedno dzieło tak zwanego lżejszego kalibru, z udziałem solistów gościnnych, ale też śpiewaków występujących na co dzień w całkiem poważnych partiach operowych. Recenzja czeka już od pewnego czasu na swoją kolej w miesięczniku "Teatr", ukaże się wkrótce, więc nie uprzedzam wypadków.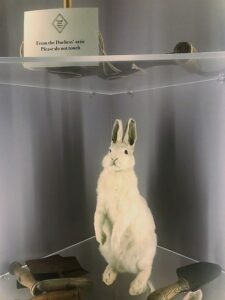 West Horsley, lipiec 2022. Pierwsza, jeszcze nieoficjalna wizyta w nowym gmachu Grange Park Opera, przy okazji rzekomo półkoncertowego wykonania Latającego Holendra pod dyrekcją Negusa, które w rzeczywistości okazało się inscenizacją znacznie bardziej przekonującą i spójną niż niejeden "prawdziwy" spektakl w polskiej operze. A przy tym jedyna w swoim rodzaju okazja celebrowania specyficznej atmosfery teatru – który wygląda wewnątrz jak skrzyżowanie miniaturowej La Scali z gabinetem osobliwości – w towarzystwie młodszej koleżanki po fachu i jej męża-śpiewaka, którzy zapowiadają się od niedawna na regularnych kompanów moich zwariowanych muzycznych wędrówek.
Bayreuth, sierpień 2022. A jednak: wbrew głosowi zdrowego rozsądku, który zalecał finansową wstrzemięźliwość, na przekór karuzeli obsadowej, która przyczyniła się do dwukrotnej zmiany wykonawcy partii tytułowej w Wagnerowskim Holendrze, zdołałam uczynić zadość stosunkowo nowej upiornej tradycji regularnych wizyt na Zielonym Wzgórzu. Całkiem już wbrew moim oczekiwaniom, znacznie większe wrażenie zrobiła na mnie kontrowersyjna inscenizacja Dymitra Czerniakowa niż rzekomo nowatorskie ujęcie muzyczne Oksany Łyniw. Czas pokaże, co będzie dalej. Na razie w planach nowy Tristan i być może poszczególne elementy nowego Ringu, bo całości raczej nie zniosę, choć przyjaciele cenią mnie za wytrwałość i poczucie humoru.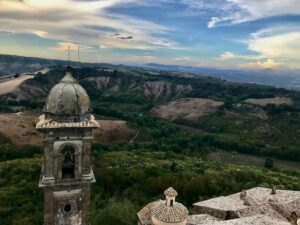 Viterbo i okolice, sierpień i wrzesień 2022. Pierwszy i mam nadzieję nie ostatni wypad na Festival Barocco Alessandro Stradella, przebogatą repertuarowo imprezę, pozwalającą docenić nie tylko rozmach i entuzjazm artystów związanych z rozlicznymi inicjatywami muzycznymi Andrea De Carlo, ale też olśniewające bogactwo kulturowe regionu Tuscia. Trzeba będzie kiedyś tam wrócić: podobnie jak w większość miejsc przywołanych przeze mnie w niniejszym podsumowaniu. Mimo piętrzących się przeciwieństw, nie mam zamiaru spuszczać z tonu. Jeszcze raz dziękuję wszystkim wiernym Czytelnikom, ponownie kieruję wyrazy wdzięczności pod adresem przyjaciół i patronów. Oby rozpoczynający się sezon stał się znakiem jakiegoś przełomu – także w naszym, coraz dotkliwiej podzielonym, a zarazem coraz bardziej skupionym na sobie światku operowym.